Small Space Living : How we Organize our Kitchen
 Today I wanted to go over one of the most asked questions I get, and thats "How do you organize your kitchen? " (We will save how much our remodel cost and all the details for another day.) I want to start off by saying, this is how our kitchen is, I didn't stage it and somethings I am sure can be better, but this is real life and of course it does get messy and empty and we clean and refill! Now lets get ready for a tour!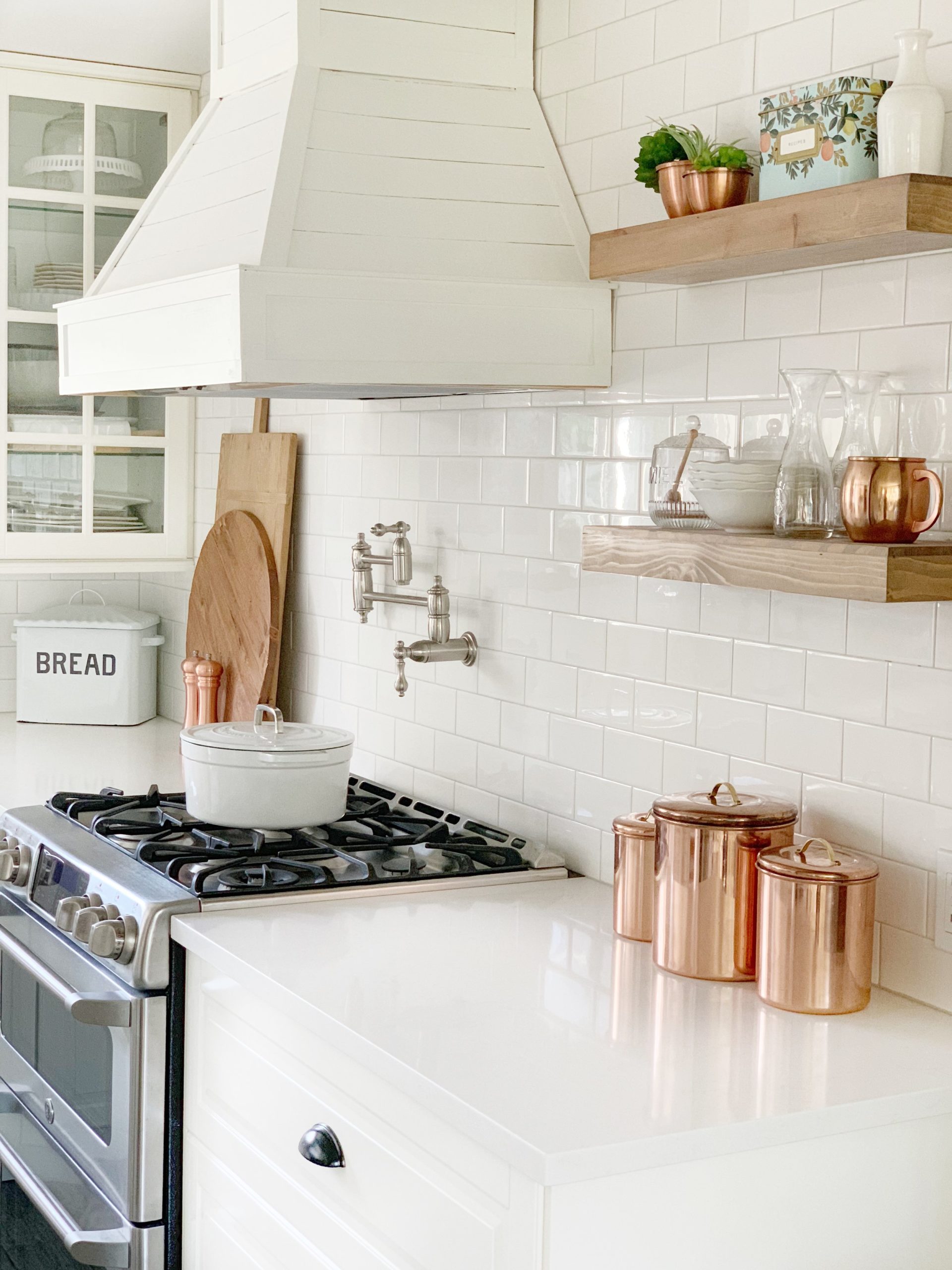 When we remodeled our kitchen, we lost cabinets so I wanted to make sure that we had room for everything we owned. If you have been following for awhile, our house is only 1200 sq ft with 6 of us, so a rule that we have is that everything needs to have a spot. I had to plan ahead and make sure that all of our things would have spots so these drawers here I had to fit a lot. Let me show you what I did!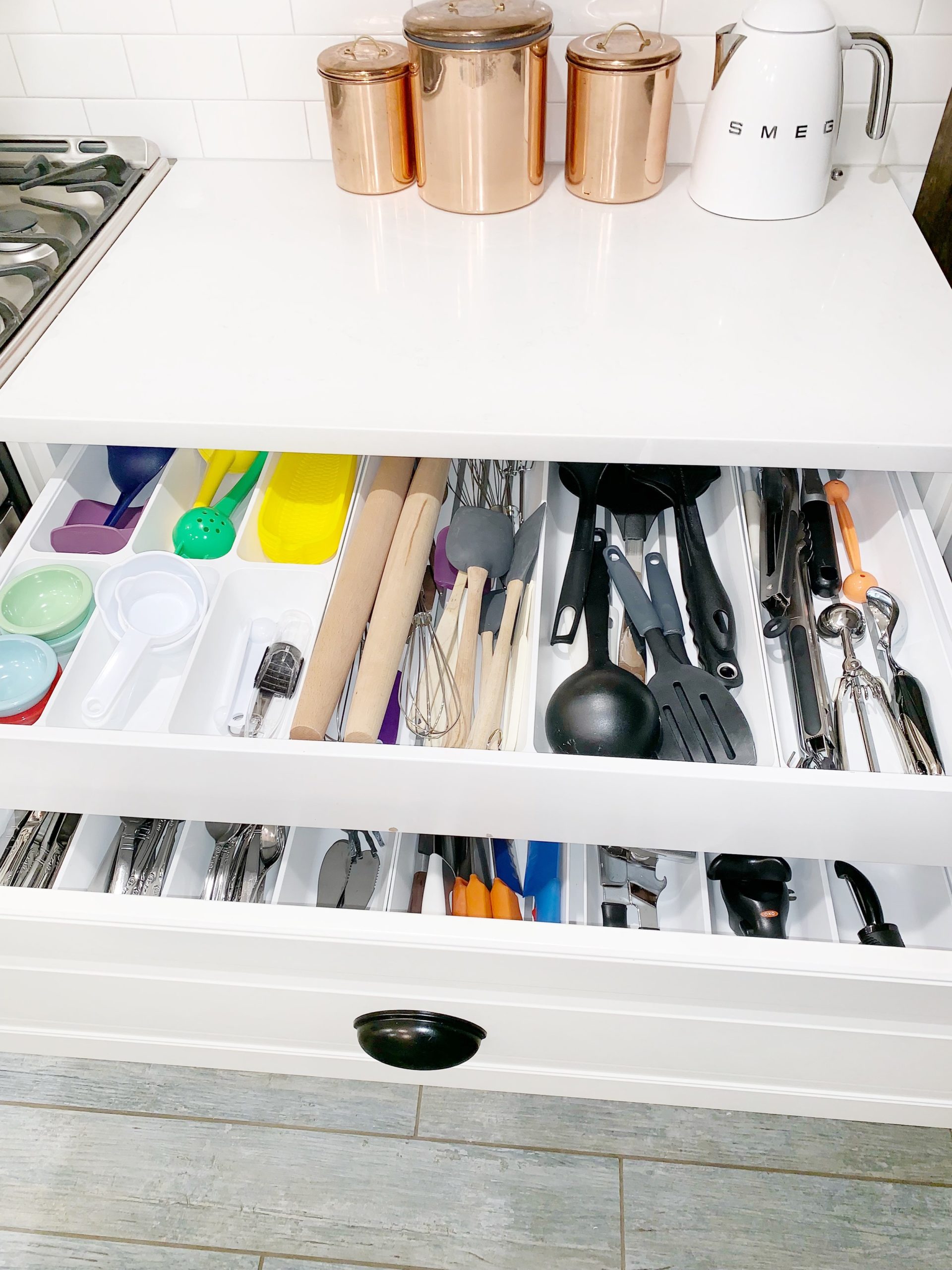 They had the option of one big drawer, or two small – I knew the big drawer would fit all our utensils but I wanted them to be organized. The two drawers were the way to go and no regrets! I love using the organizer bins to keep everything in their spots, it makes everything easy to find to!
TIP:
In each drawer make sure everything has a spot, if you use bins it helps keep everything organized.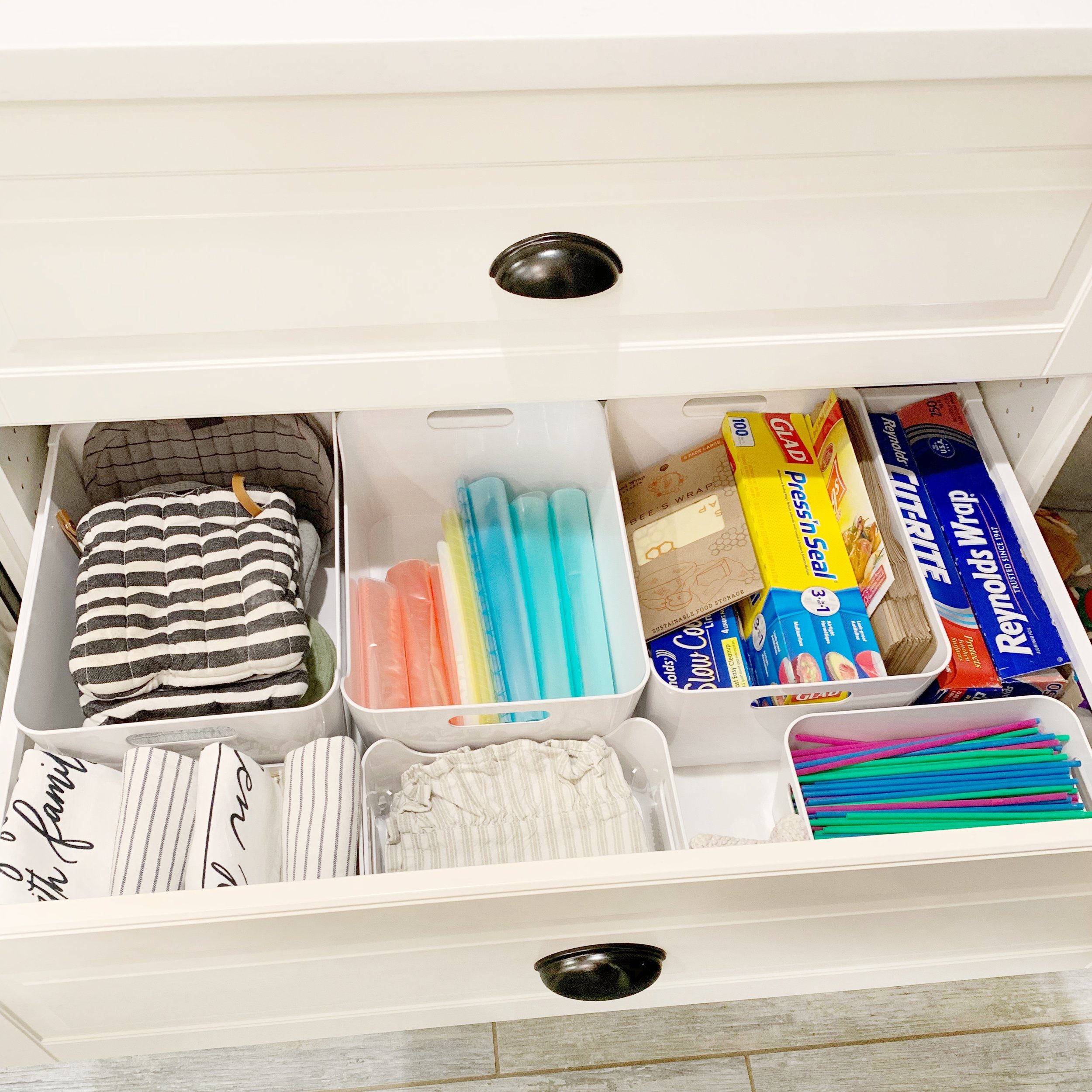 Here are all the towels, oven mits and other random kitchen supplies!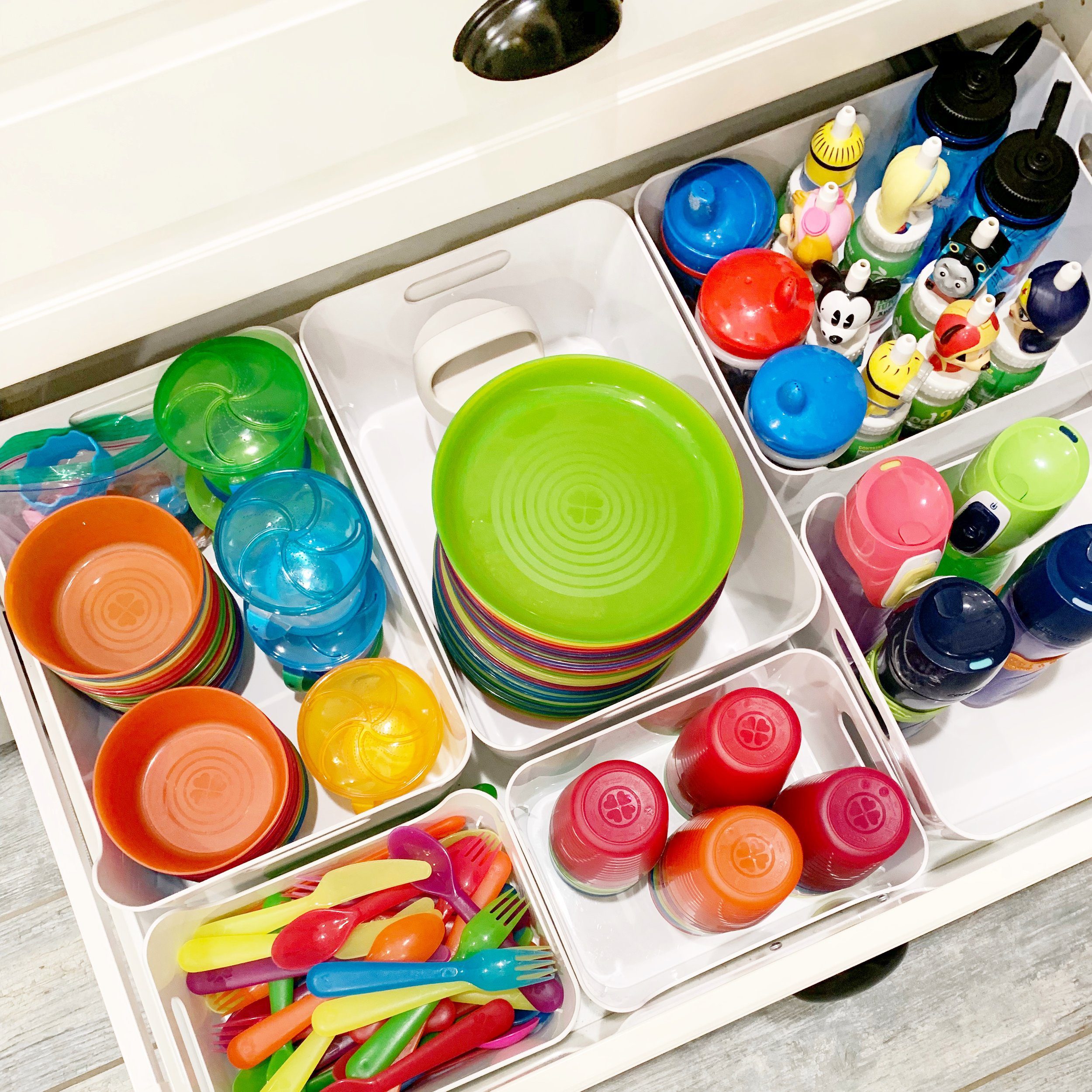 The bottom drawer we have with all the kid supplies so its easy for them to help themselves. It makes it easy for them to be able to put up dishes, and set the table – simple things for them to do!
While this caddy normally goes under my sink, its nice to get out and be able to grab cleaning supplies easily! Our bread box is another storage – its crazy how much it holds!
Now underneath this side of my counter I will be showing you whats in the cabinets :
While remodeling our kitchen we purchased a lazy susan for this space. As soon as we started setting things on it we knew it wasn't a good fit. While a lazy susan can be good, it left so much wasted space. We added a shelf in here and we were able to fit so much more!
Funny story, for Christmas I got the air fryer you see in here. I almost got rid of it because its so huge and I didn't think I found a spot, and well you know the rules! We did find a spot and so glad we did!
Next to the stove we have all the baking sheets and storage items, it fits quite perfectly, the only thing I would change here is to line the shelves.
Next to the dishwasher, you cant see but we have a pull out drawer with garbage bags. Its so nice having them hidden, ecspecially since we don't have another spot for them to go.
Now are you ready to see whats in our Island? Everyone always wonders…
We may like drinks in our family… this normally is always stacked full and makes me happy when I open it!
Here is the other side of the island, probably the more practical!
Our pantry isn't my dream, I would love a big walk-in but this is what we have and last year we redid it and I am happy with how it is holding up! This top area is our Baking section, it gets the most used so we have had to find what works for us.
Each of these drawers can be more organized with bins, but for now its what has worked for us.
I had the option to put in just cabinets, but I chose the drawers so things wouldnt get lost.
It is so nice being able to see all the items we have.
When we designed our "pantry" we wanted to make sure our fridge and microwave fit in it. The only problem we had was we needed a counter depth fridge. I don't think I will ever understand why they cost more and are smaller, but we love this one we have. So, welcome to our fridge, it is not staged as you can see… this is real life.
Now lets move onto the rest of our pantry.
Lets start at the bottom drawer, I make sure its easy for the kids to get to so they can grab a snack or pack what they want for lunch. Again I have the storage bins, because they just make life clean and organized!
I am sure you aren't surprised to keep seeing the bins, what can I say I love them!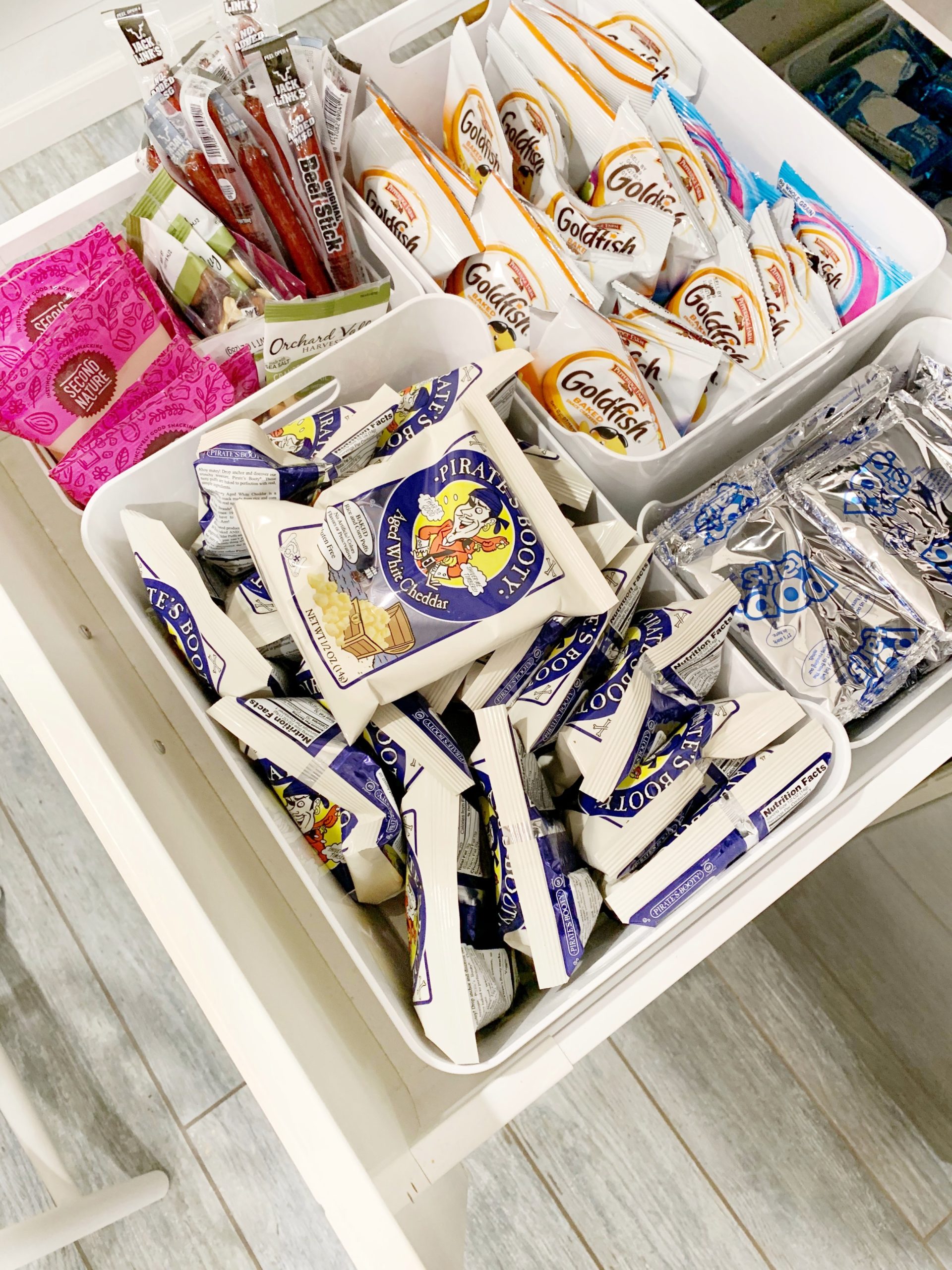 Now this cupboard, as real as you get half open bags and all!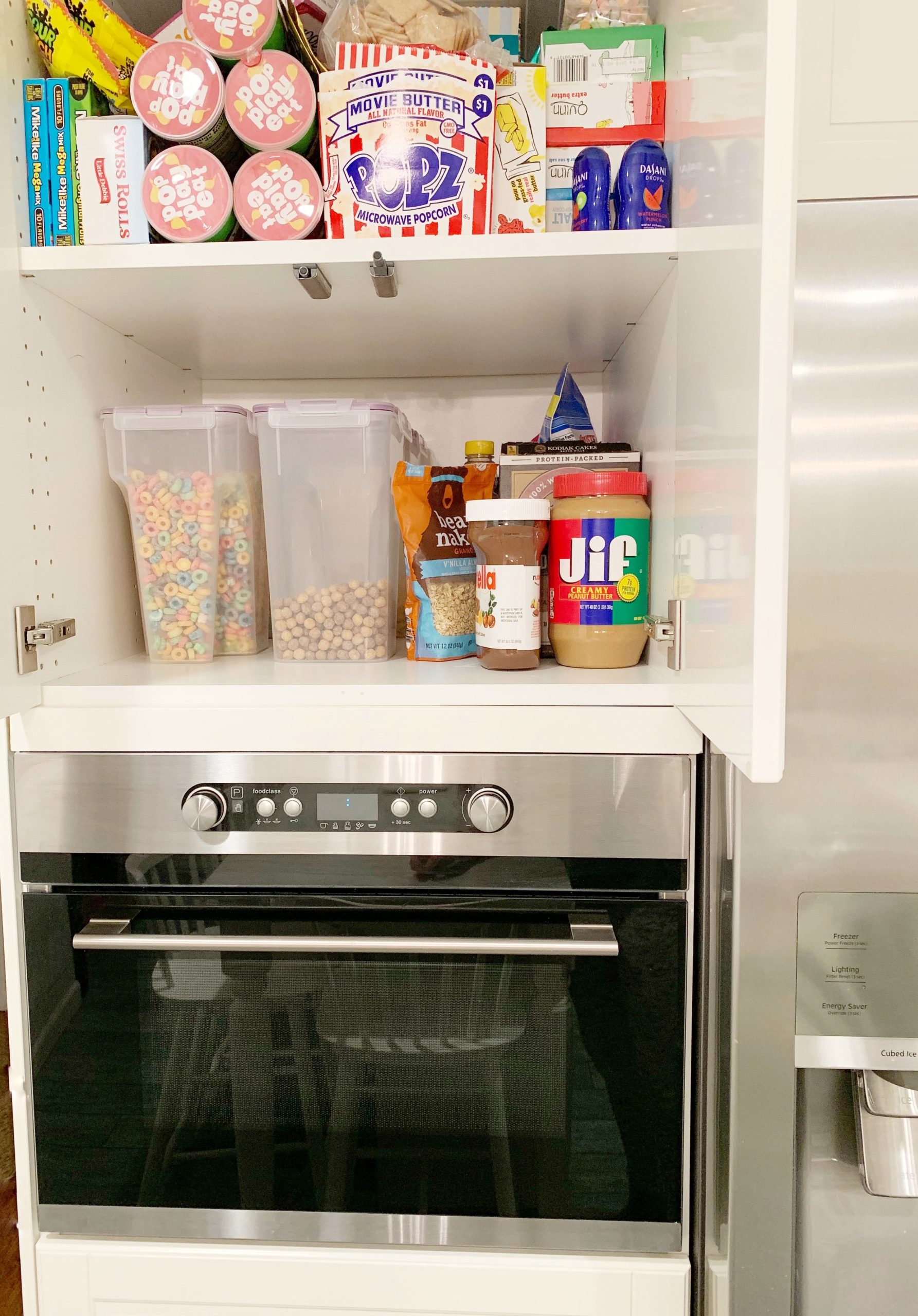 Now you can see something in this photo, and have probably wondered as you have seen my kitchen…. why don't I have drawer pulls on all my cabinets. Well here is the answer push tabs! Best ever!
Now ready to see some befores :
Here is our kitchen as we were looking at our home, a lot of labor and love has made it what it is today.
Something to think about as you are working on your projects, whether it be wanting to clear out an area, or moving something for a short time Extra Space Storage is always a great option.
Now onto the fun, the questions from you all :
Q. Why don't you have drawer pulls on all your doors?
A. Our kitchen is smaller than it looks, so instead of making so many and having it all over our kitchen push tabs for the win!
Q. Where do you store your vegetable and fruit?
A. Honestly I have never done anything like this: I love, we have limited space and not a ton .
Q. Did you paint your cabinets?
A. They came this way from Ikea, and have held up amazing.
Q. How do you store pots and pans?
A. They are all organized in the air fryer drawer.
Q. What is the total estimate you put in the kitchen remodel?
A. I am guessing I seriously need to go add them up, but 20,000.
Q. What is your favorite part of your kitchen?
A. Probably the island so we can all gather.
Feel free to ask anymore questions and I will make sure to answer them!
A special thanks to Extra Space Storage for sponsoring this post, just remember if you are looking for storage for yourself or someone else check out their page!
Q.