Halloween Chicken Coop – Skeletons & Bats
Halloween Chicken Coop – Skeleton & Bats Oh my! Sharing this fun set up and all my favorite finds from JOANN and a DIY too!
If you have followed along for awhile you know my love for Halloween, and its been so fun to collaborate with JOANN over the years. In years past we always had our cute little playhouses and this year we have a chicken coop. It is black and really helps with the creepy vibe and JOANN has skeleton roosters!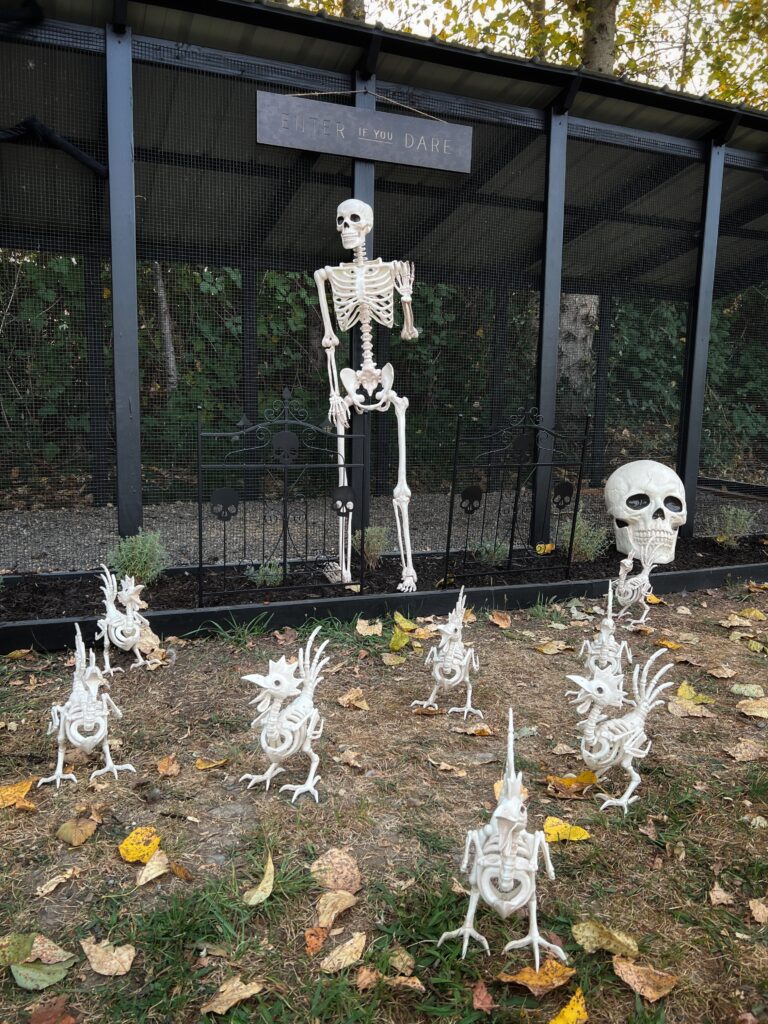 This enter if you dare sign is amazing, they have a whole line that matches with it at JOANN and it is so good! I thought it was the perfect addition to the halloween chicken coop.
Halloween Chicken Coop Tour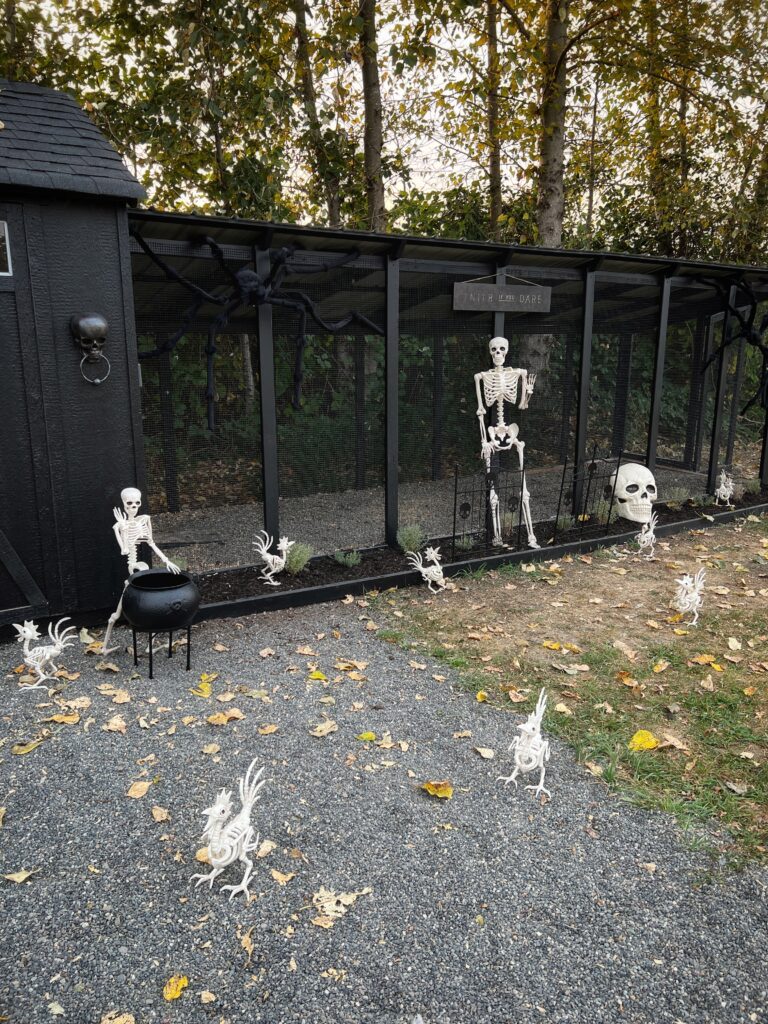 Meet Oliver the skeleton watching over his chickens, he didn't really like the job. The Big spiders are so neat hanging they even light up their eyes! I do need to snag some more of these!
Here is an up close of the spiders on the halloween chicken coop, but do you see the skull door knocker. If only we got some trick or treaters I would have that on my front door!
This little cauldron is waiting for some black ice or fog! Can you even with these skeleton roosters?
Meet Zoe our chicken tender, she is always on the job collecting eggs, feeding chickens and cleaning up after them. She is 8 ft tall and yes she even lights up and makes noises you can find her at JOANN along with everything else you see in this post.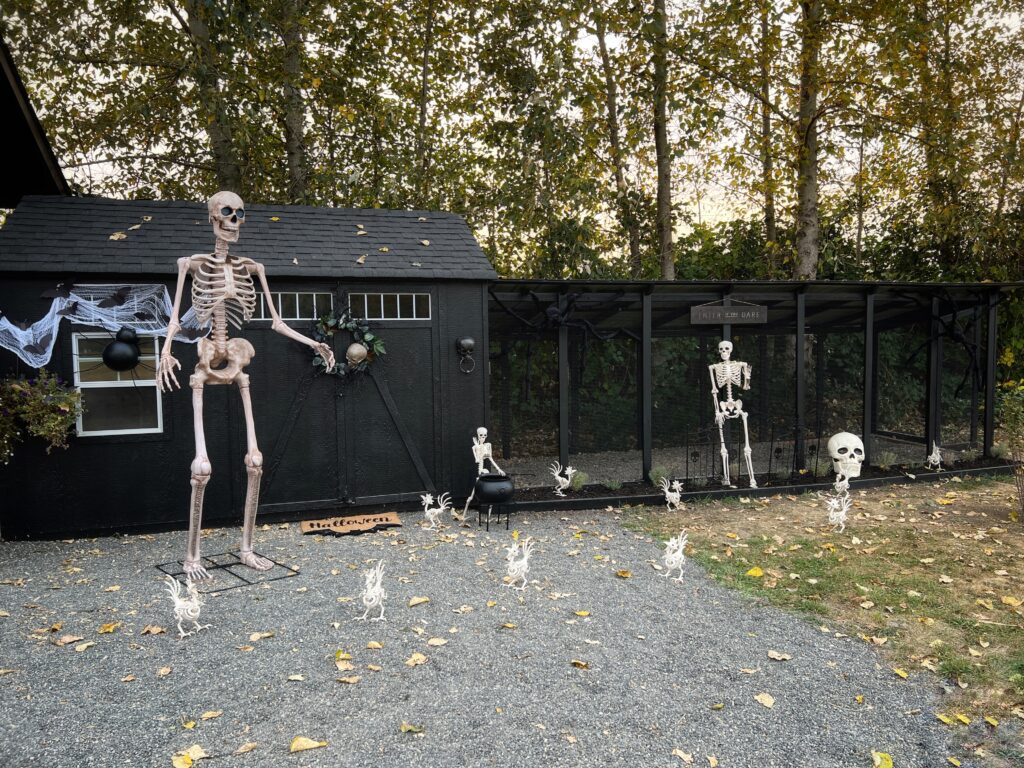 We have our pumpkins still growing next to the coop, but now we are all ready for Halloween. Have you started to decorate – either way its time to run to JOANN or check out online I love their store pick up option thats how I grabbed all these roosters!
Here is an up close of the sign! Enter if you dare.
I can't get enough of this 8 foot skeleton, I am sure you will see her move to the front of our house too!
These roosters couldn't have been more perfect for our Halloween chicken coop because out of our batch of chickens we had literally half roosters!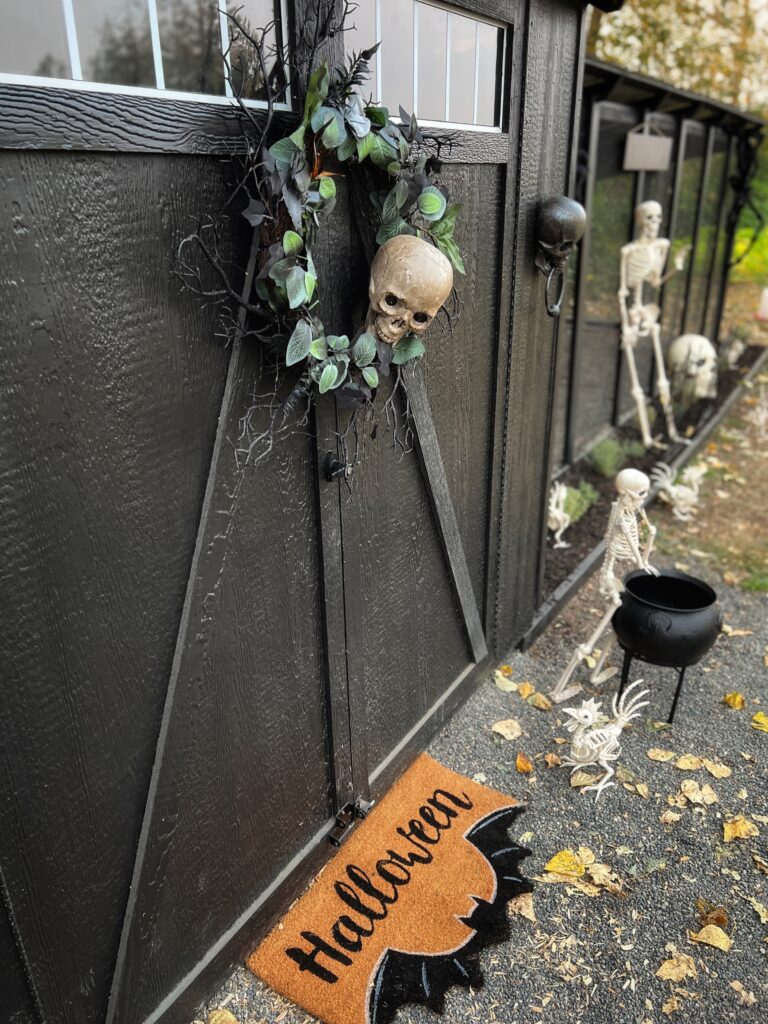 Don't forget to check out the doormats at JOANN they always have such fun ones. Did you know they even sell blank ones so you can get your DIY on! This wreath is not a DIY but I loved it so much and knew it was perfect for my Halloween chicken coop.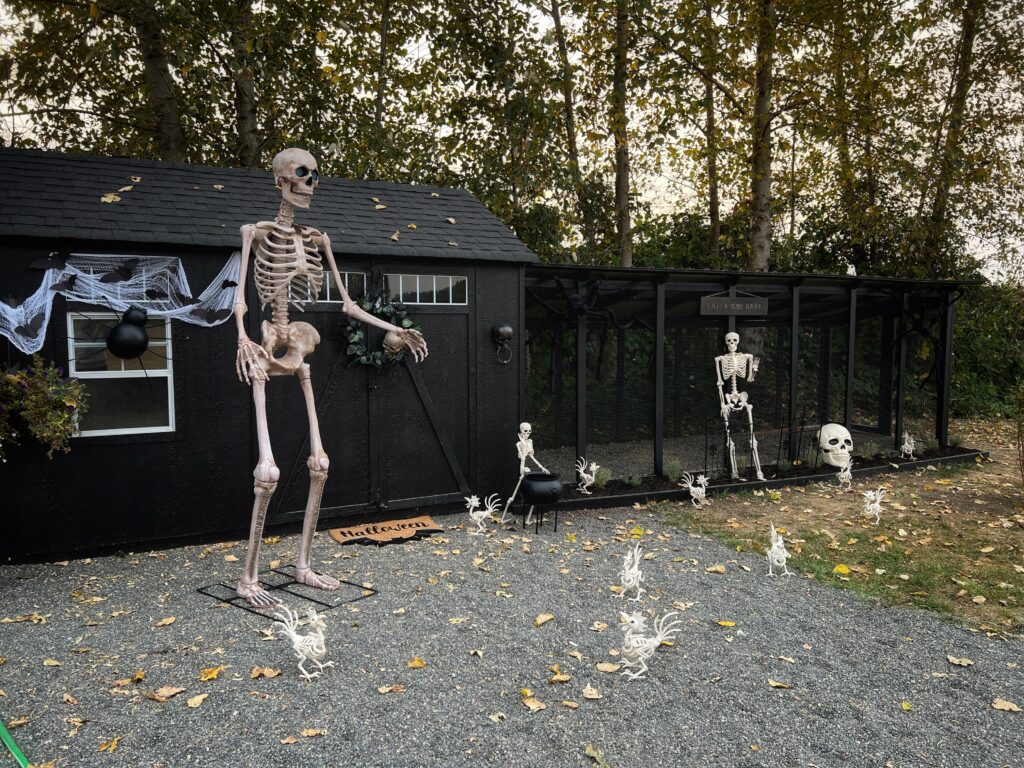 Now that you have seen all the fun, let's do a DIY!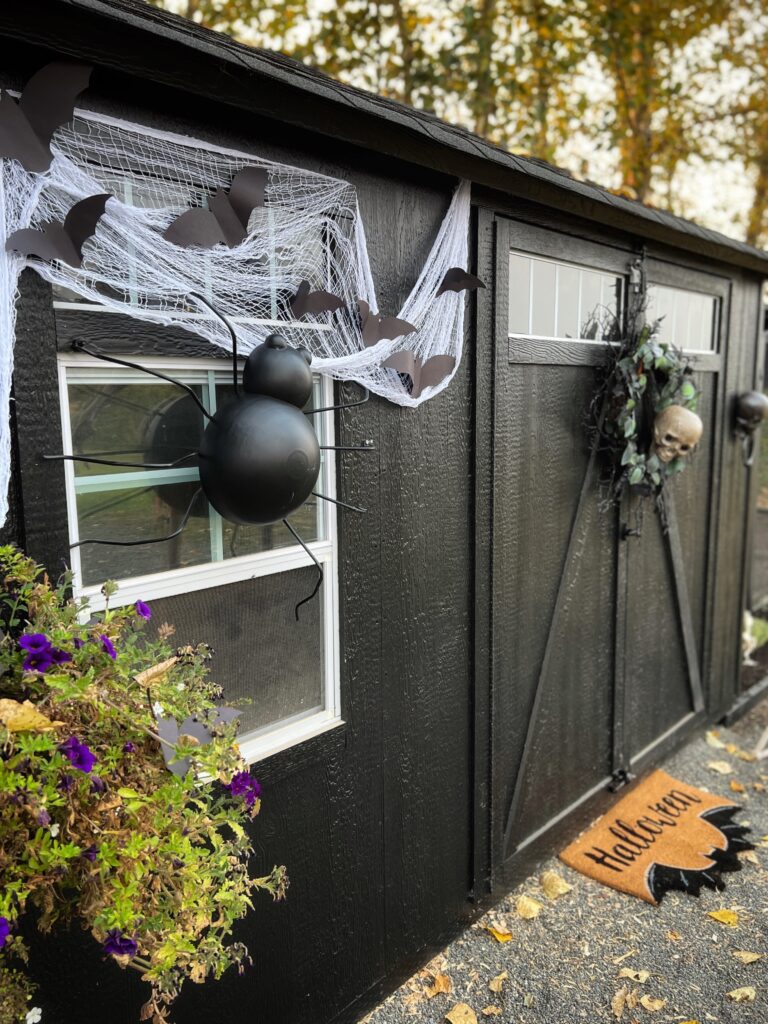 It's freaking bats – these are so fun to make and easy too let me show you how below!
EASY DIY BAT
Easy Bat DIY – What you will need :
1. Construction Paper or Cardstock
2. Scissors
3. pencil
This is such an easy and fun DIY! It is something you can do, or have kids join you! Grab your paper, and freehand your bat! I like to draw the bat and then cut it out but its preference. When making a lot of bats it's easiest to cut out a whole stack.

We love to use these indoors and outdoors – yes when putting outside they can get wet so be aware of that they are just paper.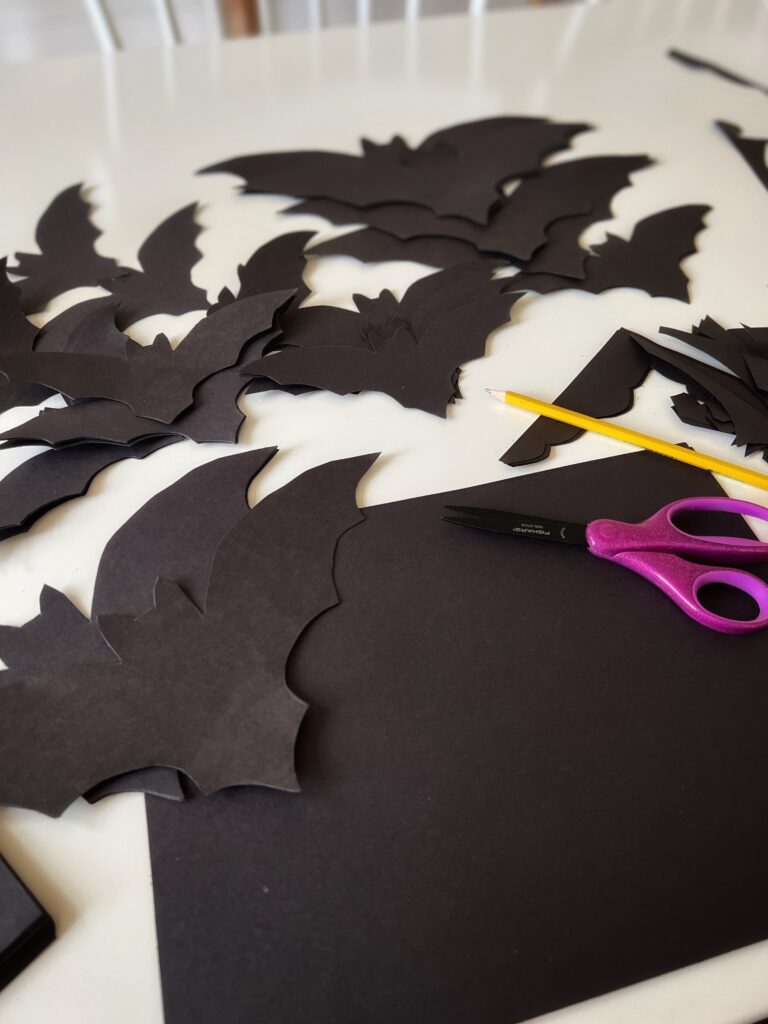 Make your bat and use that as your pattern. Cut and then repeat till you have all your bats! You can look at this and use as your inspo!
I like to fold mine after and then they look really spooky! You can set these where you want, attach with string, tape, wire or even little sticky dots – the options are endless!
I hope you enjoyed seeing our Halloween chicken coop and got some inspo for Halloween! You can use these to decorate not only a coop, but your front porch and if you have a playhouse that too!
To Shop this post click the links below :
Chicken Skeleton
8 foot Animated Skeleton
Skull and Leaf Wreath
Enter if you dare sign
Molded Skull Head
Graveyard Black Fence
Huge Spiders
Black Iron Spider
Skeleton (Normal Size)
Bat Doormat
Skull Door knocker
Spider Webs
Cauldron Stand
36″ Skeleton