Girls Boho Bedroom – New ProCore Flooring
Girls Boho Bedroom is now made complete with ProCore flooring! Check out the before and afters along with how we DIY the floors!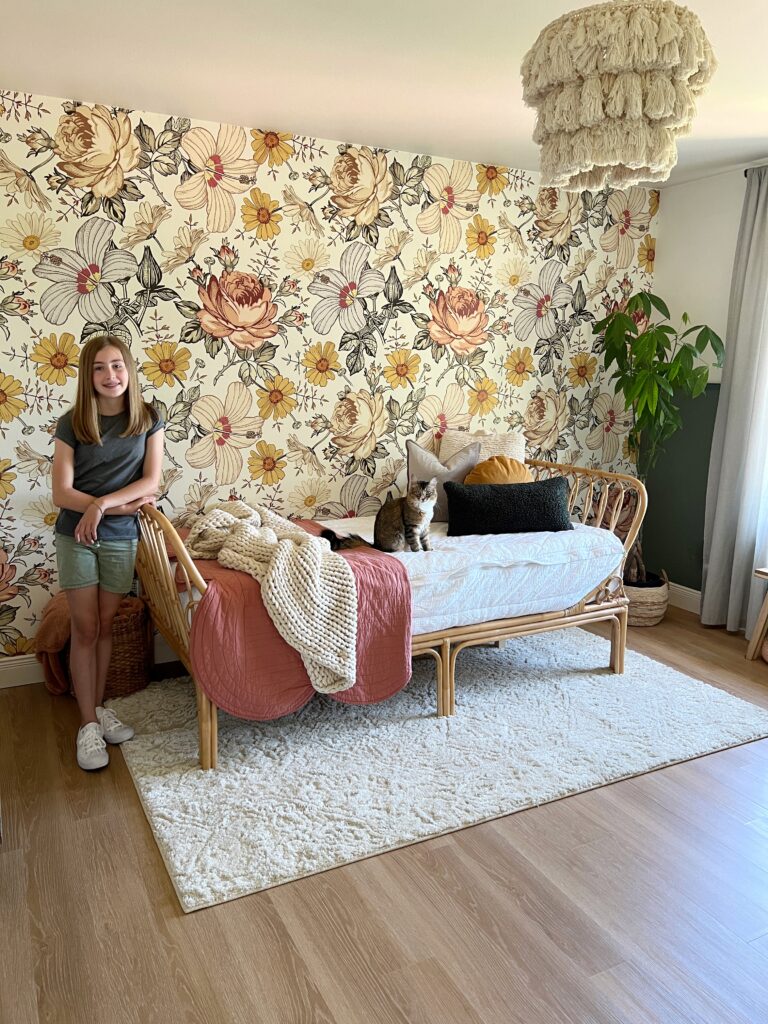 Here is where we started not even a year ago.
We did the easy things, added a little paint and wallpaper but we knew the carpet had to go. It was a berber material and you literally couldn't clean it. So now is the time to replace it with our favorite ProCore Elizabeth Oak Luxury Vinyl Plank.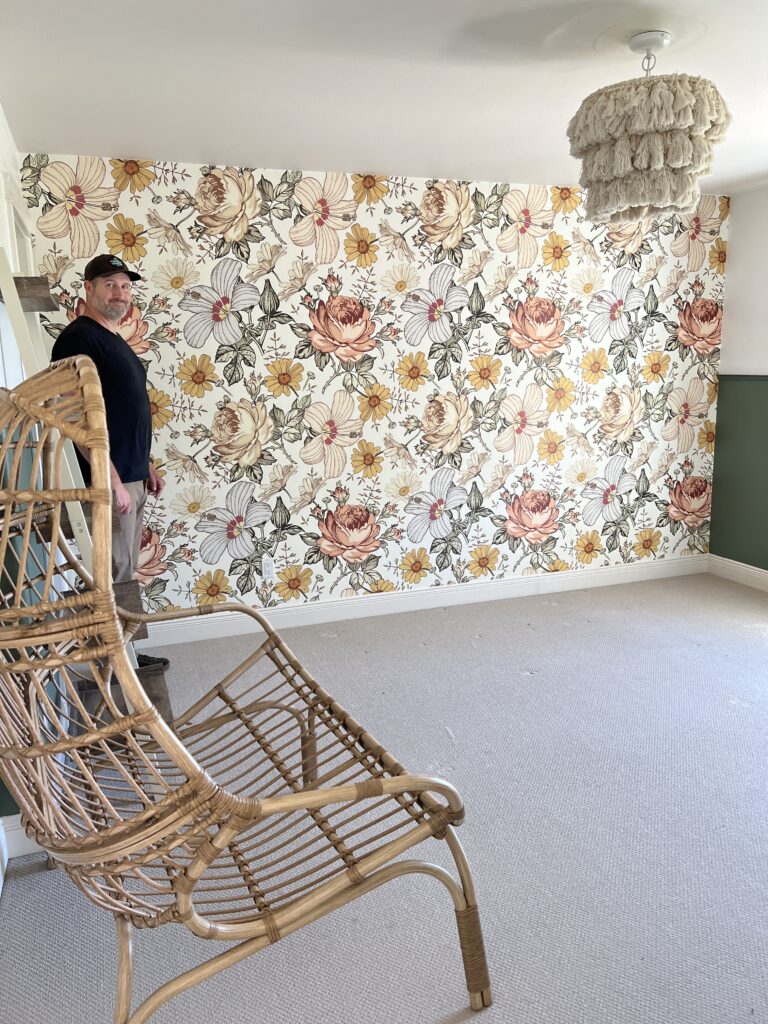 Let's get started!! First step take out the carpet! We have done this different ways, sometimes we roll it up and tape it to take it to the dump. This time we had a small dumpster so we cut it up in pieces that would fit there. Do whatever works best for your situation. Always if in good condition try to donate, this was not in condition to reuse.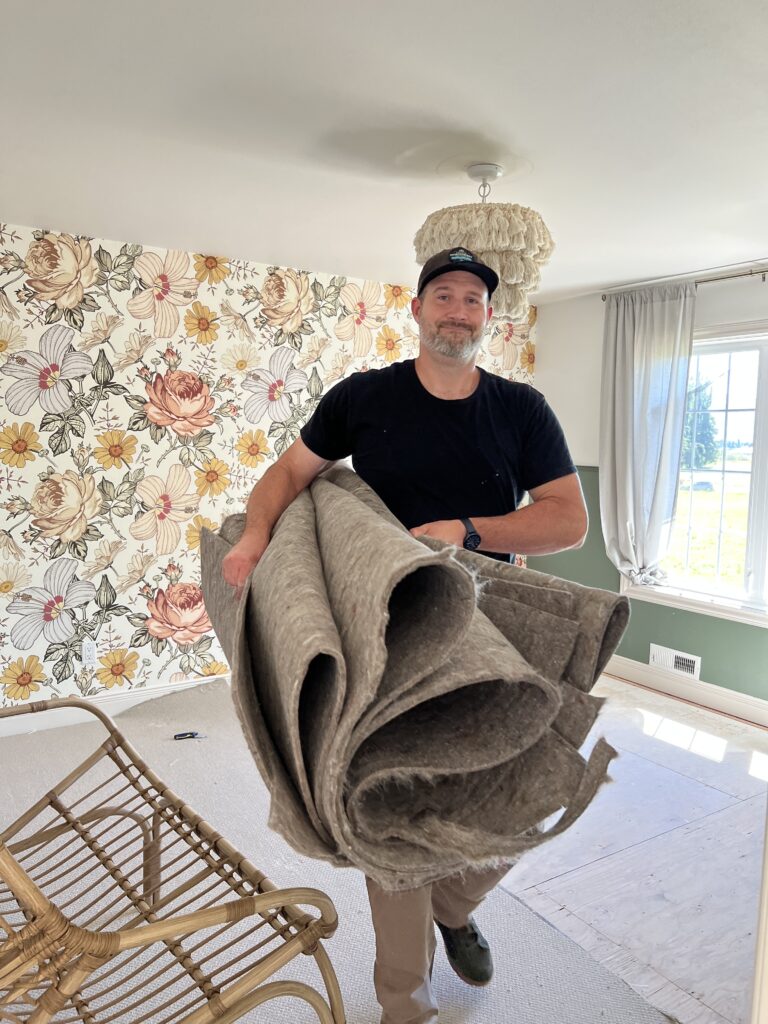 Remove all the old flooring, and then it is time to clean up!
THINGS YOU WILL NEED TO INSTALL PROCORE LVP:
ProCore Elizabeth LVP
T square
Laser Level
Knee Pads
Flooring Pull
Cutter
Shop Vac for clean up
Pencil
Underlayment ( Not Needed)
Underlayment tape ( only needed if underlayment)
Flooring Saw ( Not needed )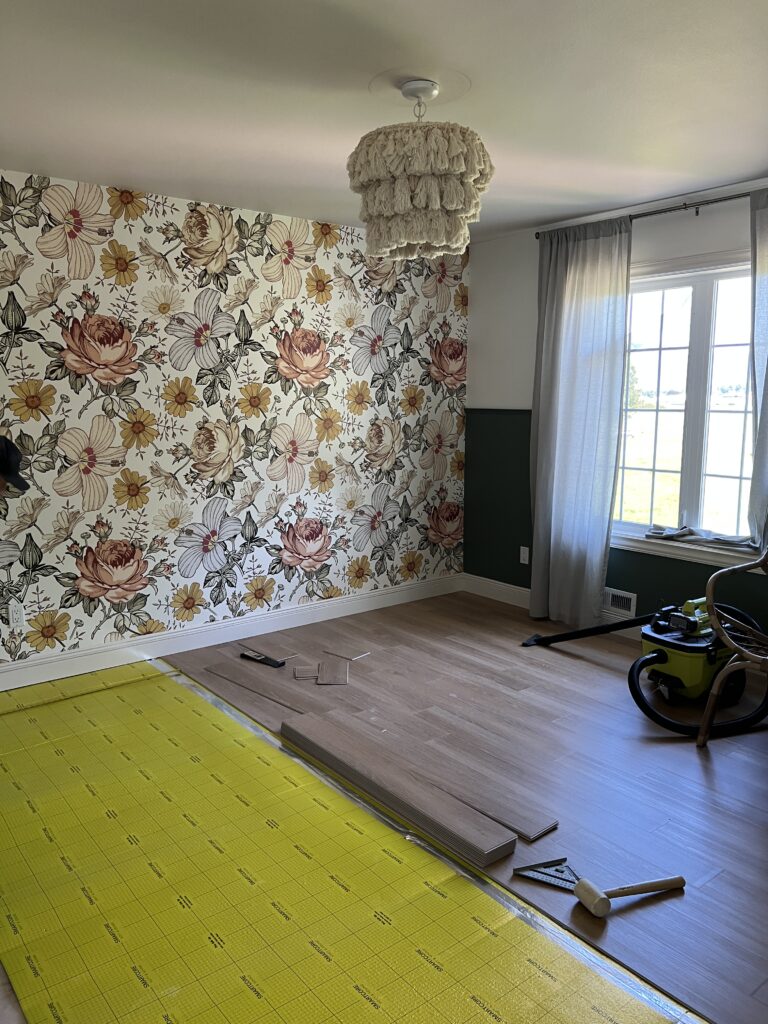 When you first start you want to make sure everything is square, that will help you as you go along and be able to go into other rooms. It is best to take off any baseboards, you can see here we didn't take off one side it is what worked for us but does make it harder.
Your mallet will be your best friend while installing the ProCore Luxury Vinyl Plank! Once you figure out your pattern, cut your flooring, snap and use your mallet to secure! We found after doing multiple rooms, we have learned that you really DON'T have to hit them hard to get the planks to lock in. If you find yourself using a lot of force something isn't lining up, they should go together with some gentle but firm taps. We are on our way to a more amazing girls boho bedroom!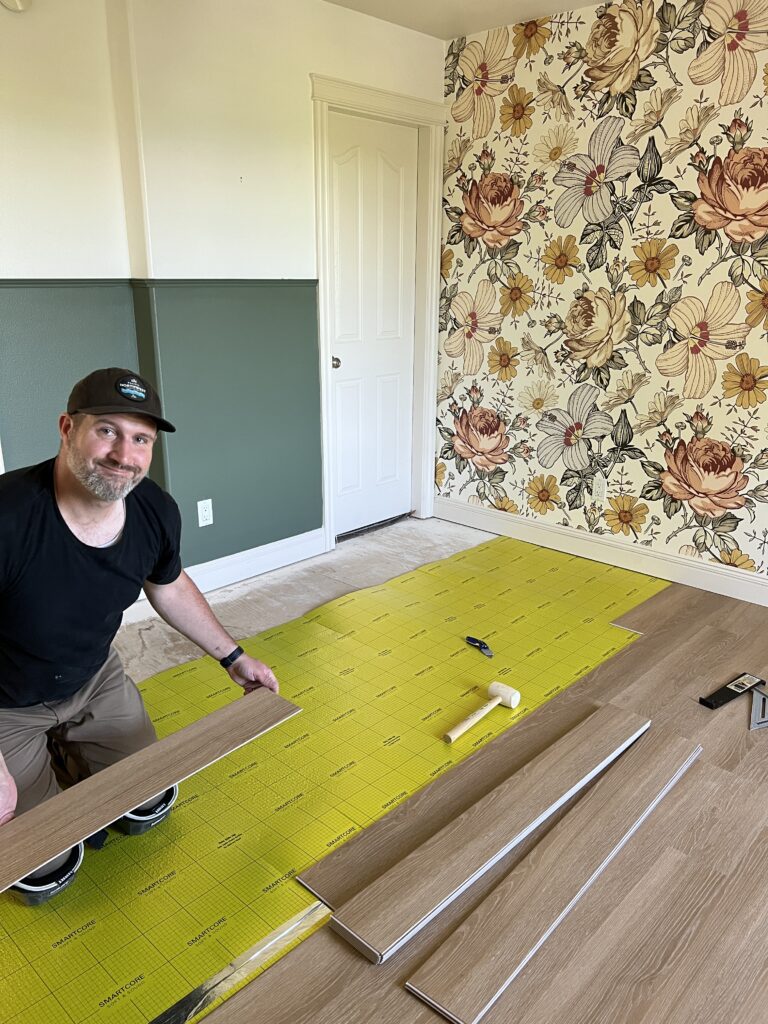 This is a job that one person can do, but always having a helping hand to grab supplies makes it go faster. You just literally repeat till you are complete!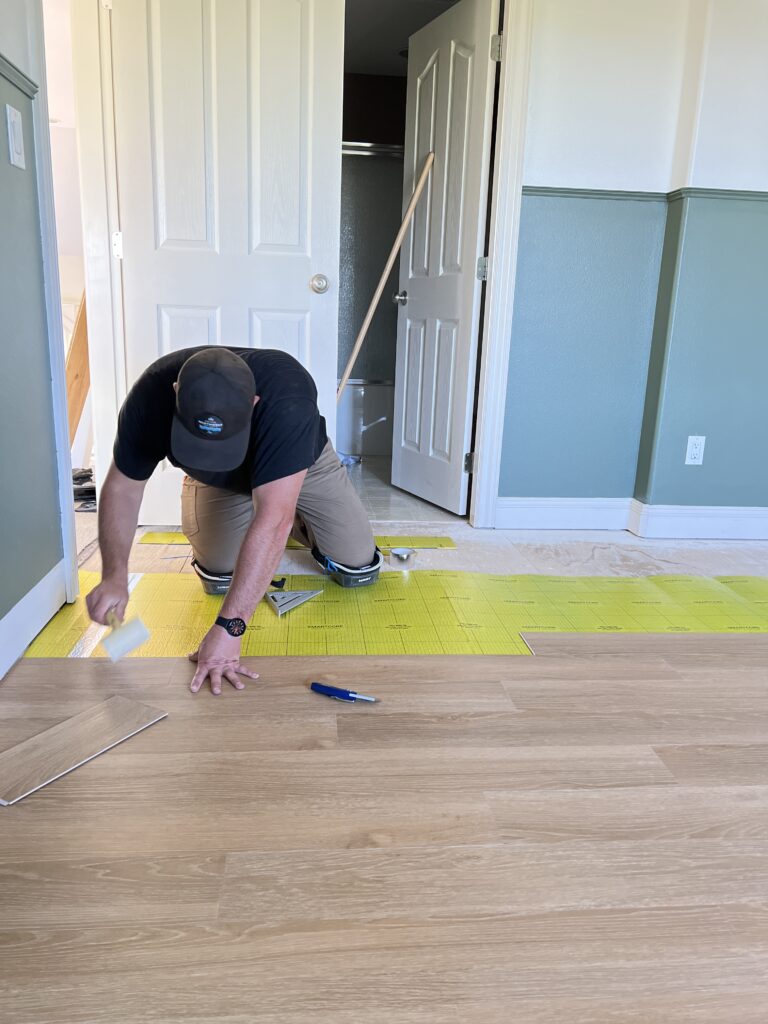 You can see on the lefthand side we took the trim off, and it sure makes it go so much quicker! If you are wondering what the green stuff is underneath it is an underlayment. It is NOT needed we just prefer using it.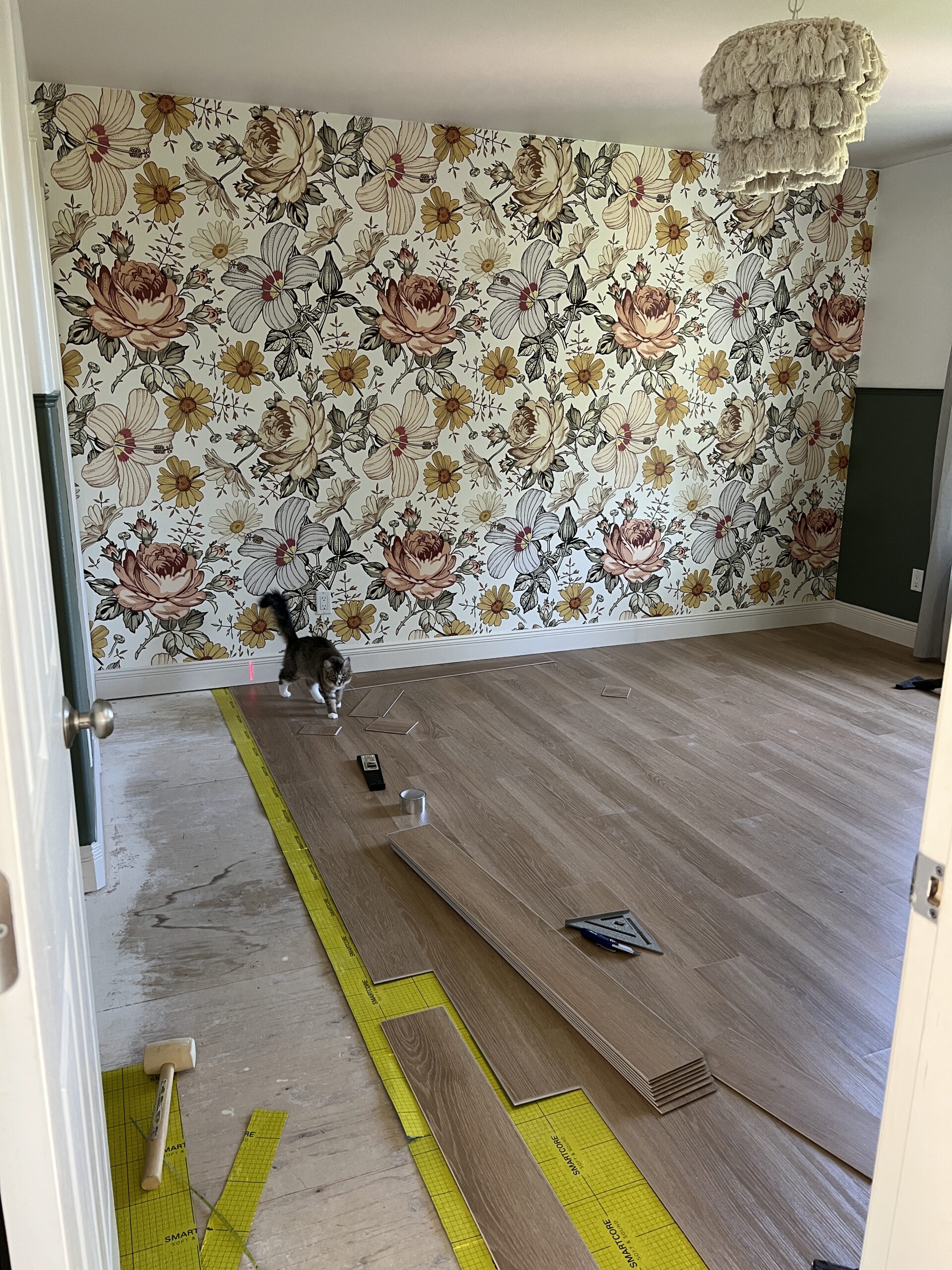 We used a laser to make sure the flooring was all square and would be even as it goes out into the hallway, the last thing you want to do when doing more than one room is not have it even.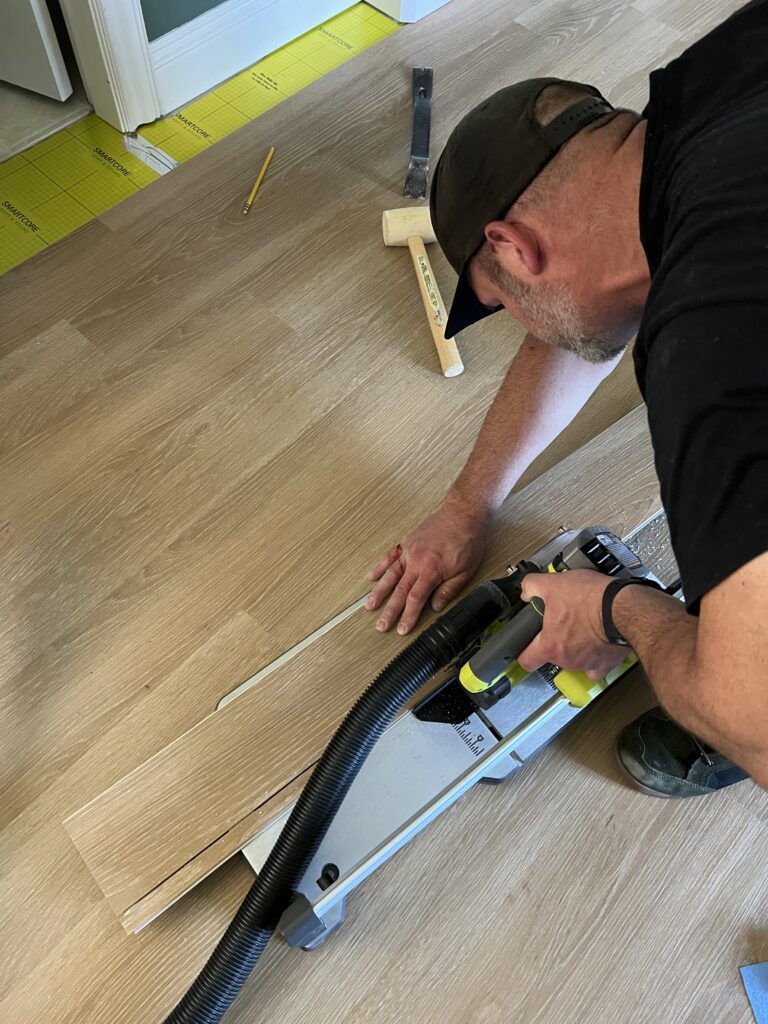 For more intricate cuts or harder ones we used a floor saw, but really a boxcutter cuts it fine.
We are slowly working on replacing ALL the flooring in our home with the ProCore Elizabeth Oak LVP so we had to run Zoes flooring into the hallway.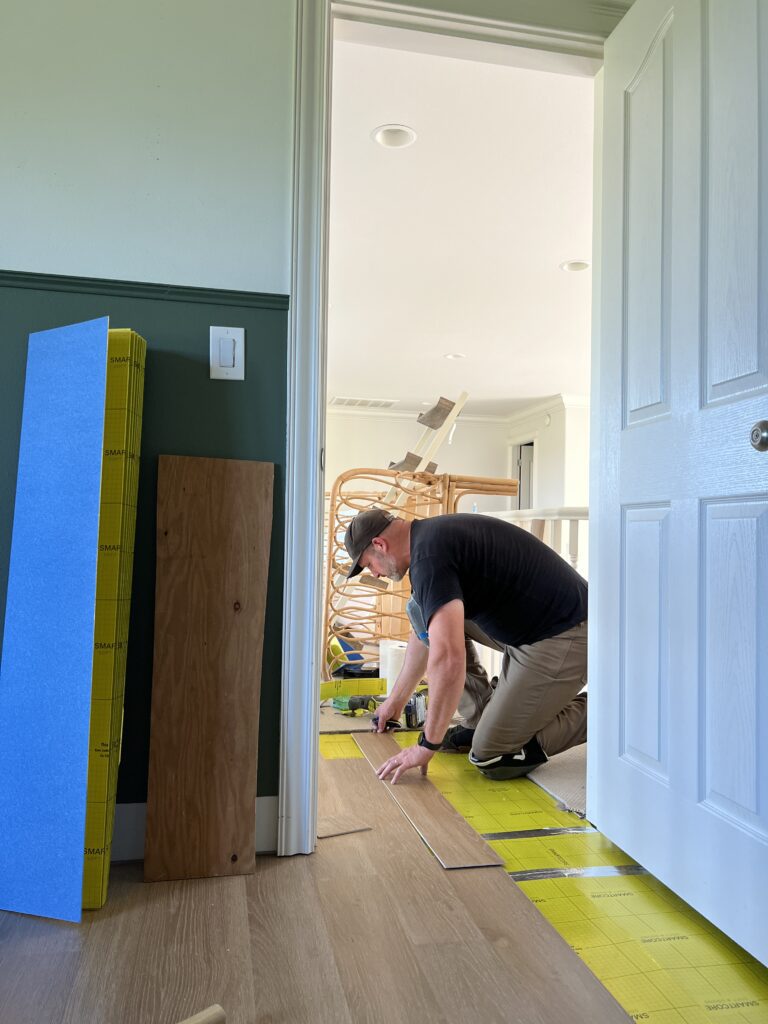 Here is where using the laser helped get it perfect for joining another room I can't wait to get all of them done.
Here it is our girls boho bedroom all complete with the ProCore Elizabeth Oak LVP flooring! It is truly the most gorgeous flooring and that wood grain is even better in person!
Time to start moving everything back in!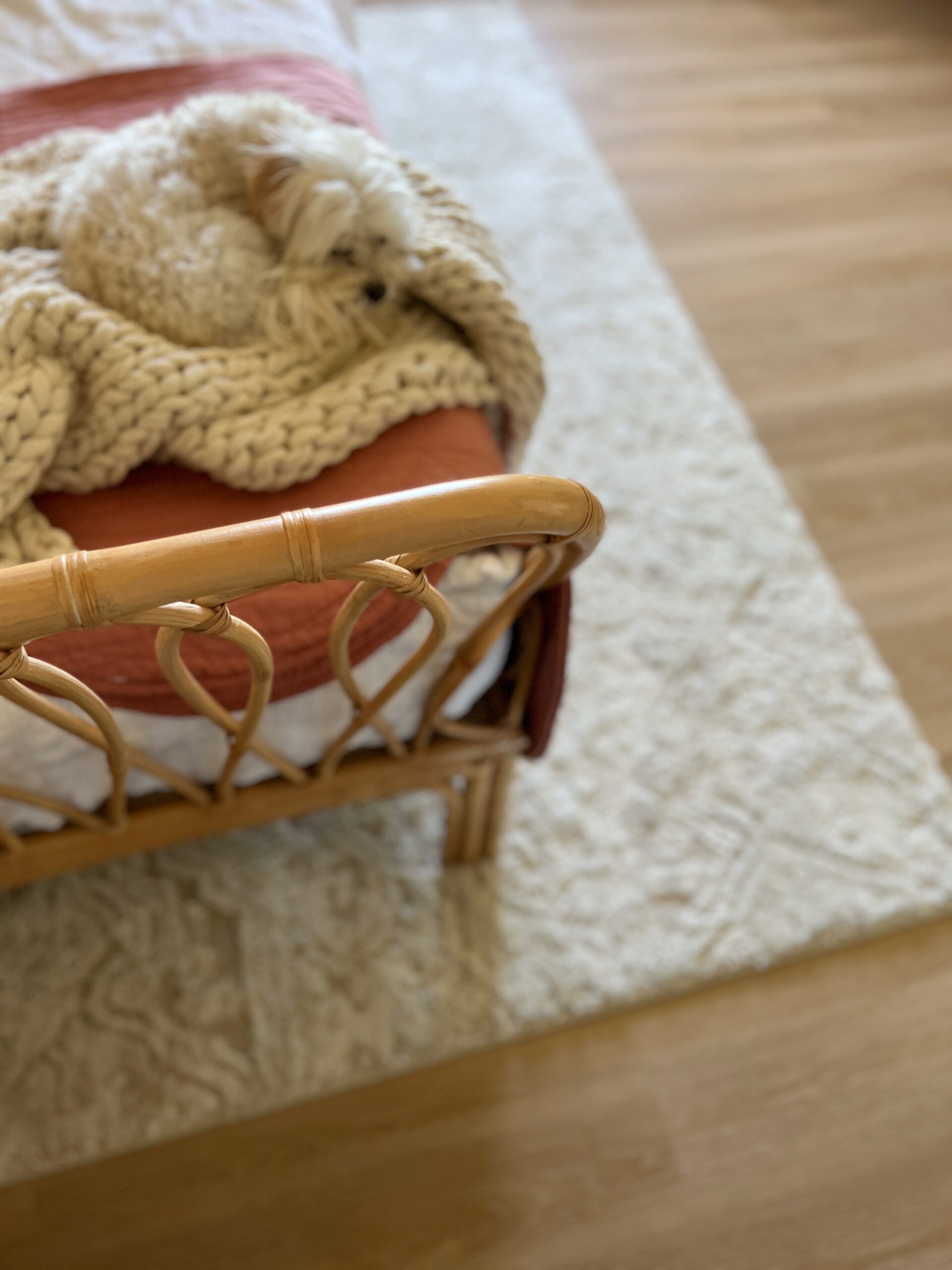 I think someone found their comfy spot! Miss Daisy is loving Zoe's new room, but really the flooring look how amazing.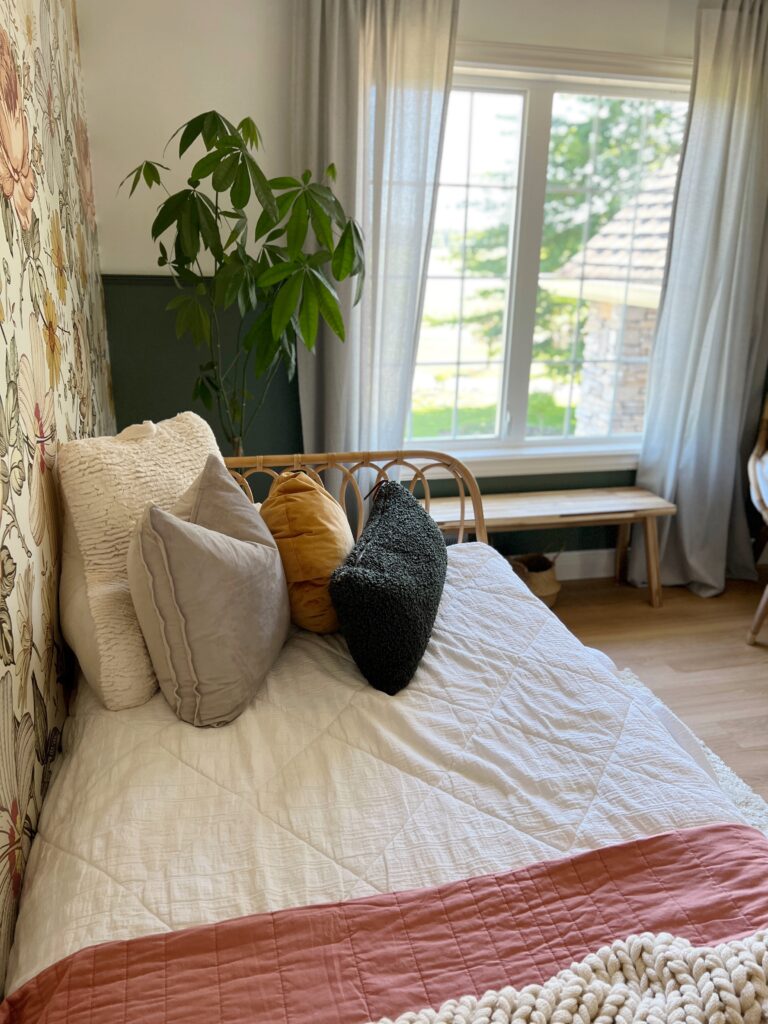 I wanted to share how the ProCore flooring looks in all the different lights.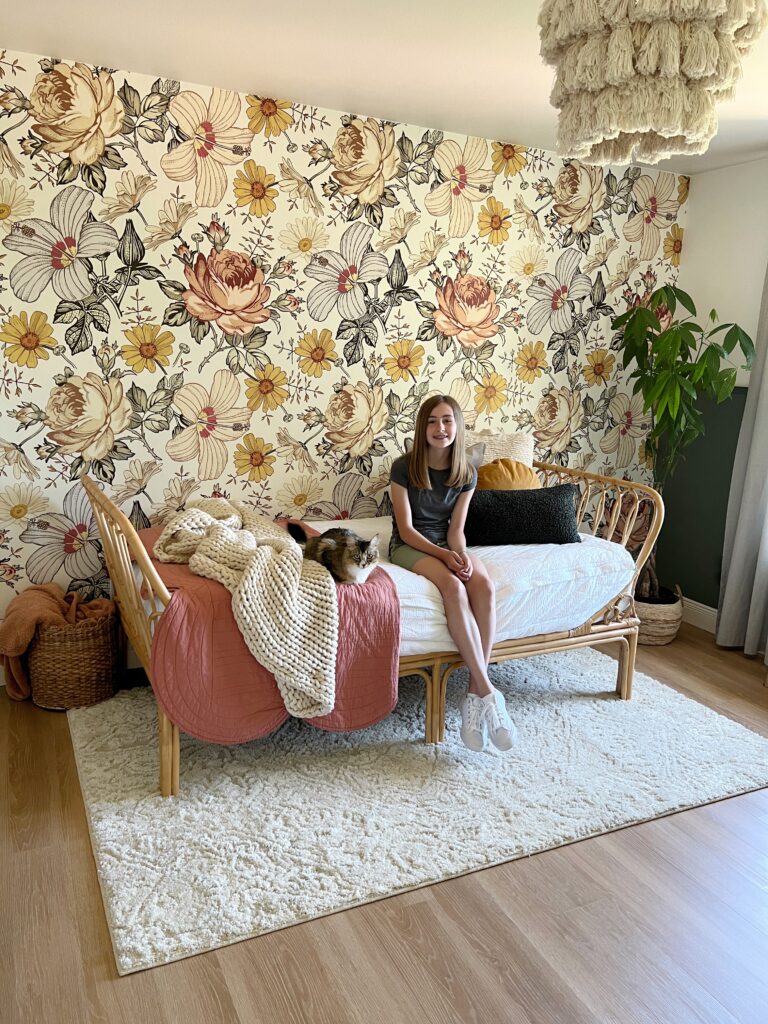 Someone is a little excited for her new flooring! Zoe disliked not being able to get her carpet clean so I know she is so excited!
Hopefully sharing all these angles and up close shows you just how wonderful this flooring is.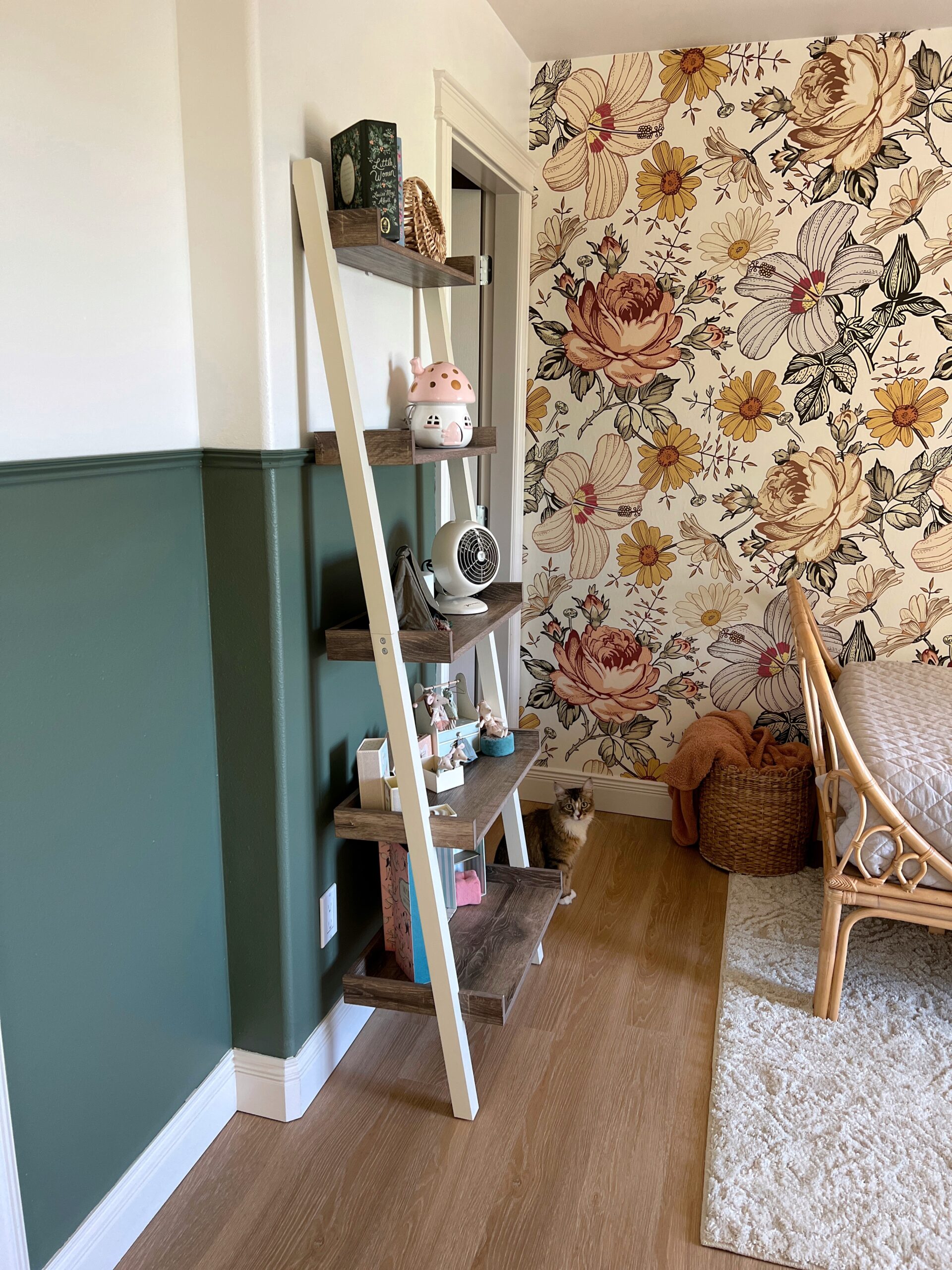 What I love most about the ProCore Elizabeth Oak flooring is not only how amazing it looks, but how durable and budget friendly. It is perfect for a DIY and affordable even if you need someone to install.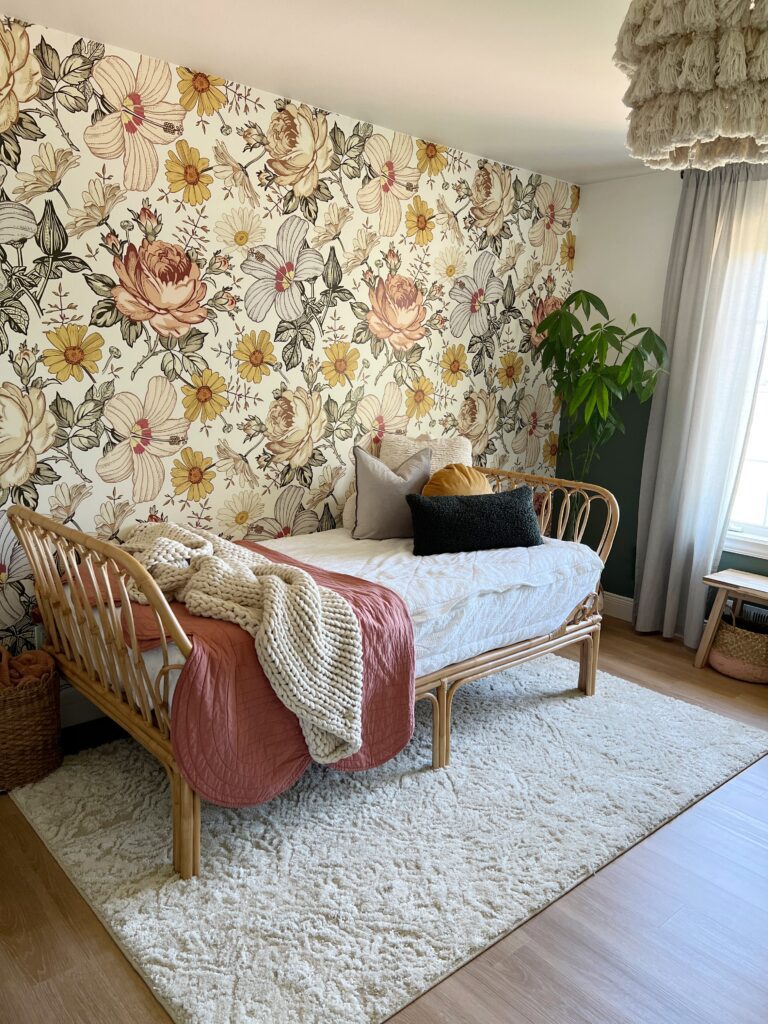 It is crazy we are just getting to a year here in the house, and I can't wait to share with you more transformations with ProCore. As always let me know any questions you have. Pin these photos to save for later. Don't forget to check out the other blogposts below sharing the rooms we have completed!