3 Easy DIY Easter Stamp Crafts for Kids
It is crazy how quickly time is going, and next week is already Easter. I want to soak up anytime I can with the kids, and they sure love to do crafts! Today I will be sharing 3 easy DIY Easter stamp crafts for kids. For this craft, you should have enough supplies for at least one project! Let's begin!
EASY DIY EASTER STAMP CRAFT #1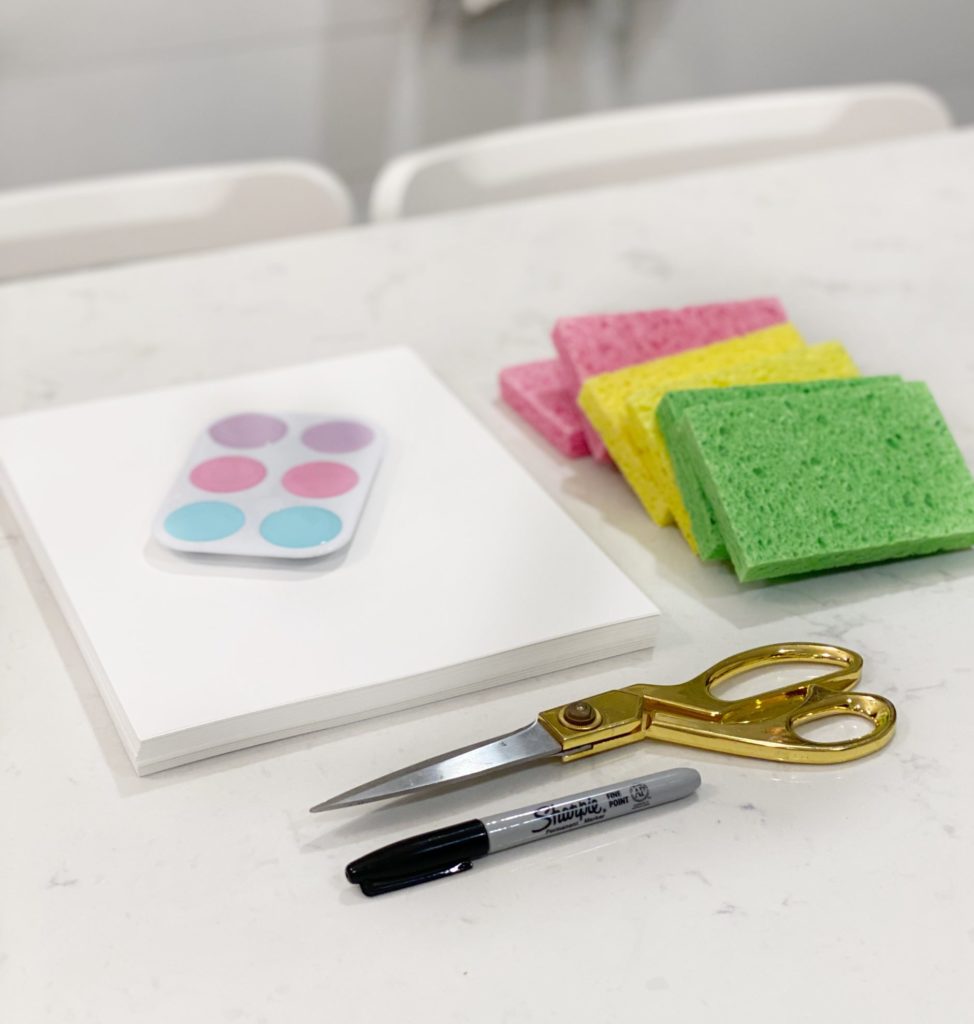 Now that you have all your supplies to make the sponge easter stamps, its time to draw your design! We chose two kinds of bunnies, a butterfly, eggs, chick, carrot and a flower.
If you chose the sponge I linked above, its pretty easy to cut if you have sharp scissors – just cut around the lines.
Now its the best part, its time to craft! I made little stations with their paper, sponge, and a plate with paint.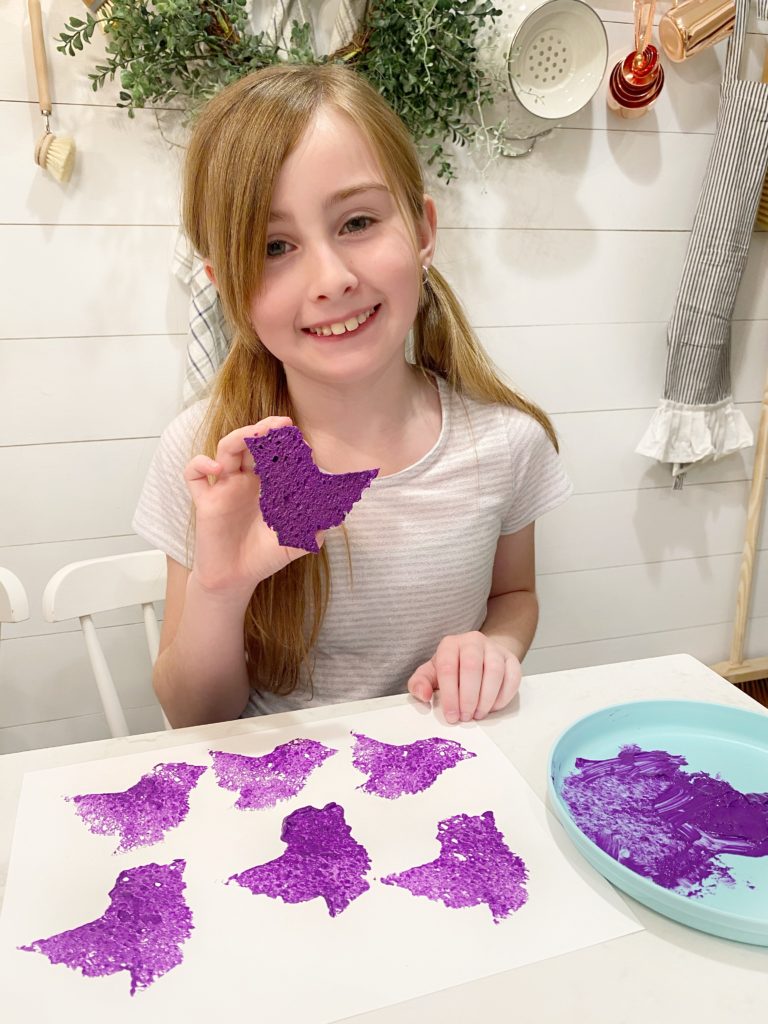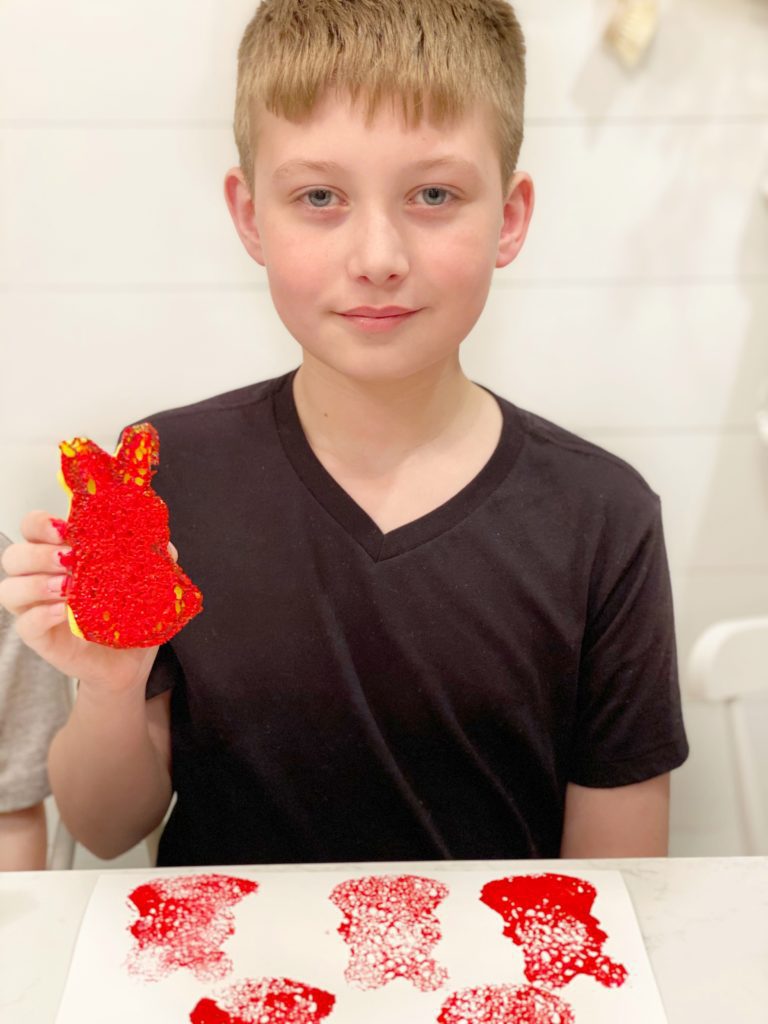 This was so much fun for them. I told them we had another craft and they didn't want to stop, they may have filled every surface in our kitchen and dining room.
EASY DIY EASTER STAMP CRAFT #2
This craft is so much fun, I do have to say it is our favorite! Its so fun to see what designs you come up with.
( Do be careful anytime you are using a knife.)
Now lets get started! First you will need your knife, cutting board, and potato. Then its start to create your design.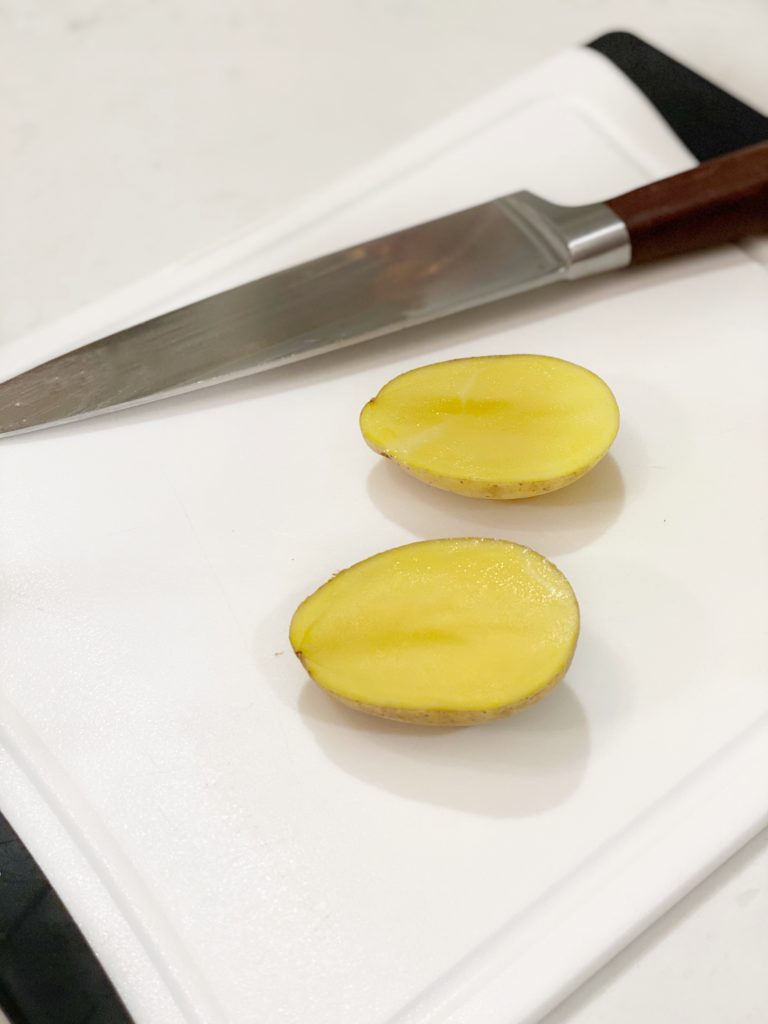 Once you are finishing cutting your potato, its time to make the design…. and its time to stamp!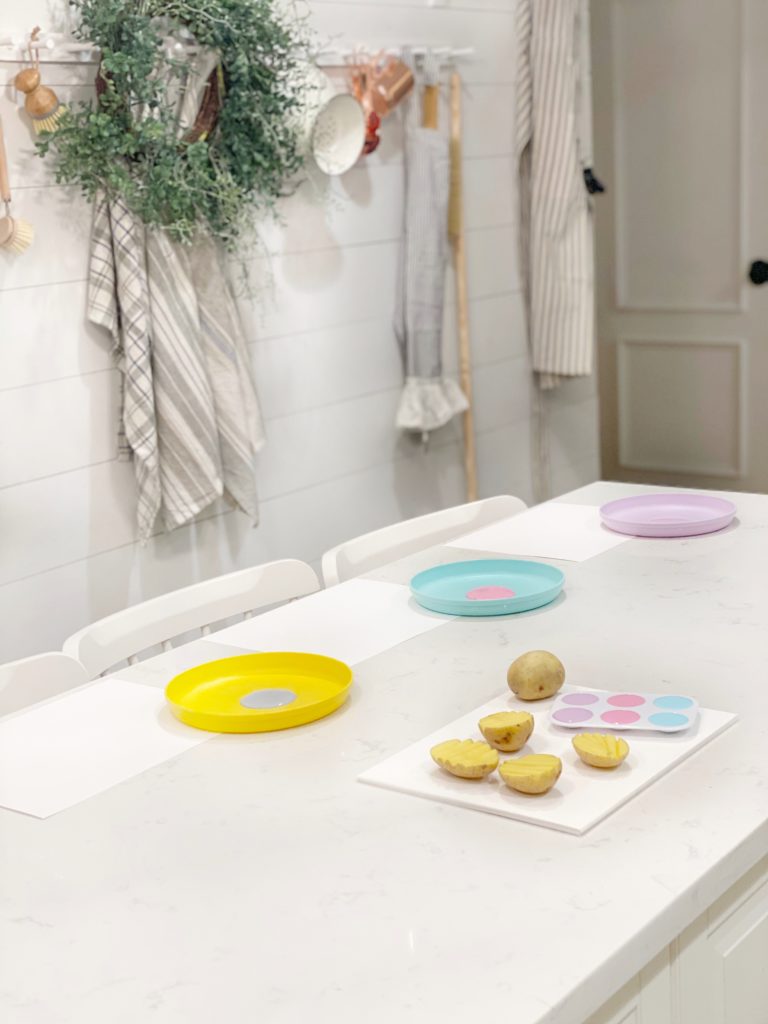 We did the same little set up for them with our nee plates!
The kids each had so much fun doing this, we are going to try to spare the "stamp" so we can use again.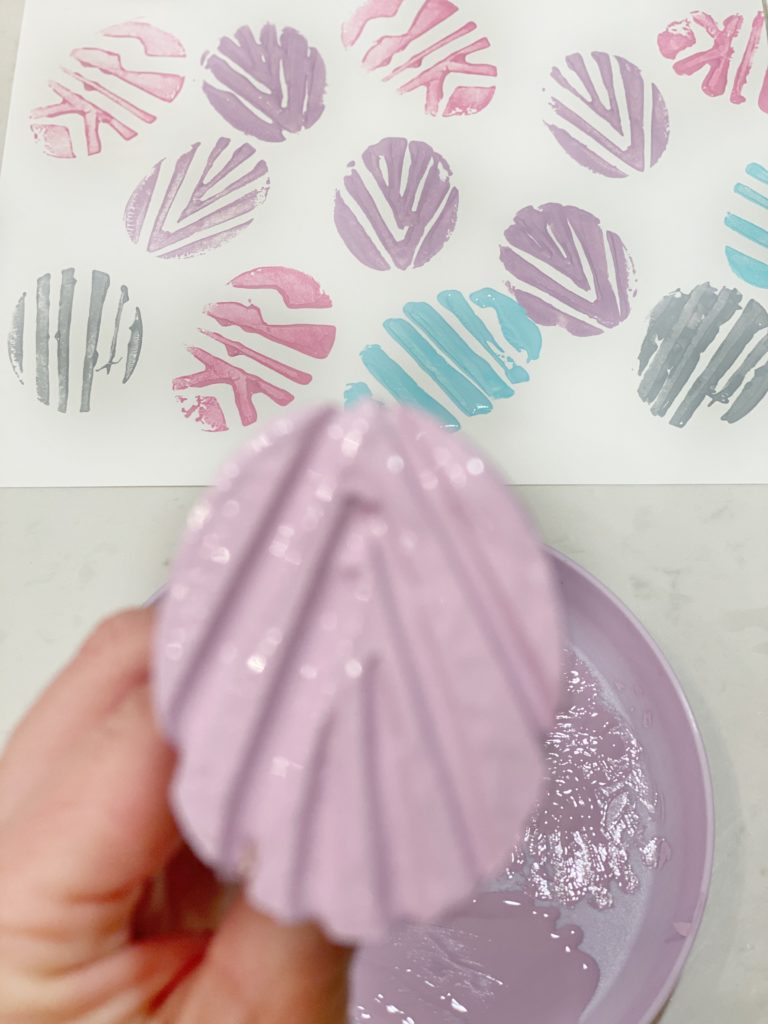 Isn't this the coolest ever!! We are thinking what else can we make!
It was easiest to add the toothpicks, if you have little kids make sure to cut off the sharp end.
Here they are after they are all stamped up! Aren't they so cute!!! Ok, next up the third craft.
EASY DIY EASTER STAMP CRAFT #3
Now we are making a cute easter bunny "stamp" with what we should all have toilet paper rolls! ( I may have pulled mine out of my toilet paper HA!)
It is so simple, you need to bend the two rolls to look like ears, we made one a little loppy. Then its time to glue. OK I have to be honest here, I have never used this 3 in 1 and its INCREDIBLE – it dried in seconds!!! Once you let it dry, its time to stamp away!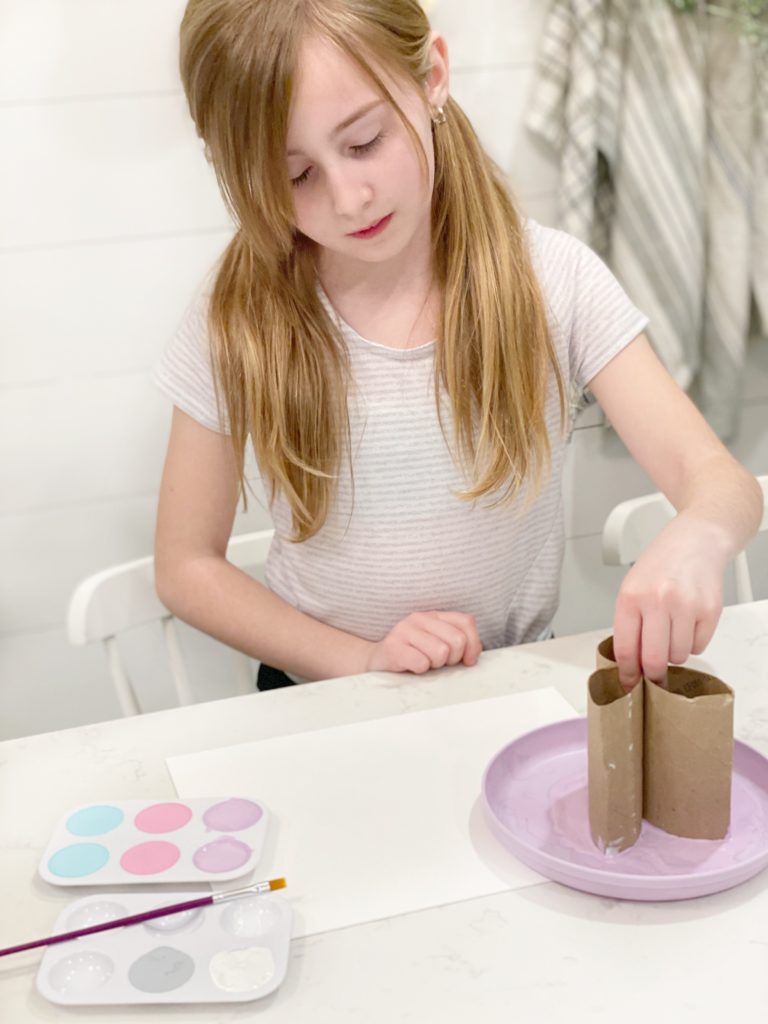 We chose a darker color, if you have colorful paper then it would be easy to do a white bunny on. Purple is Zoe's favorite color, so this fits her perfectly.
Its all about the details <3 Zoe is so good at that! She wanted to add little ears, eyes, nose and whiskers. You can always finish the bunny off with another roll and use the brush for the last minute touches.
Thank you so much for following along! I hope you enjoyed seeing these crafts! Which one are you going to do?
YOU MAY ALSO LIKE :
Easter Baket Gift Ideas for the Whole Family
Pin this image for later, and come pin along with me HERE.