Moody Bedroom Reveal + 3 things I learned!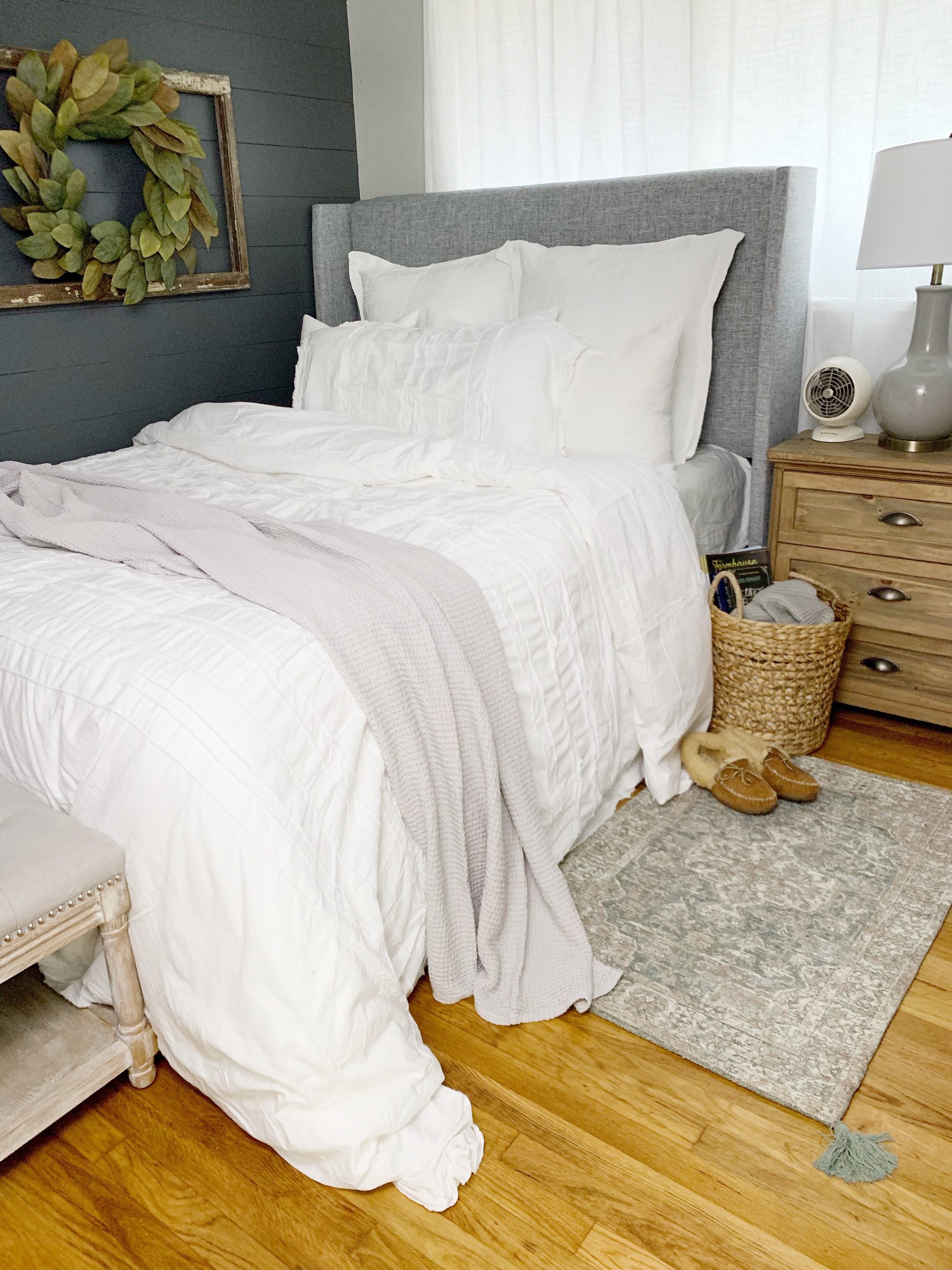 Here it is!! My moody bedroom reveal – can you believe it a color?? Well, I knew when I found this GORGEOUS bedding from The Company Store that I needed to change things up! Last summer we ordered new bedding for our camper, and are spoiled every time we use it… so it made sense to add it in here. Follow along as I go into details all about the makeover and the 3 things I learned!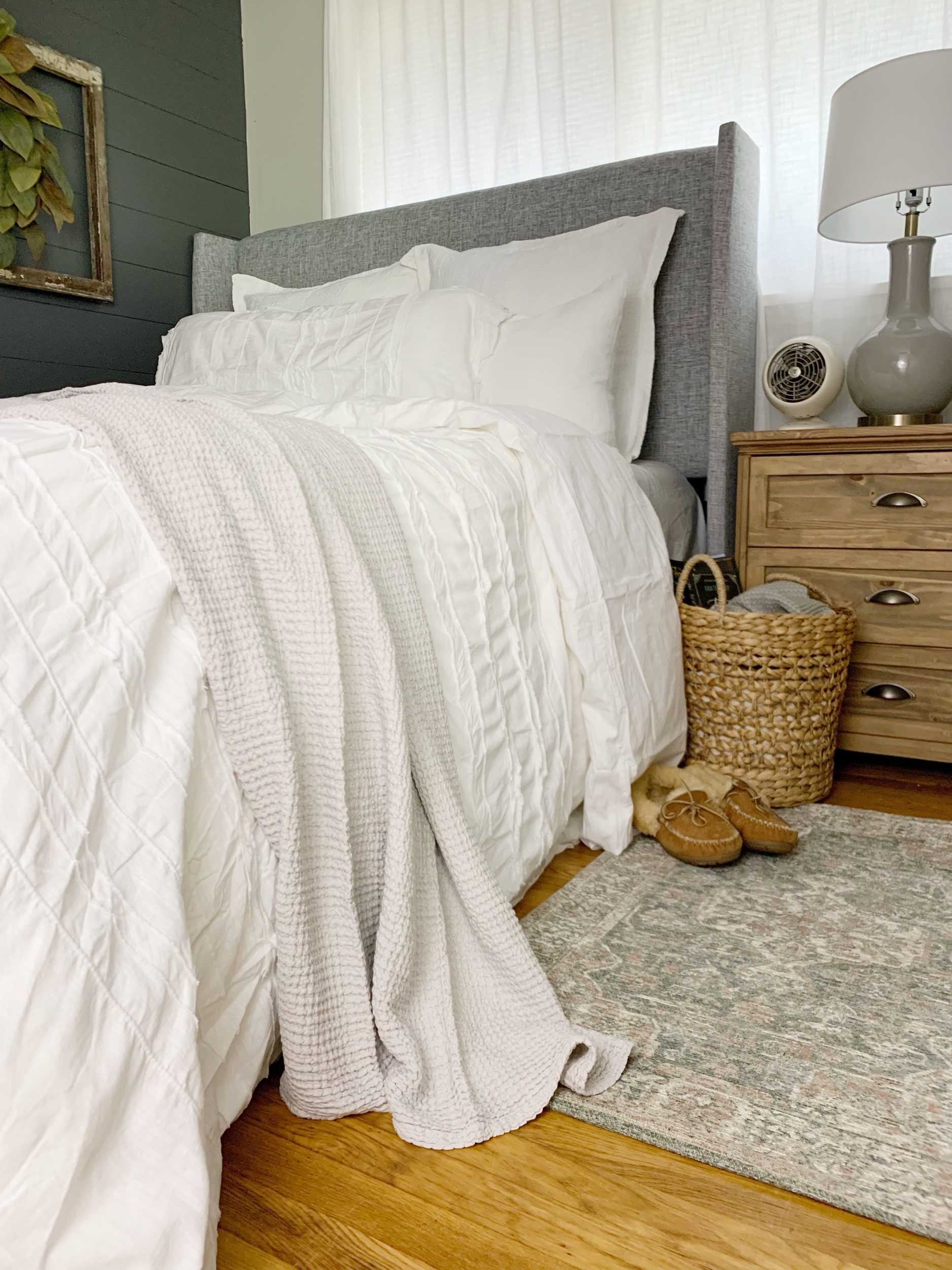 Let me tell you about the bedding and the first thing I have learned. With The Company Store you are getting quality, and that is the number one reason I love ordering their items. The craftsmanship of their items are unmatched, you know when you get a duvet cover, and it has ties in it to save you from the hassle of having a lumpy duvet… that is what you get from The Company Store, and whats even better the duvet itself has loops!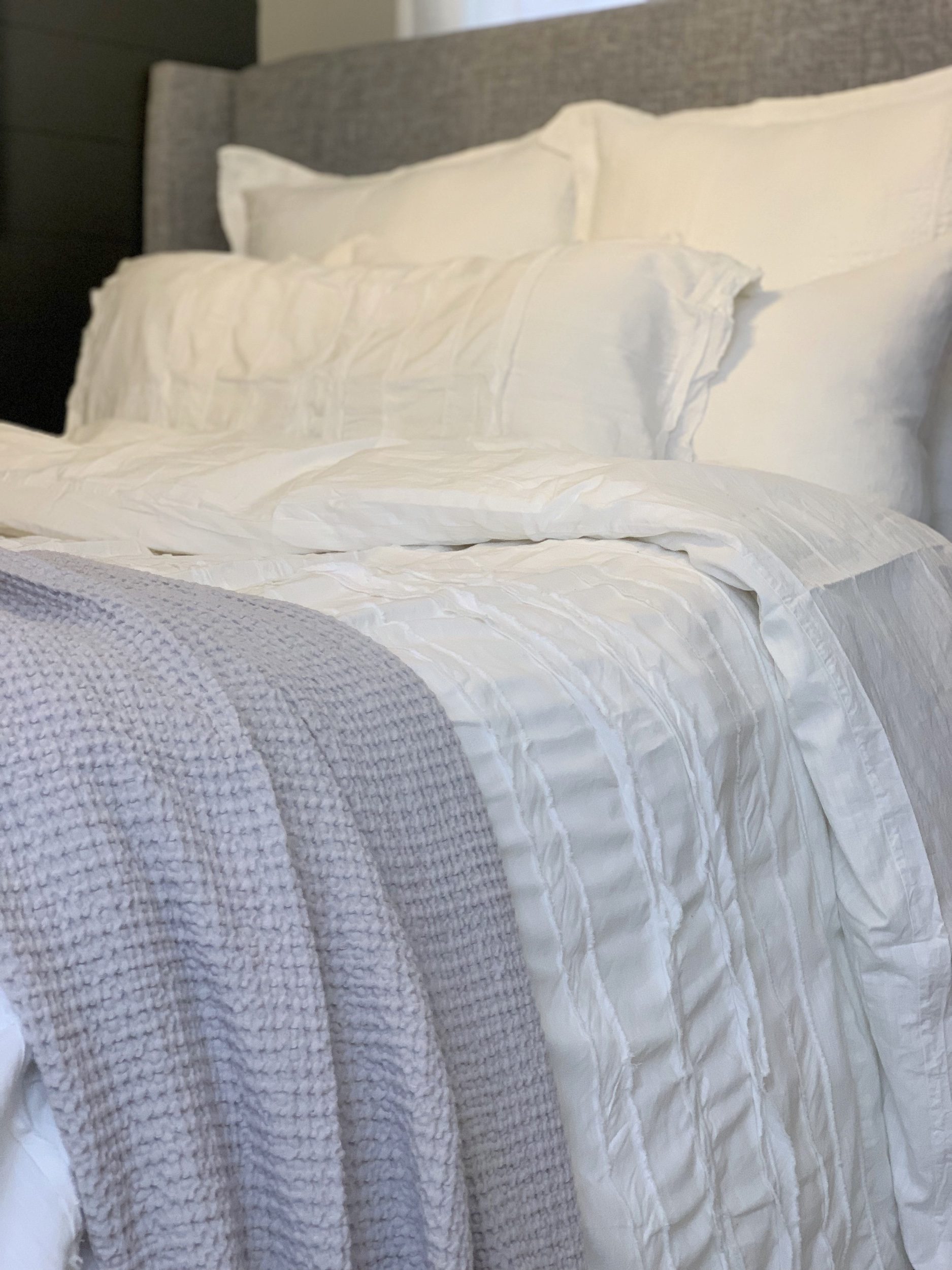 Now onto the second thing I learned, that you NEED to order these sheets from The Company Store! This was a first for me and they are like butter, seriously so soft! If you are needing new sheets its time to order now especially with their sale!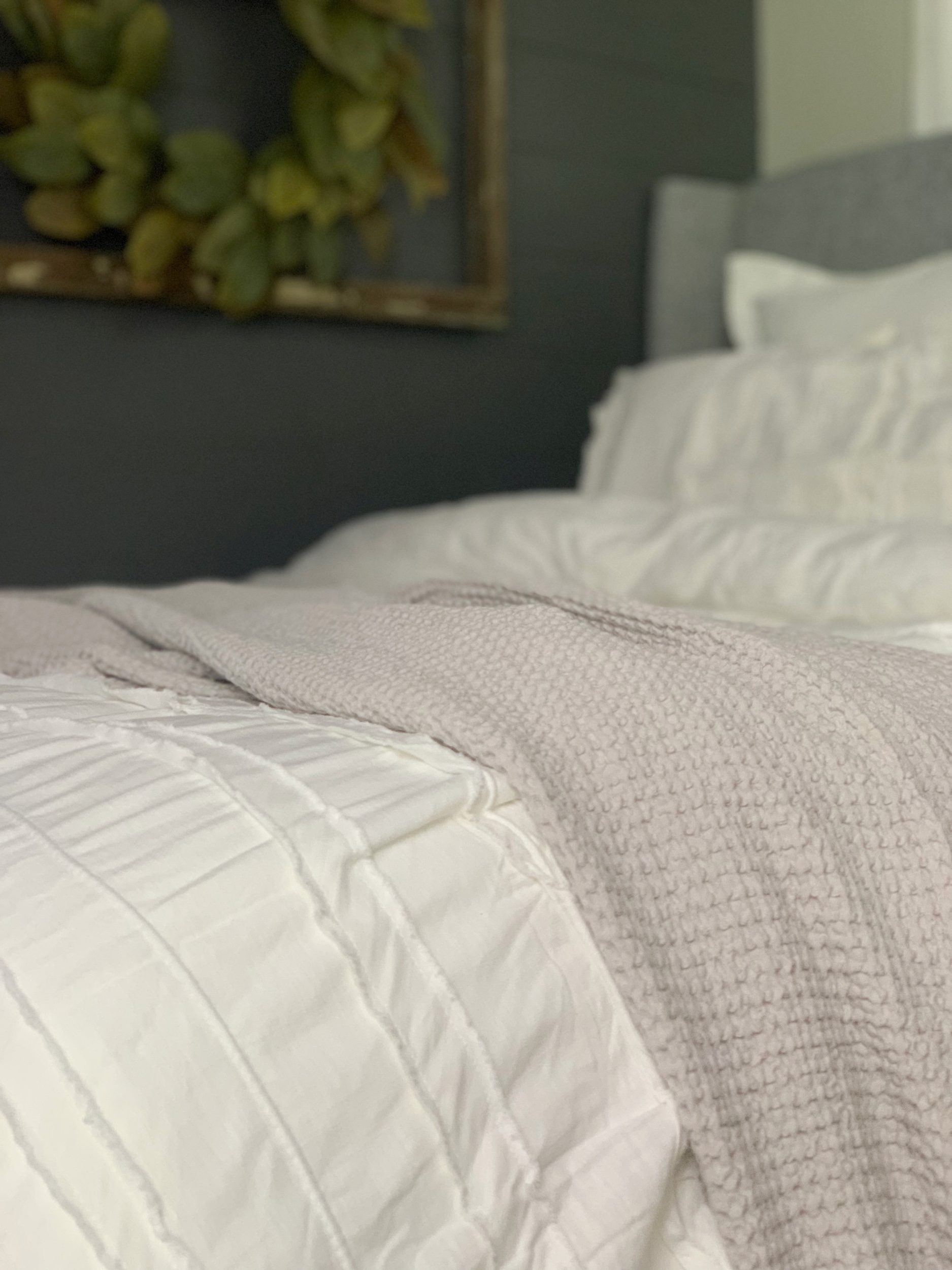 Lesson number 3, there is never enough bedding that you can order and I could have ordered more pillows and layers! I love a cozy bed and layering is my favorite thing, so as we go into fall you will see it cozied up even more! I love this grey blanket and can see doubling it up as we go into the cooler season, can you guess how many duvets I normally use? If you guessed 3 you are right! You can see the tiny fan next to our bed its quiet powerful and I love to be warm.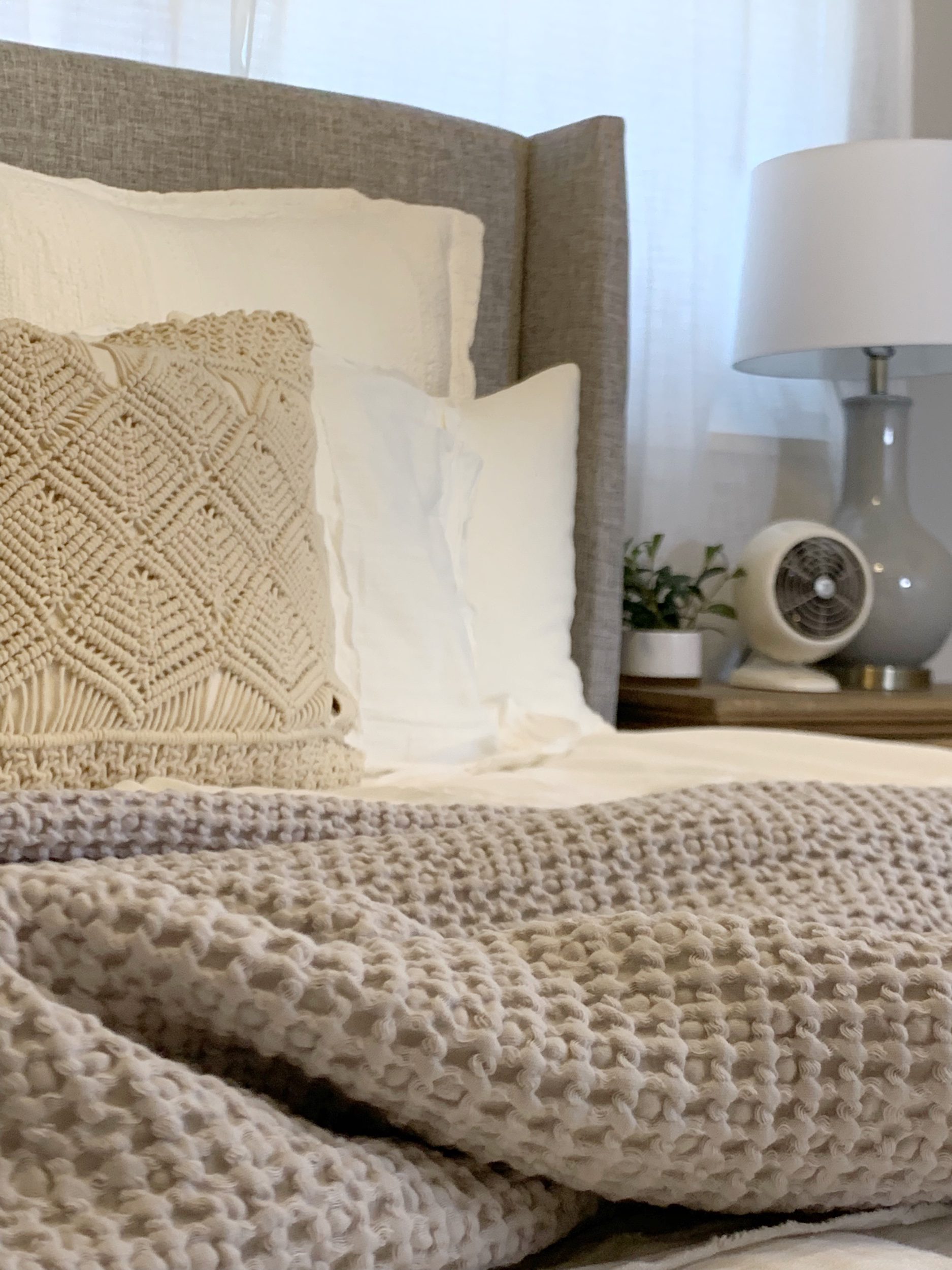 This pillow you see in this photo we have had for over a year from The Company Store, and the quality is amazing especially with 3 boys who love to have pillow fights with it!
Look at all these textures on the bedding, that is why I fell in love with it!
I love having the white duvet, because it lets you add any color.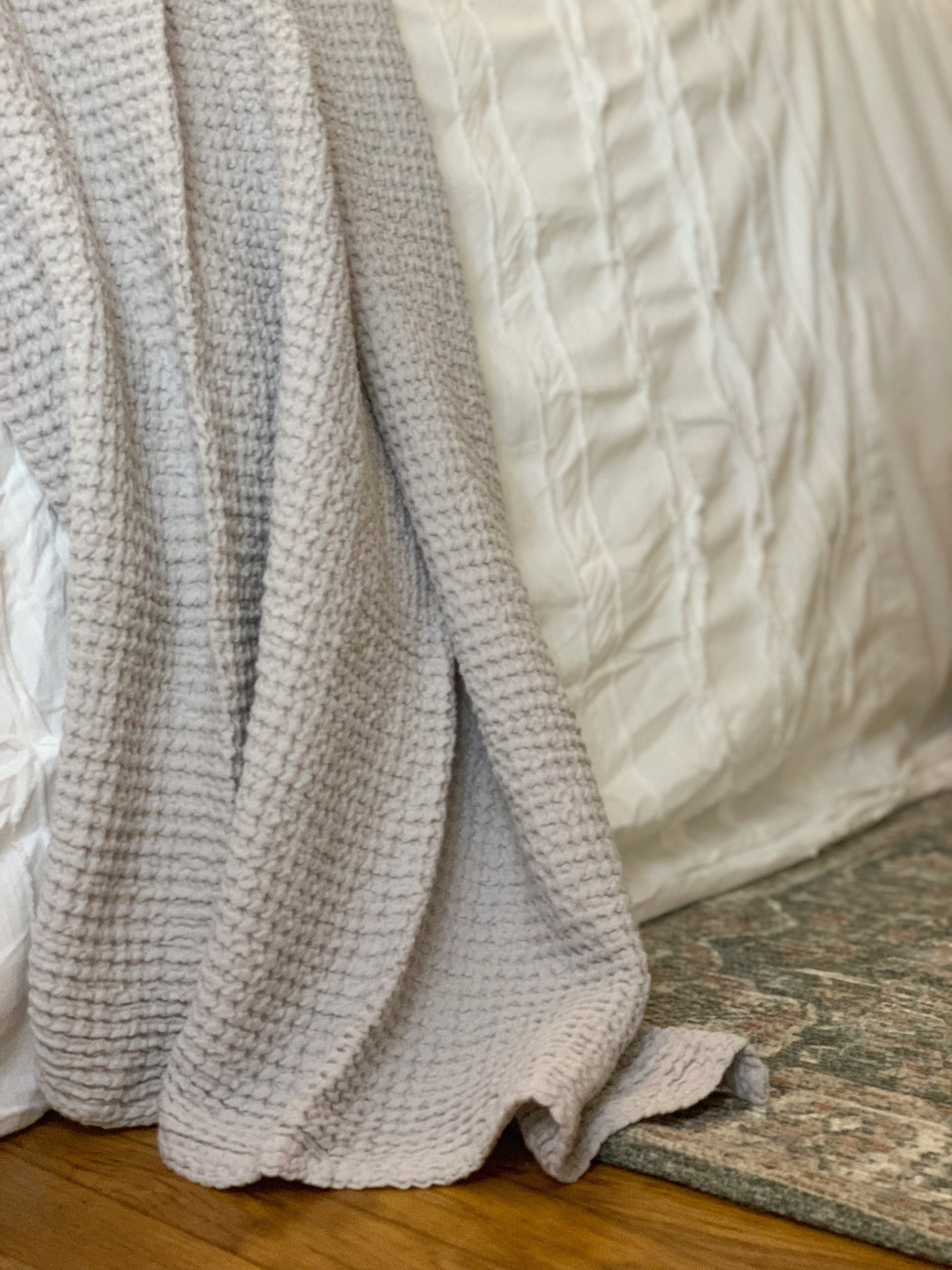 Just look at the details, I love the little ruffle on the duvet.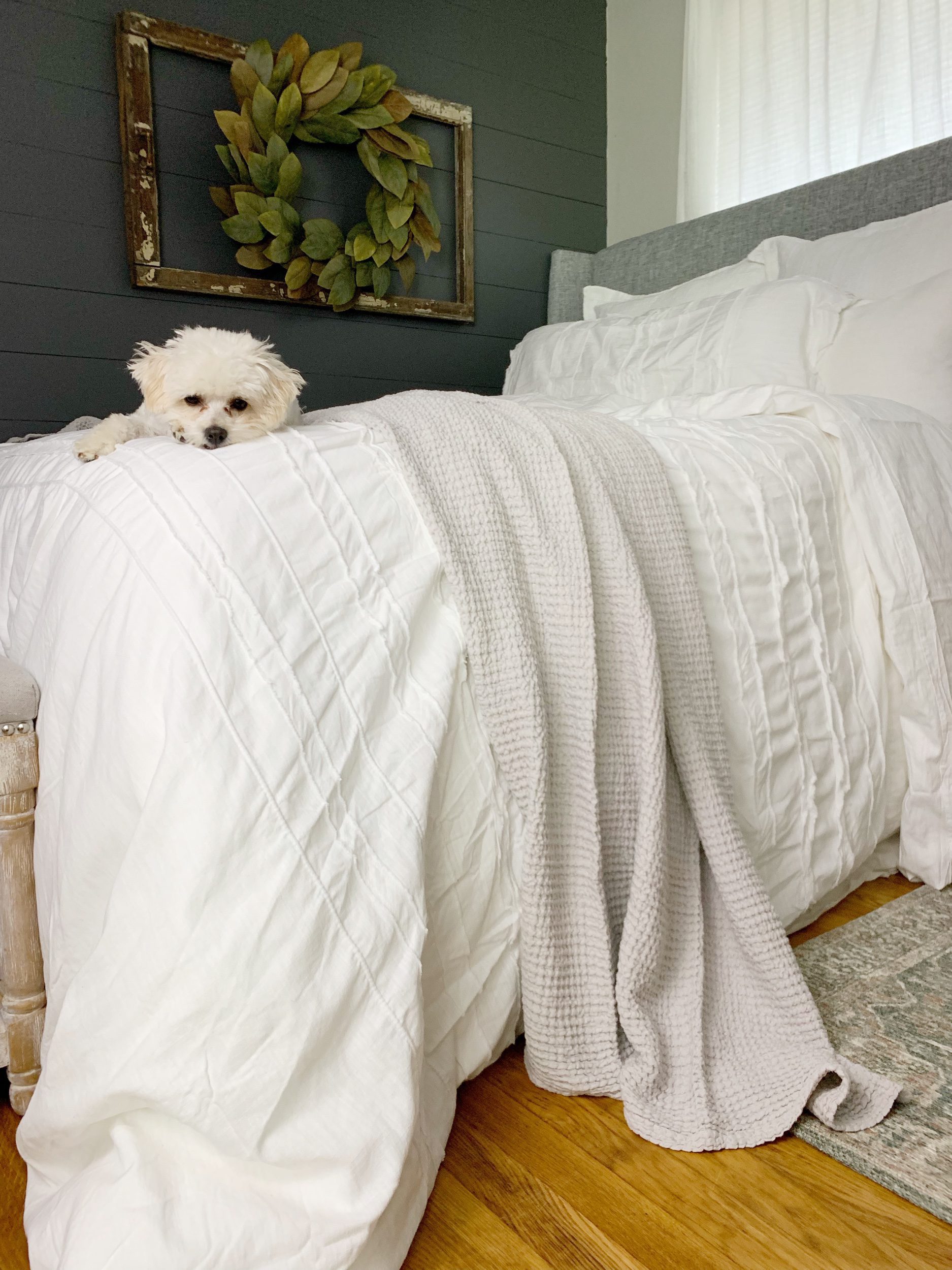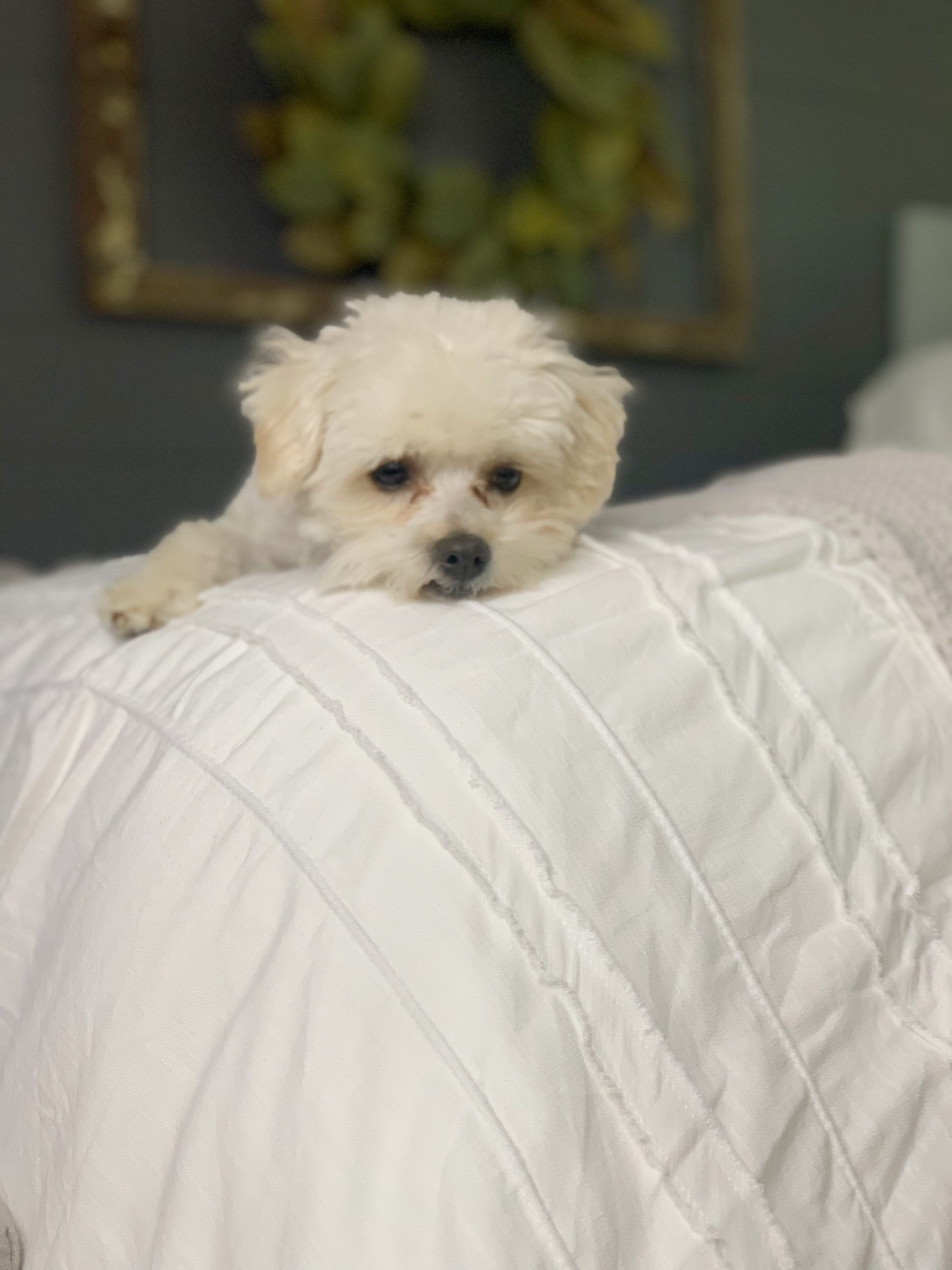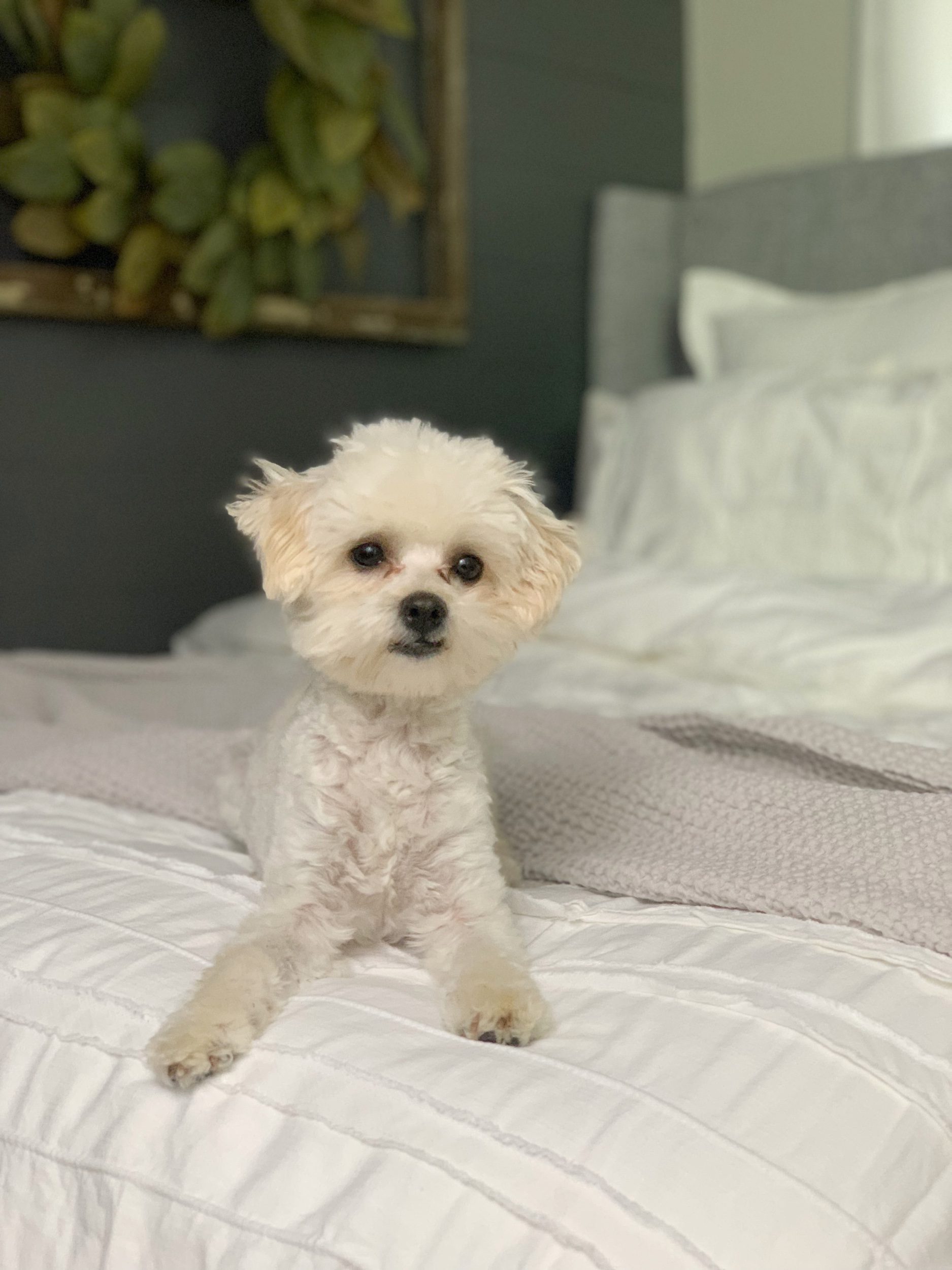 Now miss Daisy say how comfortable this bedding was, so she decided to pose for a photo shoot. Naturally we went with it, and she had so much fun. Afterwards she curled up on the throw blanket.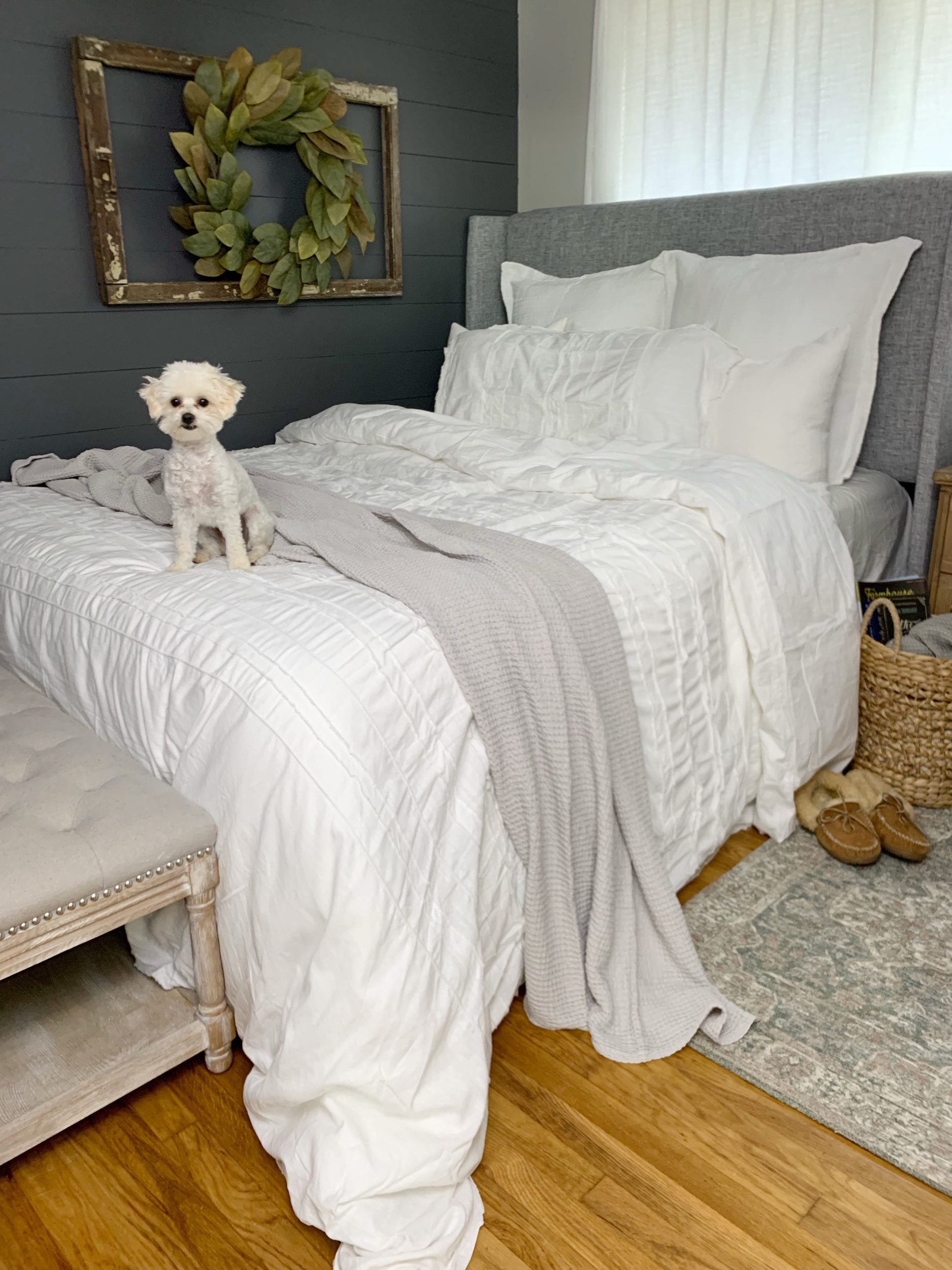 We hope you loved seeing the new reveal of the bedroom! I will have all the other sources saved to my story highlights, and go more into detail on the color I chose and what I learned from that! Don't miss out on the amazing sale The Company Store has going on now, I provided all the links below.
Sources :
I have placed all the links below, you can click on each item.
Beachcomber Cotton Duvet Cover
Beachcomber Cotton Sham
Interwoven Cotton Linen Duvet Cover / Sham
Black Label™ PrimaLoft® Comforter
400-Thread Count Supima® Percale Bedding
Honeycomb Cotton Blanket / Throw