A peek into Delta Faucet : Lasting Design and Leading Style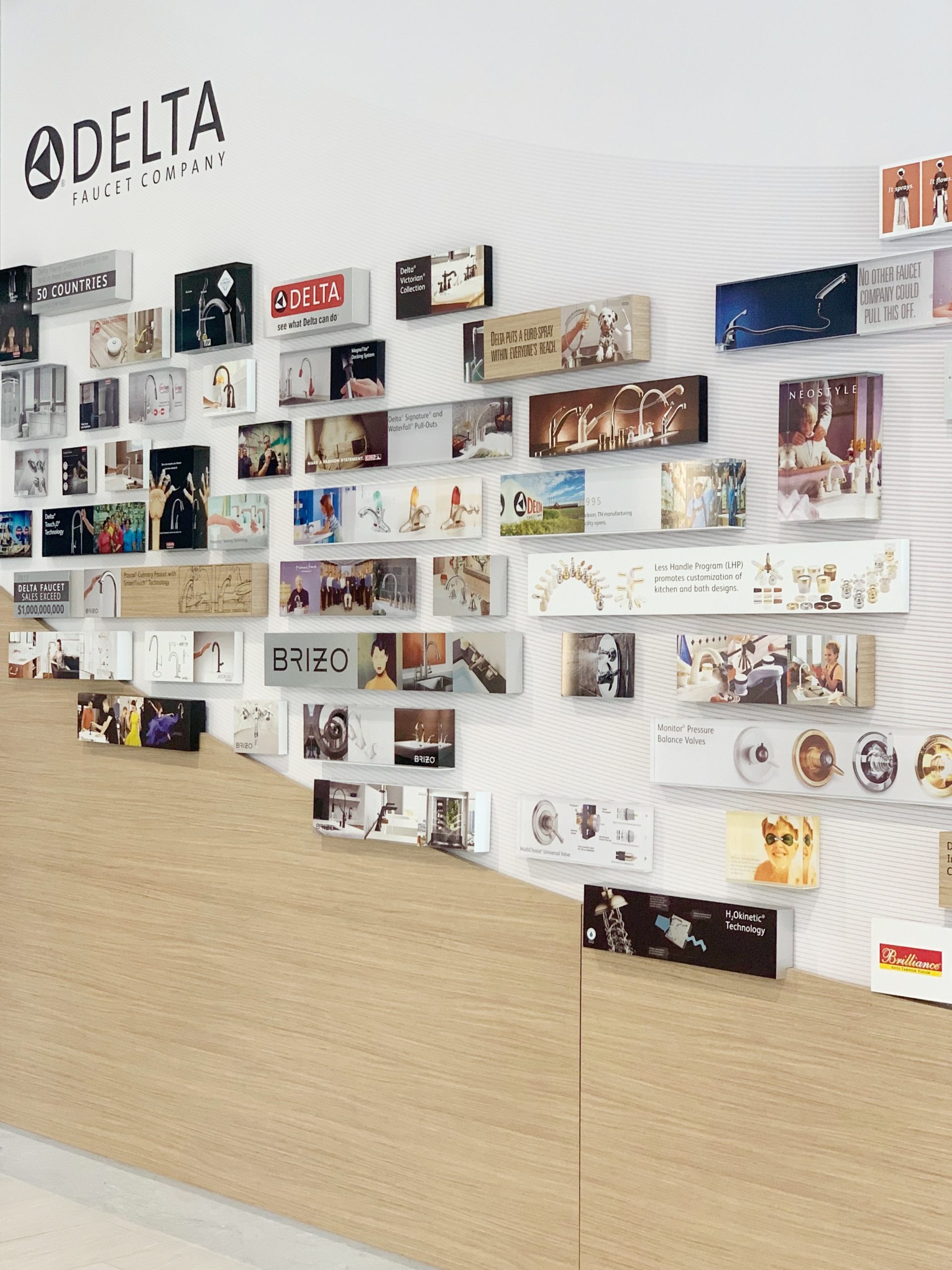 I had the most amazing experience going to Delta Faucet Headquarters in Indiana. I learned so much from this trip and I cant wait to tell you all about it, but the thing that resonated the most with me was that Delta Faucet isn't just a company, it's a family and I left there wanting to be part of it! Each item they make has so much heart and soul put into it and I know that I want to have Delta products throughout my home. It was so neat meeting so many people who are behind how the products are made, and we learned so much about not only what goes into making the products and the design, but the technology they have integrated into it. Keep reading to find out all the amazing things I learned and see the newest products launching!
The first night we got into Indianapolis we were greeted by the most amazing people, among them was Paula that you see here in this photo and she is the sweetest ever! With Delta Faucet they never let us go hungry and we should have known by the amazing food spread when we first got to the hotel – just incredible! We had a great first night all getting to know each other and then it was time to rest and can I just say the beds at the Renaissance were the best ever!
The next day started off with breakfast and then we headed to Delta Faucet Company and just looking at the outside of the building we knew it was going to be good inside! We were greeted by even more people than the day before and all as sweet as can be! They of course had more food waiting for us, and then it was time to check out the Delta brand
Are you drooling at what you see? Um, we all went crazy over the Broderick™ Collection! The look of it mixes modern style and hints of industrial element— it's just timeless! The only bad news – it's not available yet, but soon!
Now let me go into detail why I went crazy over this Broderick faucet. First off, it is a bridge faucet and exactly what I need. Then the most amazing thing – well there are more than a few but let me name off some! It is the Delta brand's first bridge faucet and has a pull down sprayer! The sprayer has ShieldSpray® Technology, which uses a concentrated jet within a protective sphere of water to power away stubborn messes and less splatter!
Doesn't that sound amazing….,well there is more! The Broderick Bridge, and all of the Delta pull-down models, have the MagnaTite® Docking. What that means is it will hold the spray head in place with powerful magnets, but it still allows it to come free with a gentle tug!
Ok, I know I can keep going… and I will because I saved the best for last! You know when you are cooking with chicken and don't want to have to turn on your faucet? Well Delta has solved that problem for you with the Touch2O® Technology!! It lets you turn on the water flow with a simple touch anywhere on the spout or handle.
I told you amazing right? Guess what we aren't done yet! Maybe we should ask Alexa if we are done? Or should we ask her,
"Delta can you fill my water bottle"
"Delta, fill one cup"
"Delta turn off the water"
"Delta please heat the water"
– YES I AM SERIOUS!! You can now hook up your Touch2O faucet with Alexa!!
Now you want to get one right? I am right there with you and deciding which I should get!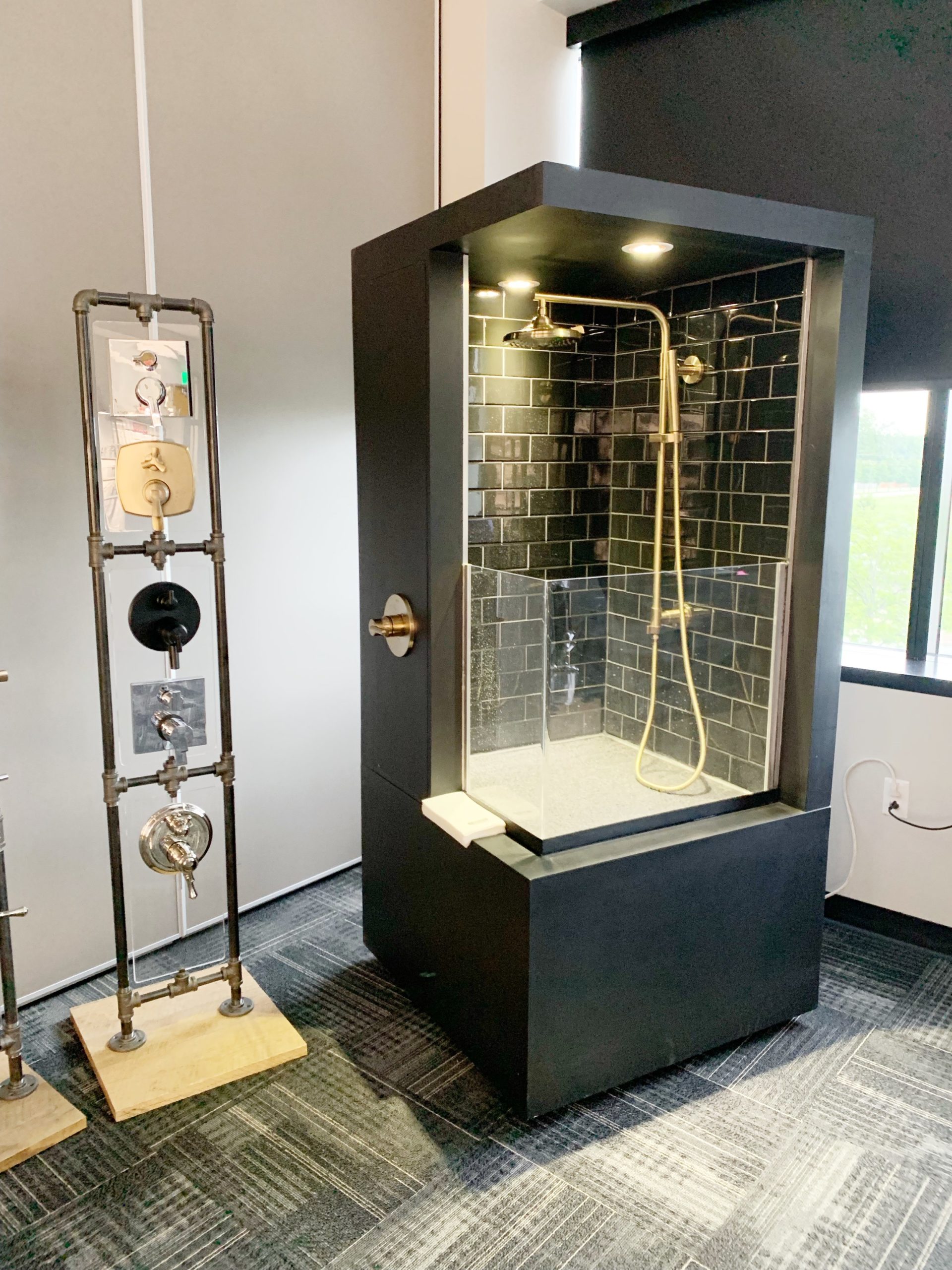 Ok, ok… I promised something new and isn't it amazing?? This is the Delta Emerge™ Shower Column. I love how amazing and fancy it looks, but it's so easy to install! They made this to give you the same experience of the overhead shower, but without all the extra work!
Now we can see other bathroom faucets and I am in the market for a mini bathroom refresh! Which one is your favorite?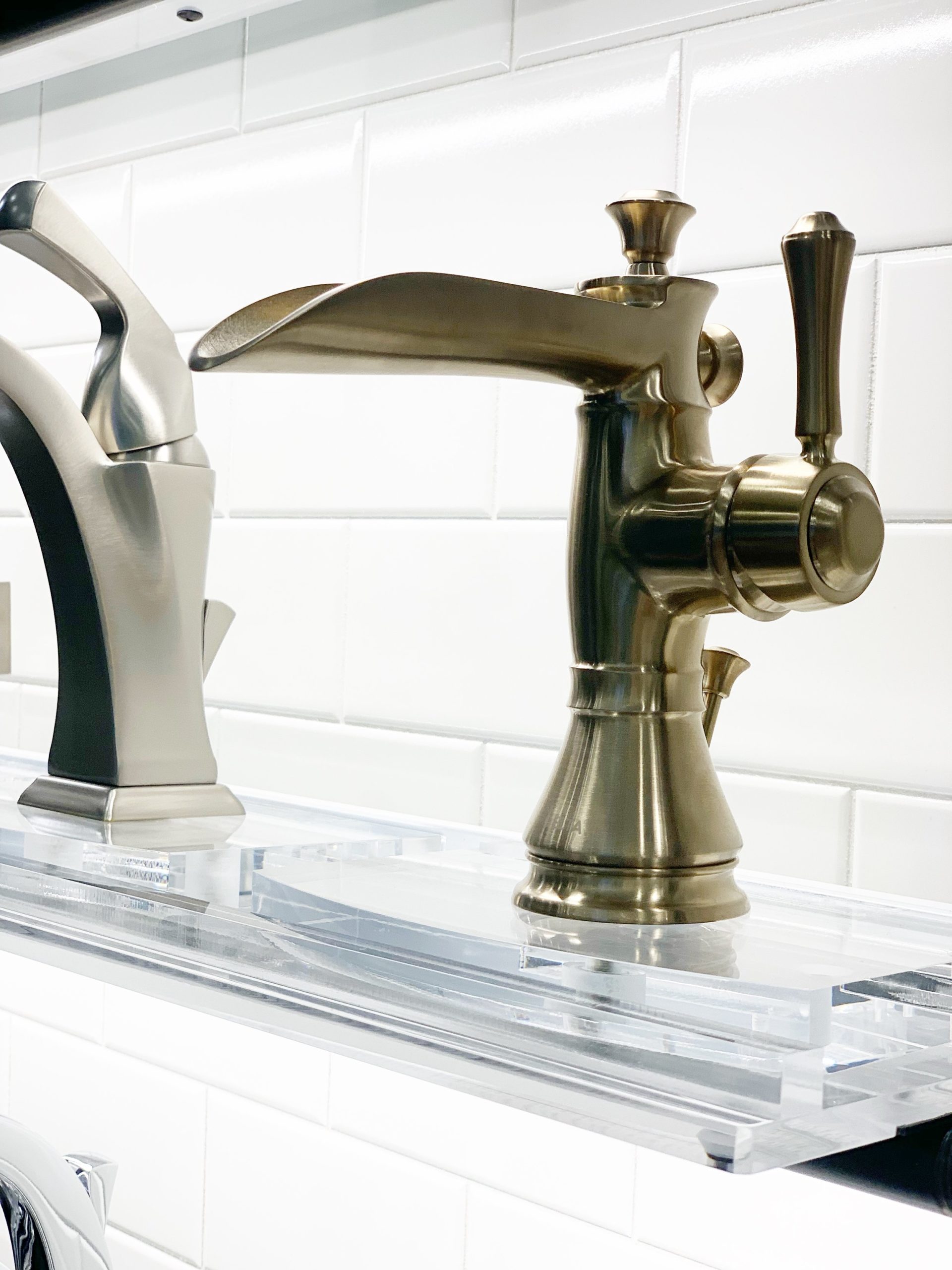 One of my favorites is, the Cassidy by Delta, a collection that's been around for a while because of it's timeless and beautiful design. This is the Champagne Bronze finish and it's even more gorgeous in person!
After lots of snacks and an amazing lunch we got to explore the Delta brands showroom and, of course ,the three of us had to have some fun!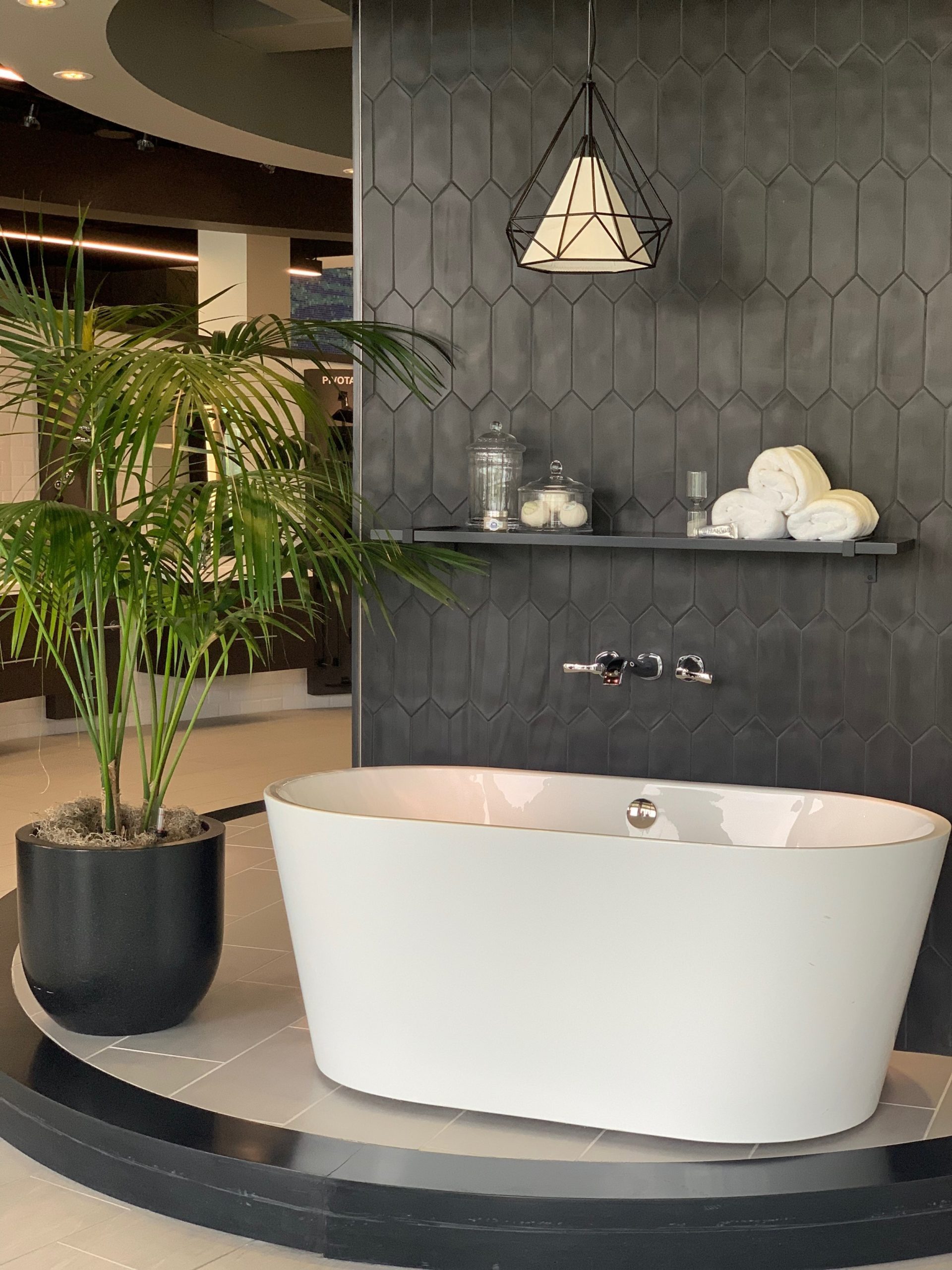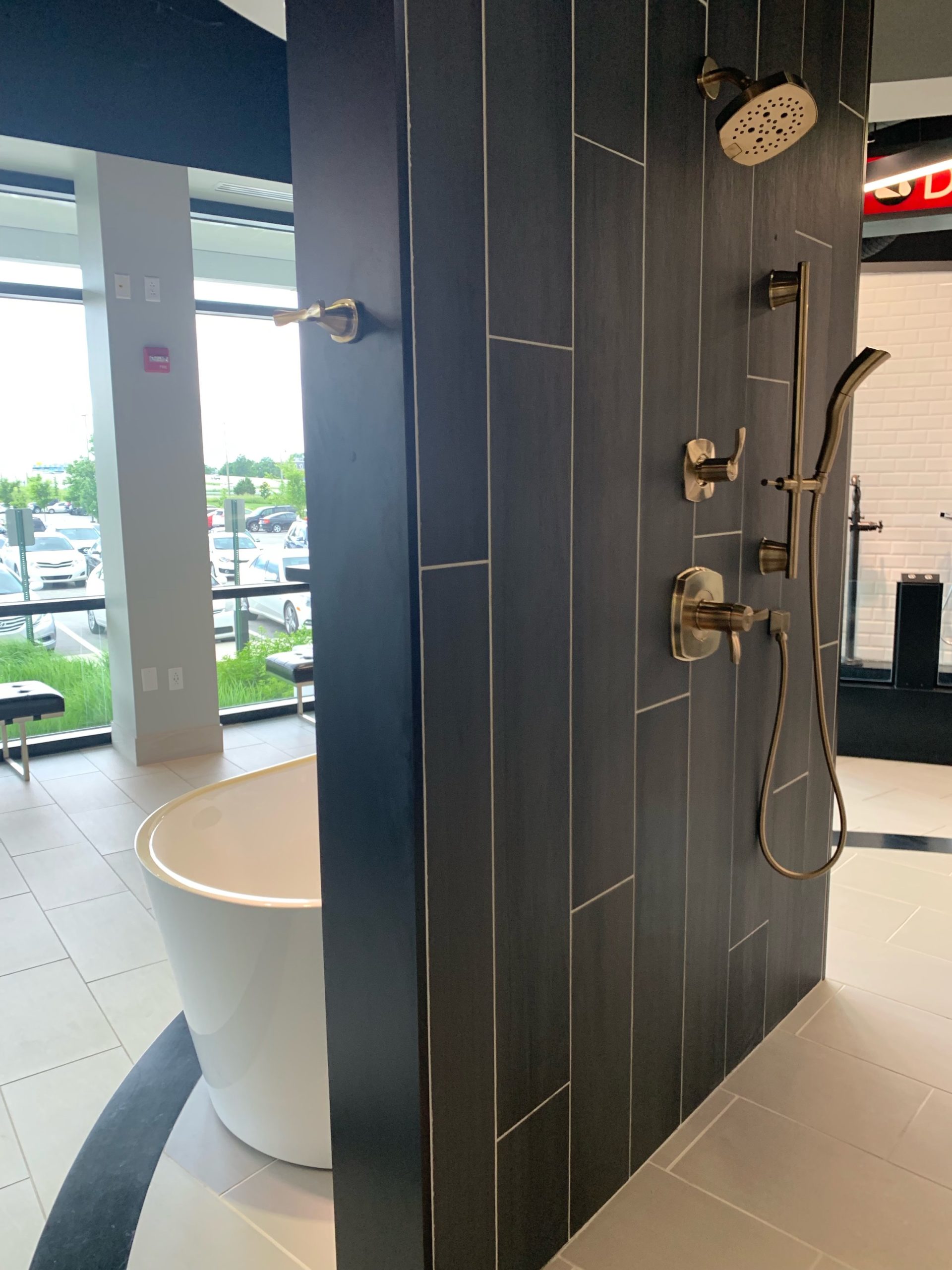 You can see above the silliness the Delta H2Okinetic® Pendant Raincan Shower Head with LED Lighting. Can you imagine the shower experience with all of this? I need taller ceilings in my bathroom stat!
The Stryke™ Bath Collection is perfect whether you like contemporary or traditional design.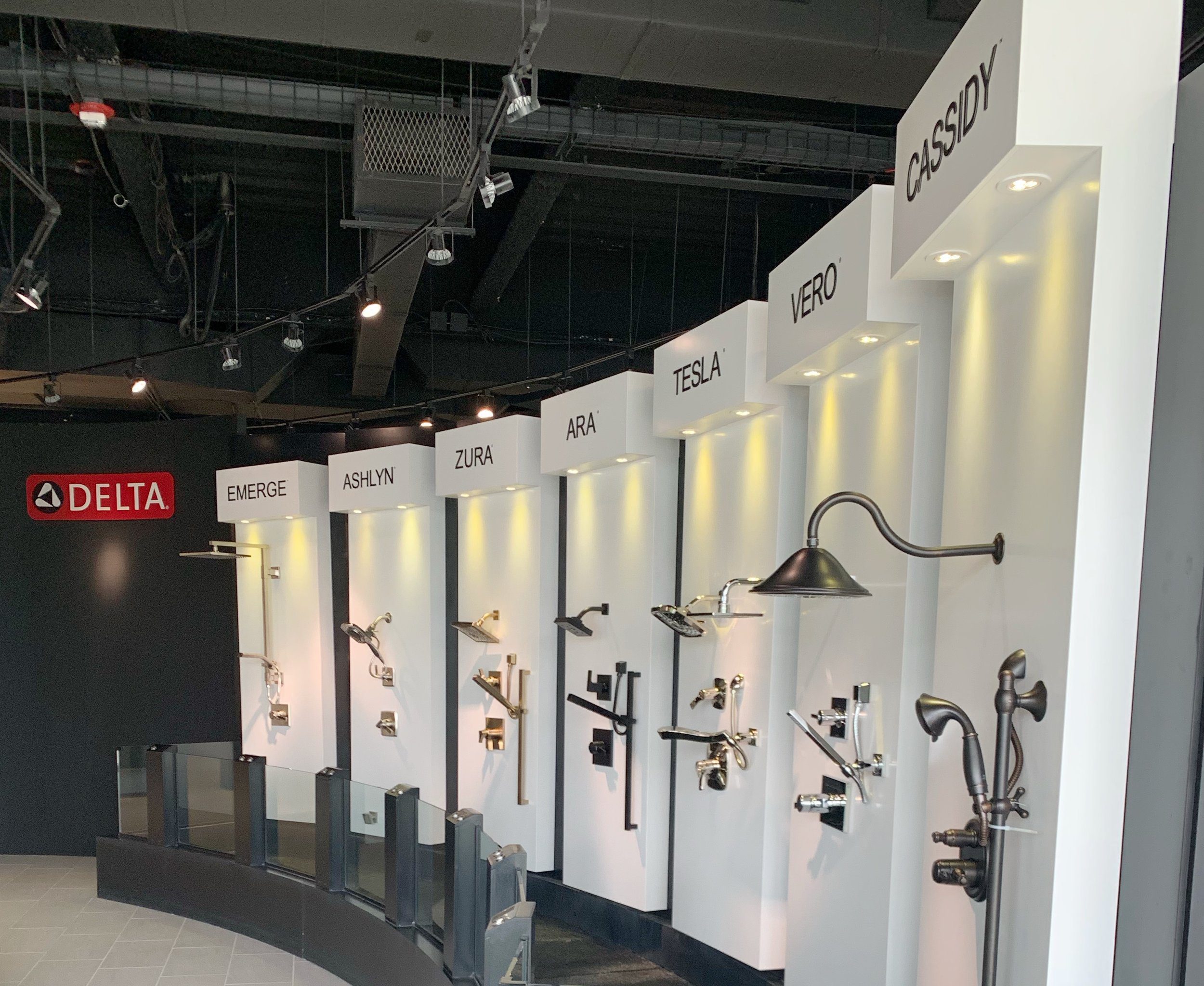 I love this view so you can see a wide variety of Delta showers.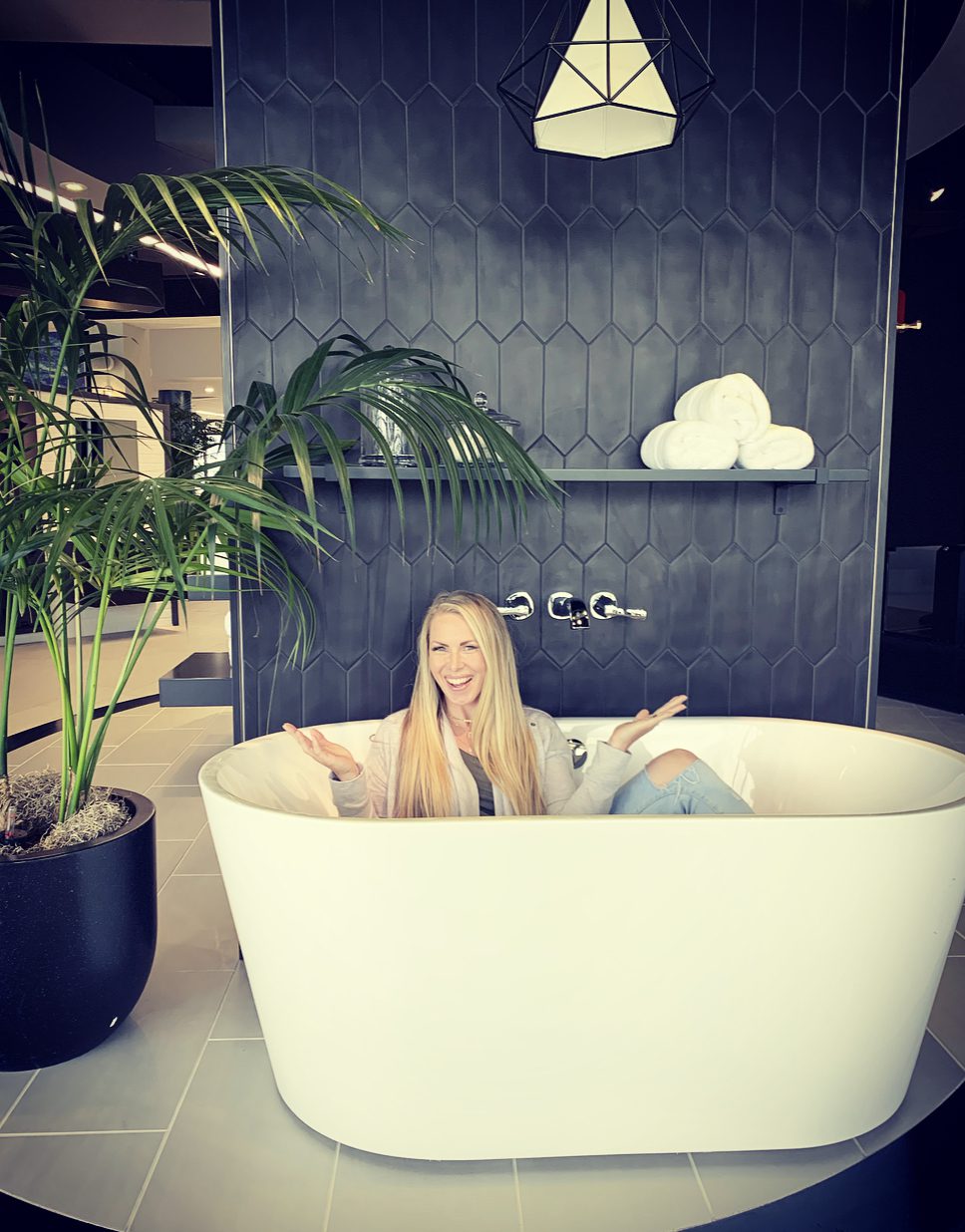 Of course it's fun to get a little silly! Heck I need a bigger bathroom so I can move this to my house!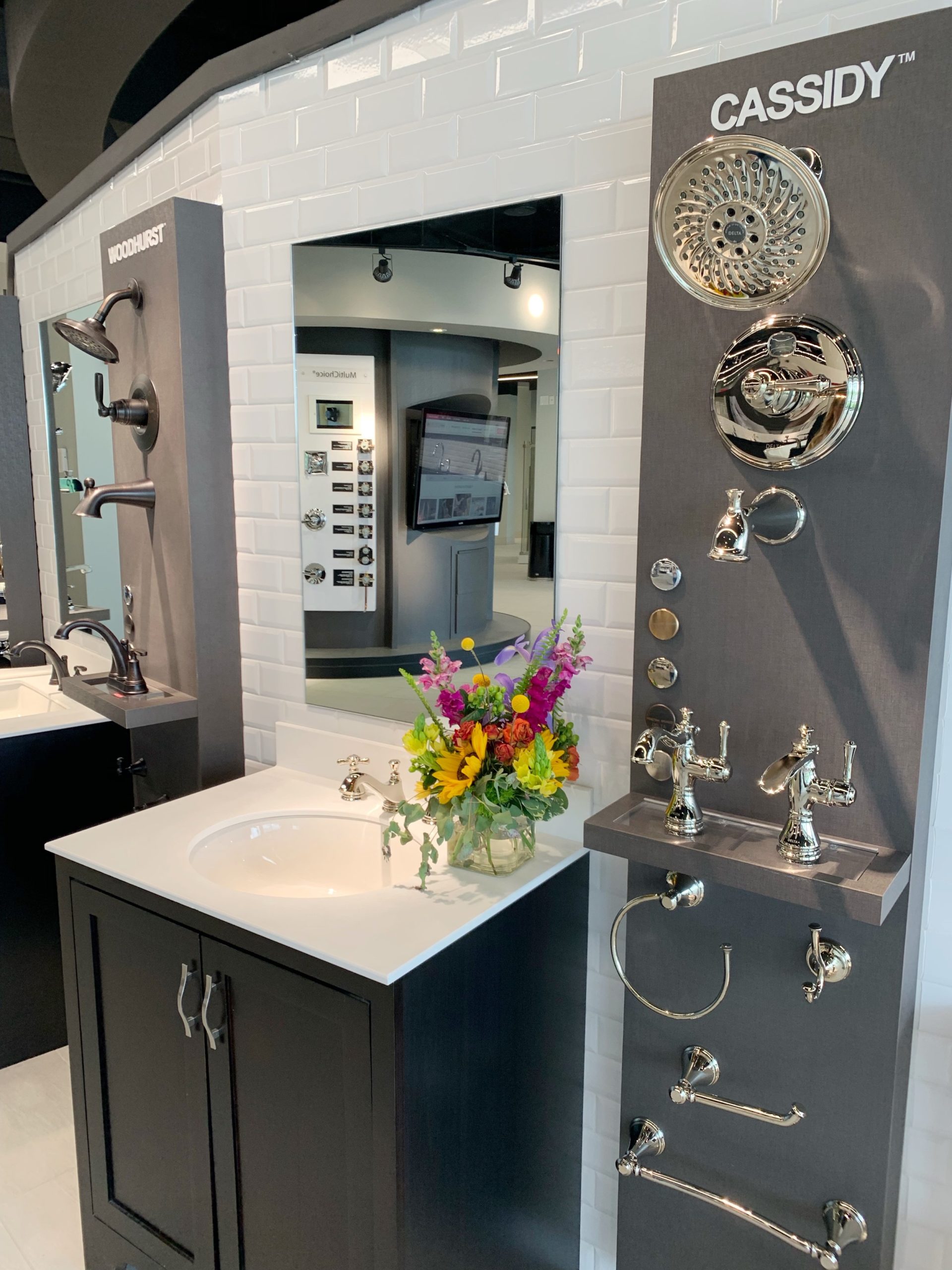 Here we are back to my favorite the Cassidy, you can see it in my bathroom right?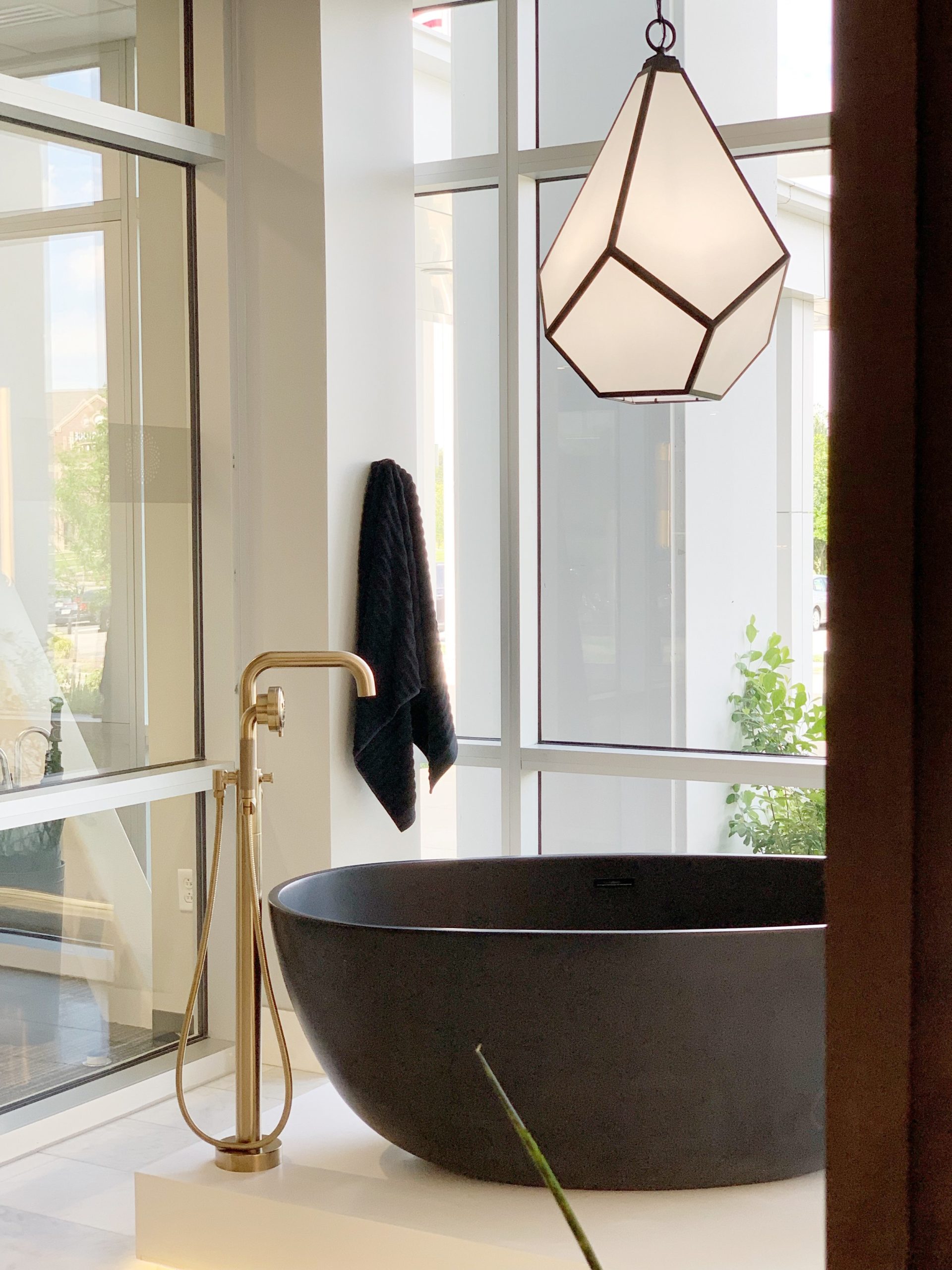 That was the end of the first day, what I left out was all that we learned on how their creative process works with the design and got to tour their studio on where they let their imaginations run wild. It's truly amazing!
We had a little break and then we went for dinner in Carmel, Indiana at this amazing restaurant, Anthonys Chophouse. I wish we took photos, but we just enjoyed our time with some incredible people from Delta Faucet.
Now onto our final day.
Goodbyes are always hard, but before we said bye we learned so much! We were taught about all of the technology that goes into plumbing, who would have known? Along with some new ideas and products that are hopefully being brought to Delta. Delta Faucet Company has an innovation team called First Wave℠ Innovation Lab whose sole purpose is to ideate and unveil revolutionary products that change and enhance the way people interact with water. My favorite item that they've created is the Delta Glass Rinser. It is seriously life changing—check out the press release for it! At the end, we got to watch how each faucet and fixture is made and put together… all the pride that is put in each piece.. is incredible.
One thing at Delta, not only do they know all that goes into plumbing and are innovators on lasting design and leading style they know good food and how to treat their guests amazing!
I want to say a special THANK YOU to Delta Faucet for this incredible experience that will last a lifetime! I am so grateful for this opportunity. I hope each of you learned more about the Delta brand and why I love them!
THANK YOU also for putting this group together, you will adore each of them!
Ashley Wilson, (At Home With Ashley) Ashley Petrone, (Arrows and Bow) Bre Douchette, (Rooms for Rent) Caitlin Flemming, (Sacramento Street) Cynthia Harper, (Cynthia Harper Living) Tamara Anka, (Citrine Living) Zabrina (Bree) Hancock, (ZDesign at Home)
NOTE: This content, and any modification thereto, is owned in full by the creator engaged to provide services, and no rights or licenses of any kind are transferred. This content may not be used for commercial purposes, published, or distributed without the consent of the copyright owner.