Bedroom Refresh – Sixpenny Home
Bedroom Refresh – Sixpenny Home a match made in heaven! Our room was ready for a refresh – its not done yet but look at the before and after!
When I first laid eyes on this Sixpenny Home Neva Sofa I knew it had to go in this spot! We planned on painting the walls, but I had a vision and well we had flooring … so it came to life! Now let's see where our bedroom started and more up close to all the details!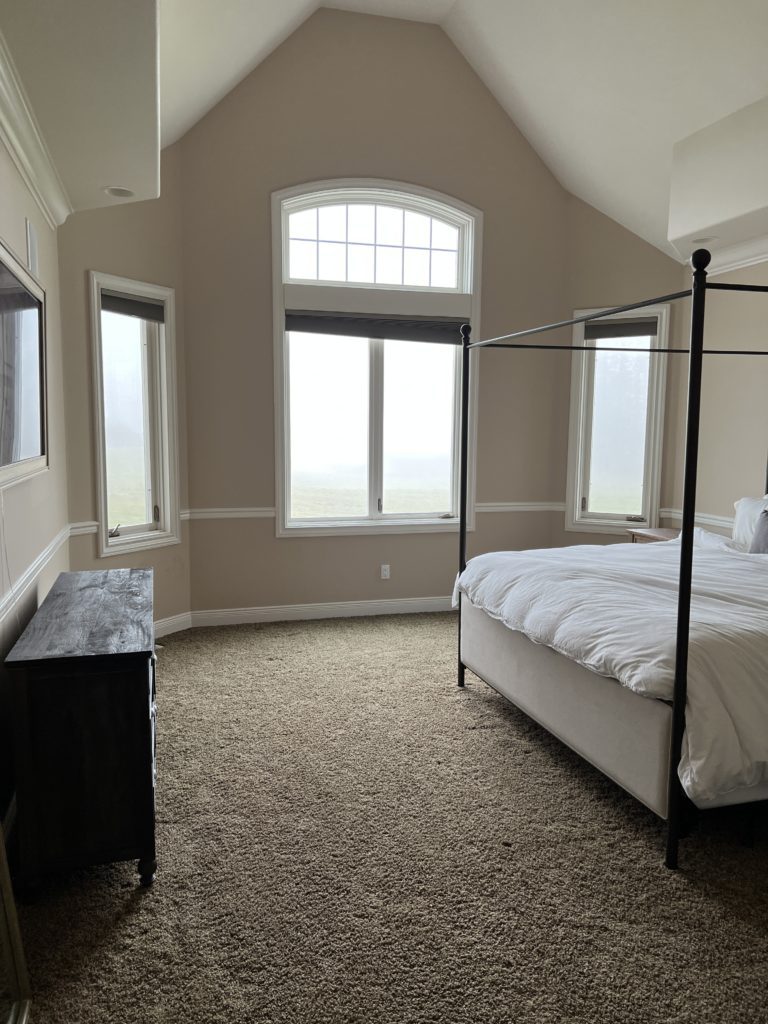 I will say when we first saw this room it was a DREAM – HUGE ceilings, amazing windows, did I mention it has two walk in closets?? I knew it had soo much potential since it was already amazing.
CARPET OR NOT?
James loves carpet, I am not a fan… maybe if I didn't have kids or pets 😛 and it was freshly installed…but thats not our life… so it had to go and after installing flooring in Emersons room we wanted to do the whole house so this room was next!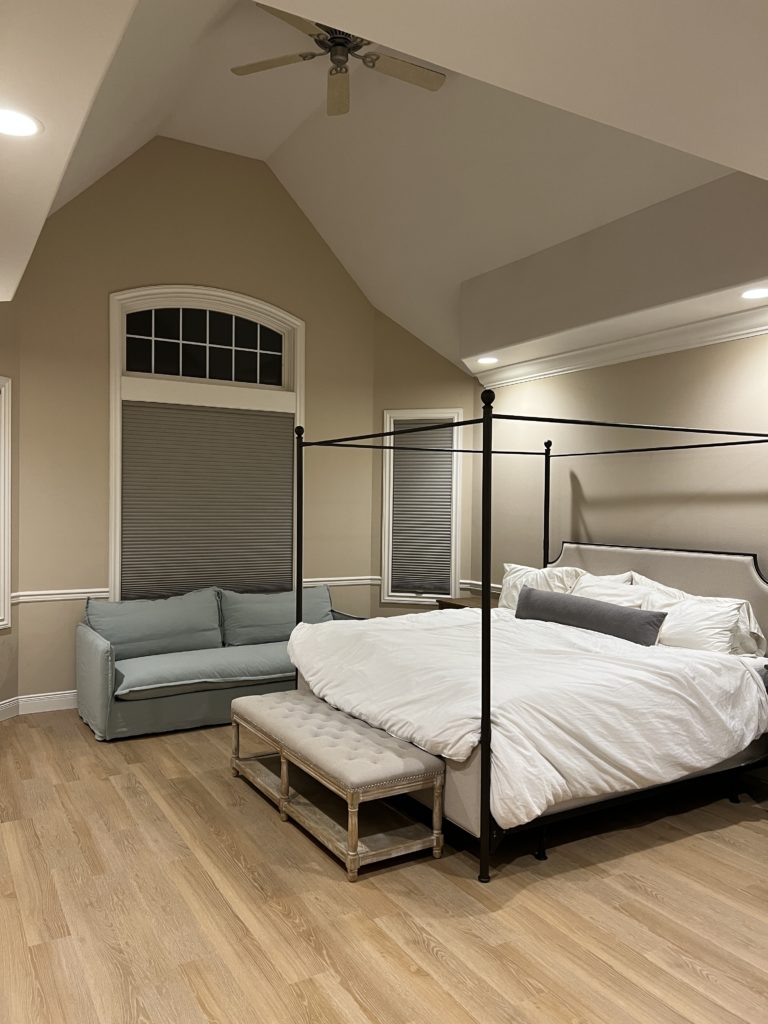 I got a lot of questions on why we did the flooring in our bedroom first, then painted… well the flooring was a last minute decision we had the flooring and we decided that day. Plus I can paint on my own without James… but he actually ended up helping me anyways!

* Always try to do paint before doing new floors but sometimes it doesn't work that way.
Here it is!! New floors, new paint and the piece that started it all the Sixpenny Neva Sofa in Hello Aloe! Did you know this sofa is a slipcover – the only way I will do a sofa! Perfect for pets, kids and any mess – but did I mention its like sitting on a cloud?? Really its amazing!
This Sixpenny Neva sofa is 84″ long so it filled our bedroom perfectly – you will find me working here, and at night the kids try to sneak in to sleep on it!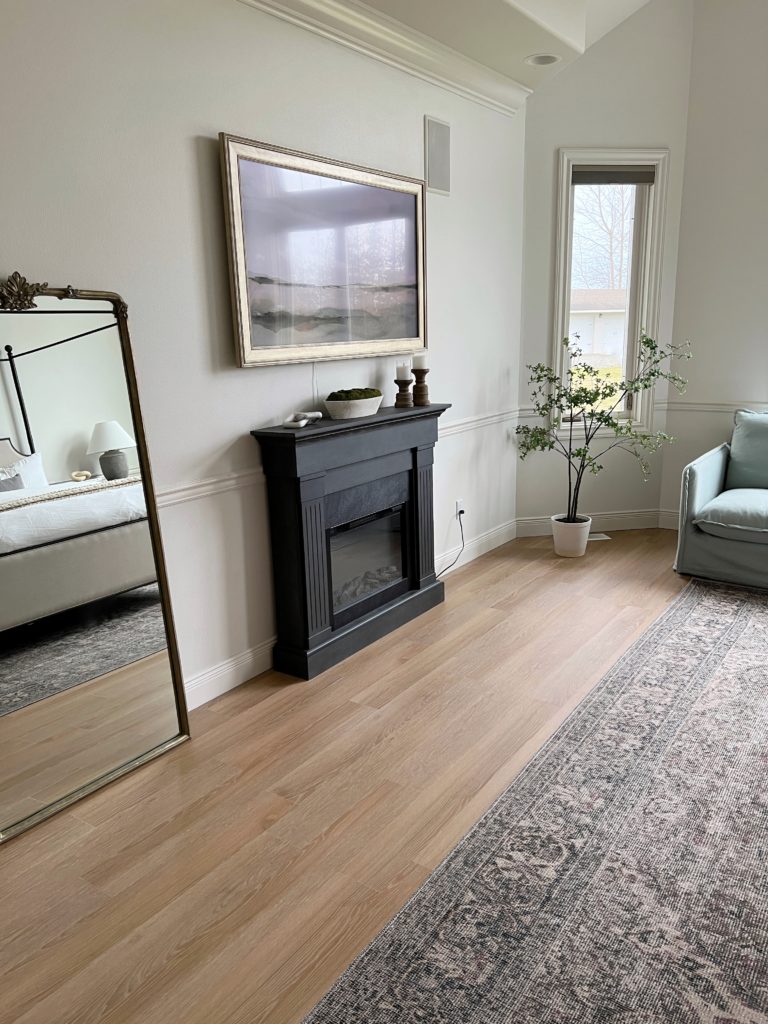 Here is more of a glimpse of the room and all the details, we still have more projects to complete. What projects can we possibly do? Think custom molding, new lighting, a custom built fireplace, blinds… all to come! For now we will soak this up and you will find me in my cloud aka Neva Sofa HERE.
BEDROOM BEFORE & AFTER WITH SIXPENNY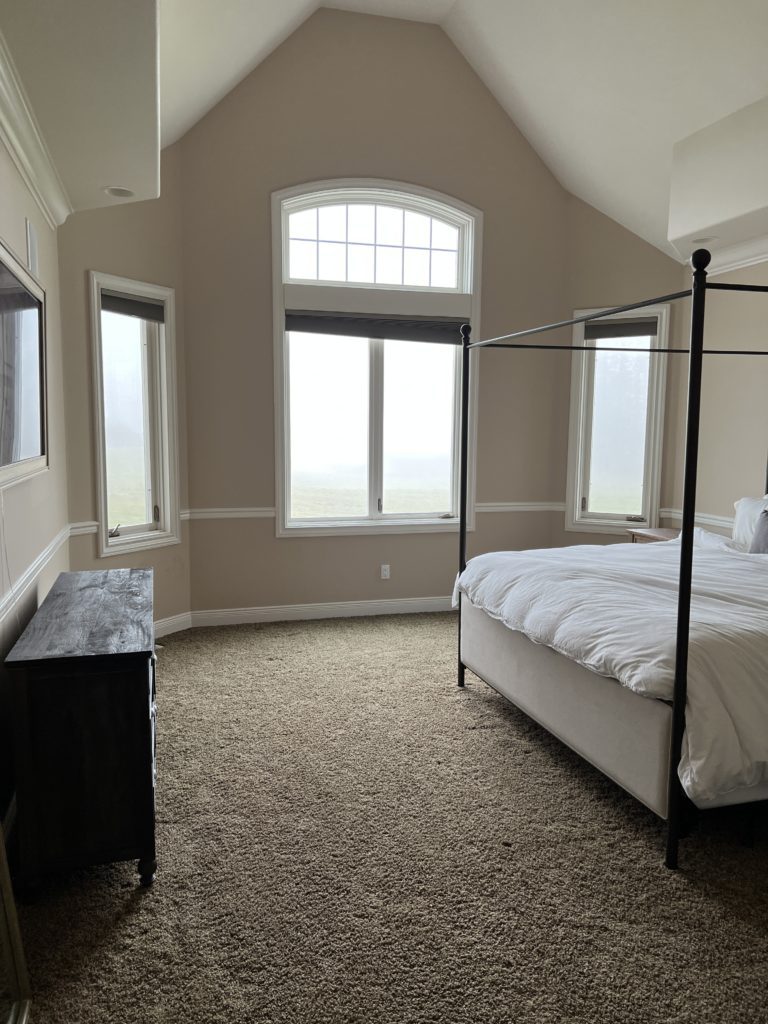 Here you go the BEFORE and AFTER bedroom side by side! I hope you like seeing how you can transform a space, even though we aren't quite done yet this is what one weekend can do! Don't forget to check out Sixpenny HERE if you are in the market for a sofa or any other amazing furniture!
TO SHOP THIS POST :
Sixpenny Neva Sofa
Flooring
Rug
Bed Frame
Lamp
Fireplace
Tree
Pillow
Bedding
Bed Throw
Dresser
Frame TV
Frame for TV code DREAMING for $50 off
Mirror
Nightstand
Marble Knot
This is HOME
Down to Earth
Feels like Home