Small Space Living : How we make the most of our Small Master Bedroom
I am so excited to share with you how we decorated our room using my favorite Bee and Willow line from Bed Bath & Beyond. This line was meant for our home, I love the soft and subtle design and that it could fit with anyones decor. Now our bedroom isn't anything big and grand and I wont pretend that it is. If you have followed along for awhile you know that our home is 1200 sq ft and we make the most of it. Our bedroom is the smallest in the house a whopping 8×10 so I thought it would be fun to show you how we make it work for us.
We have tried moving our bed every other direction and having it here against the wall is what works best and gives us the most space, and honestly I love to be next to the wall! I haven't really shown a full view of our room with our DIY fireplace, as you can imagine its not the easiest to photograph. I love our new headboard that I found at Bed Bath & Beyond, you could find all the Bee & Willow bedding there too! If you are looking for sources make sure to scroll all the way to the end of the post for all the links.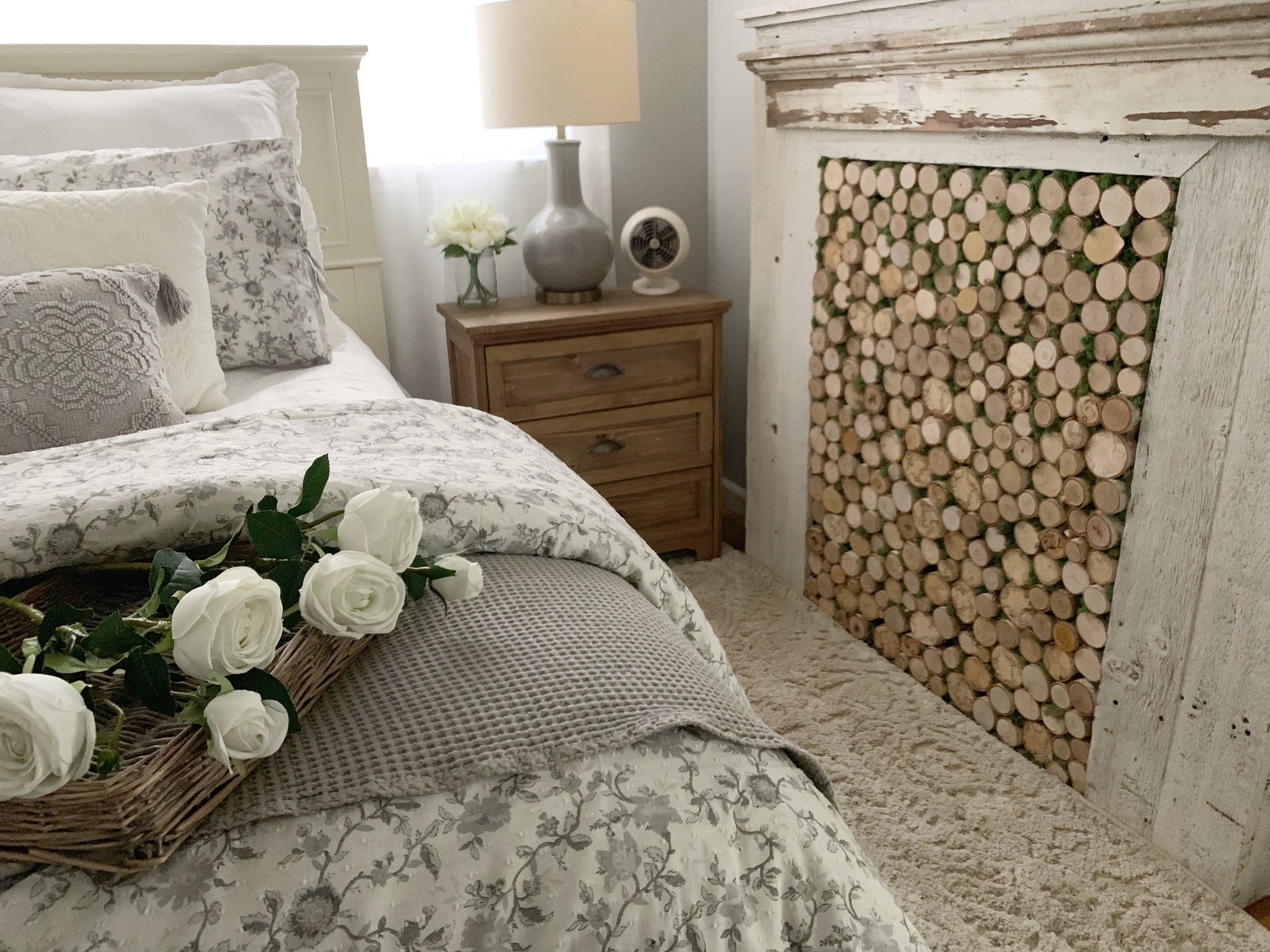 I have this basket in another room, it is so inexpensive and these faux roses are a new favorite find!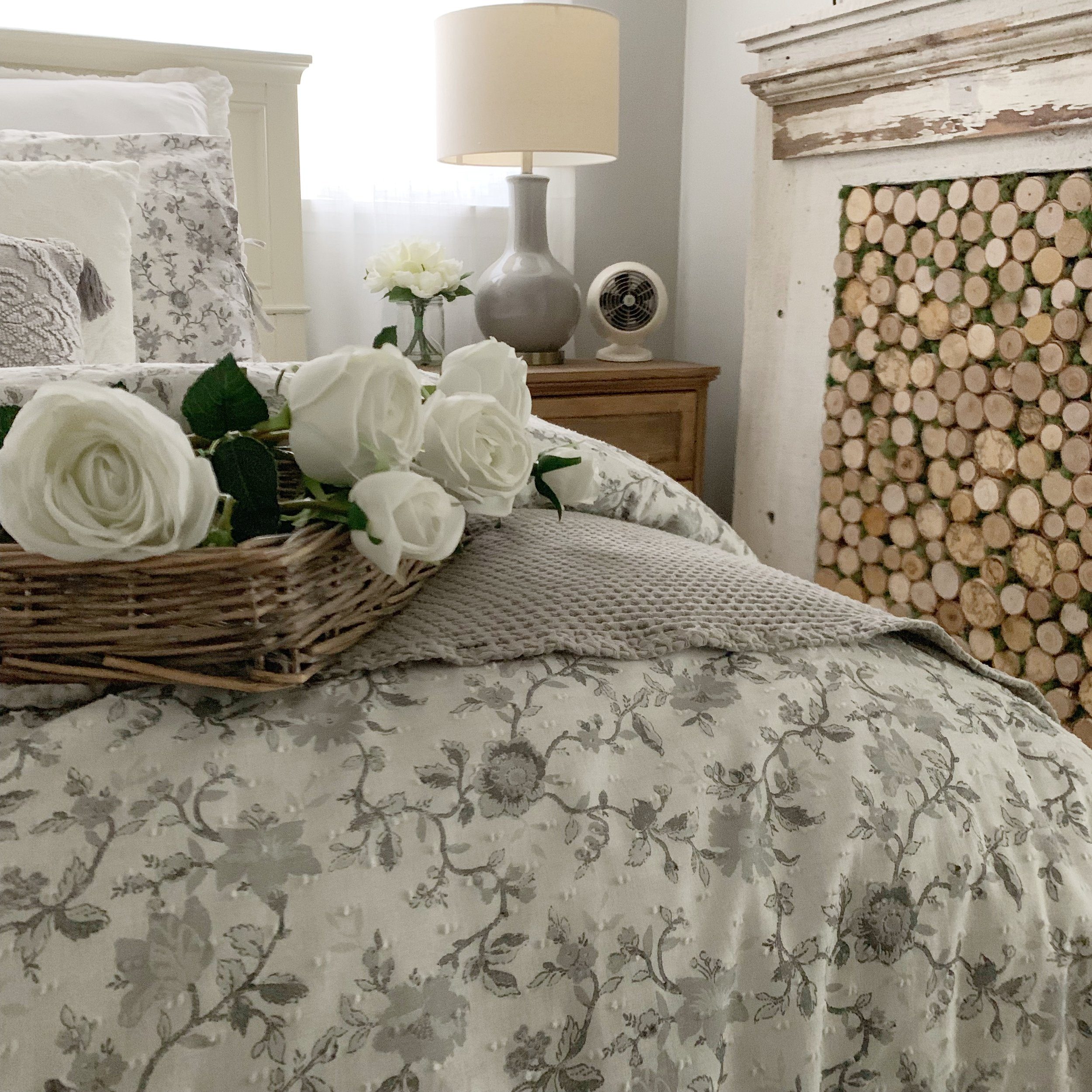 I love the detail of this comforter, and it is just as cozy as it looks! I love to do lots of layers so this is perfect over my duvet.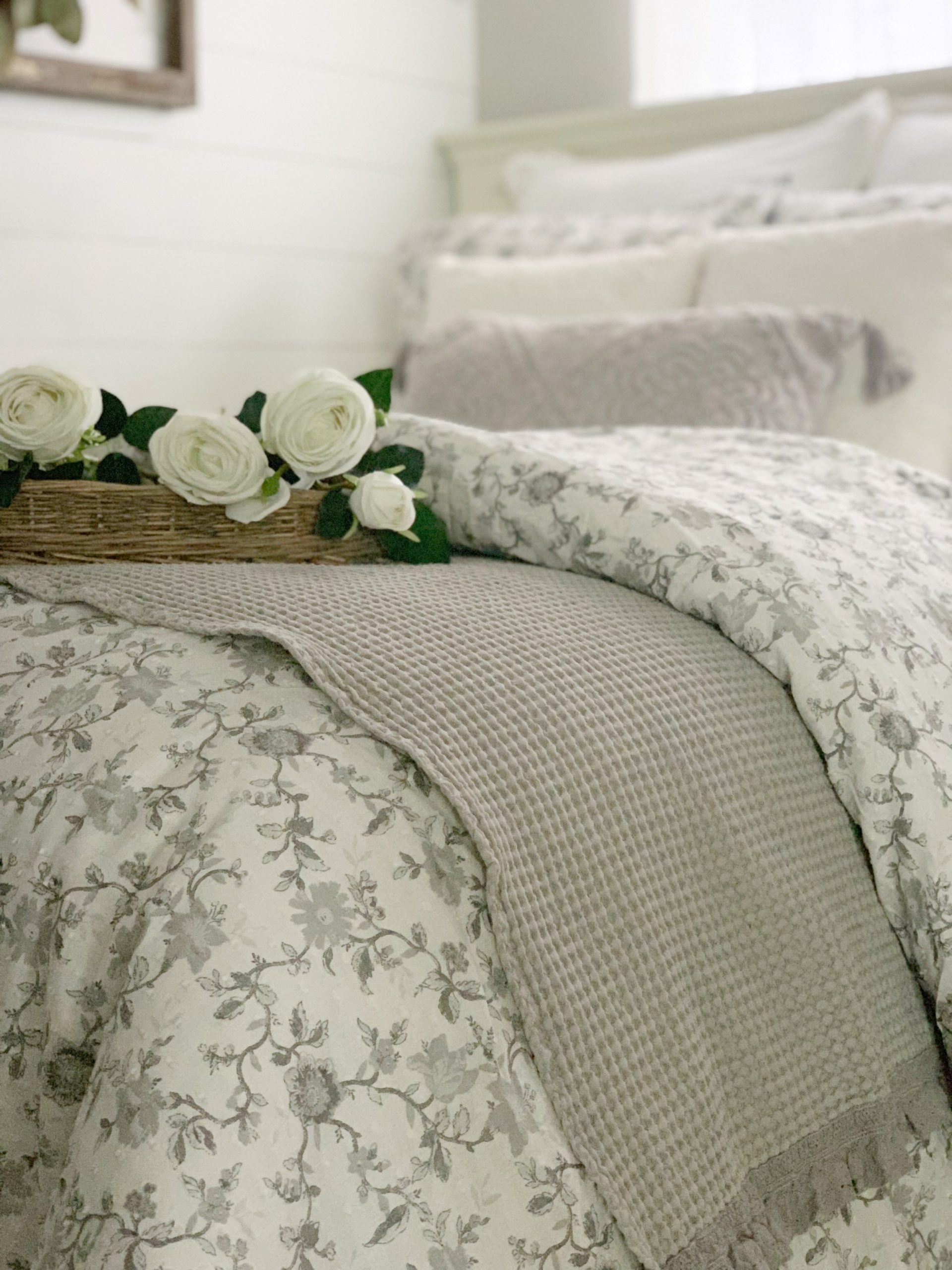 This waffle bedskirt is the perfect addition to the bedding, I love the lace on the ends.
These are a few of my favorite things, and I will have to say this Vorando fan we have had for over a year and its a staple. This gourd lamp I saw in a Bed Bath & Beyond catalog and I knew it would be the perfect fit! We cant forget this gorgeous vase of faux flowers, this I found in the store.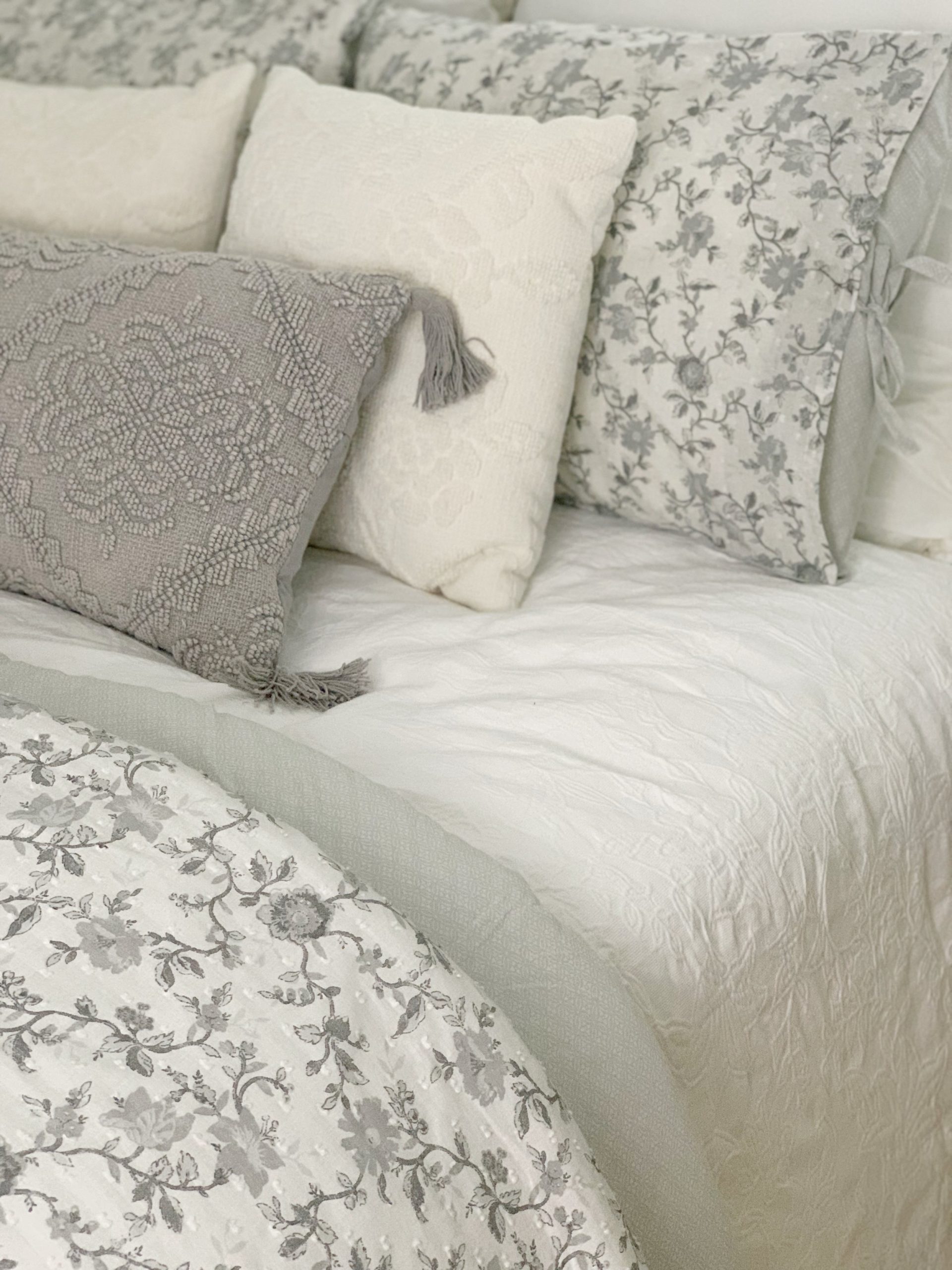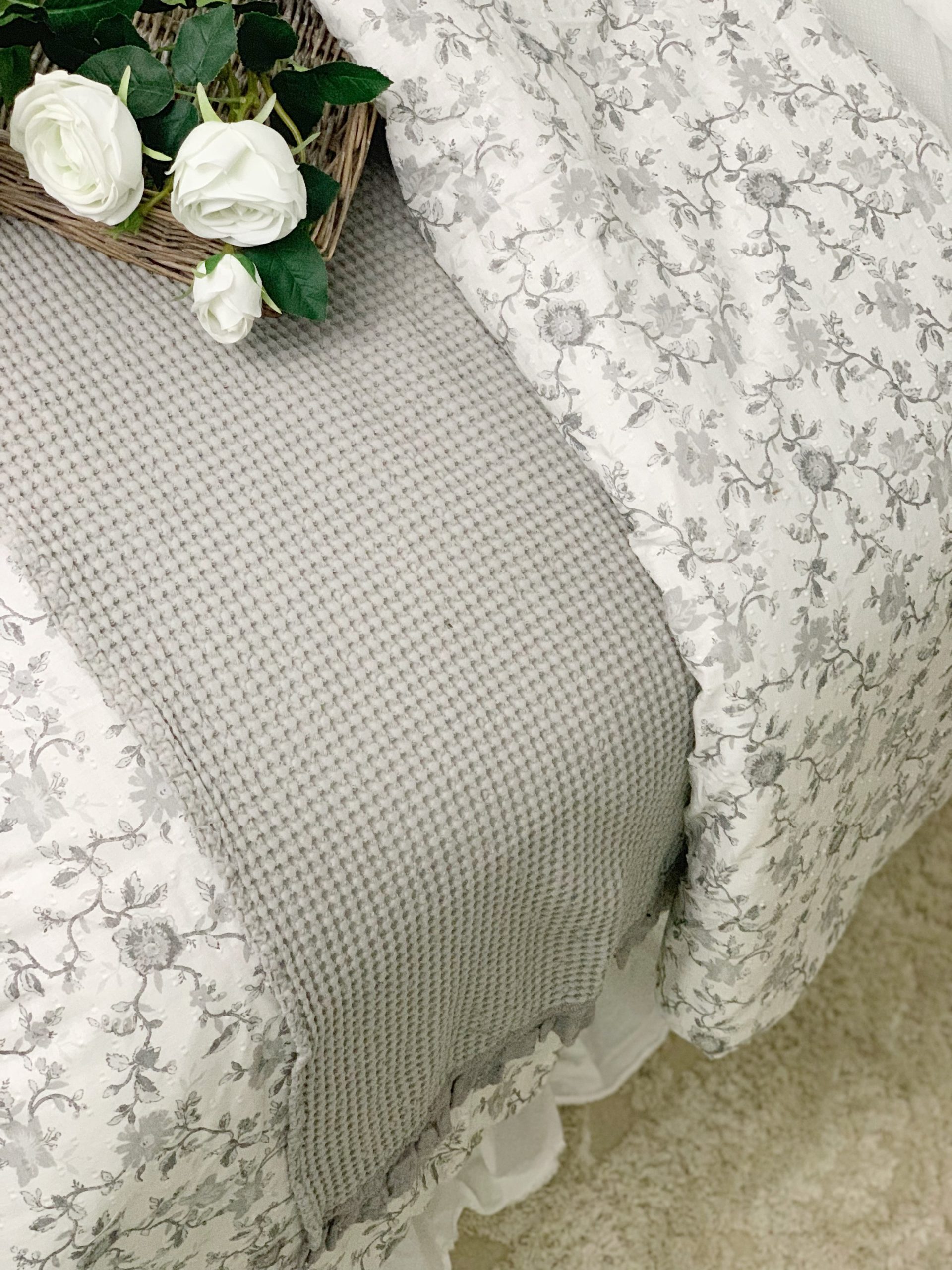 One of the first things I saw in the Bee & Willow collection was the matelasse bedspread. I love ruffles and this was just the right amount, and I adore the light weight fabric.
Its amazing what changing out curtains can do for the space, we started with drop cloth curtains and now these white curtains make the room feel so bright and airy.
Here are the layers and ruffles I was talking out …. just so lovely!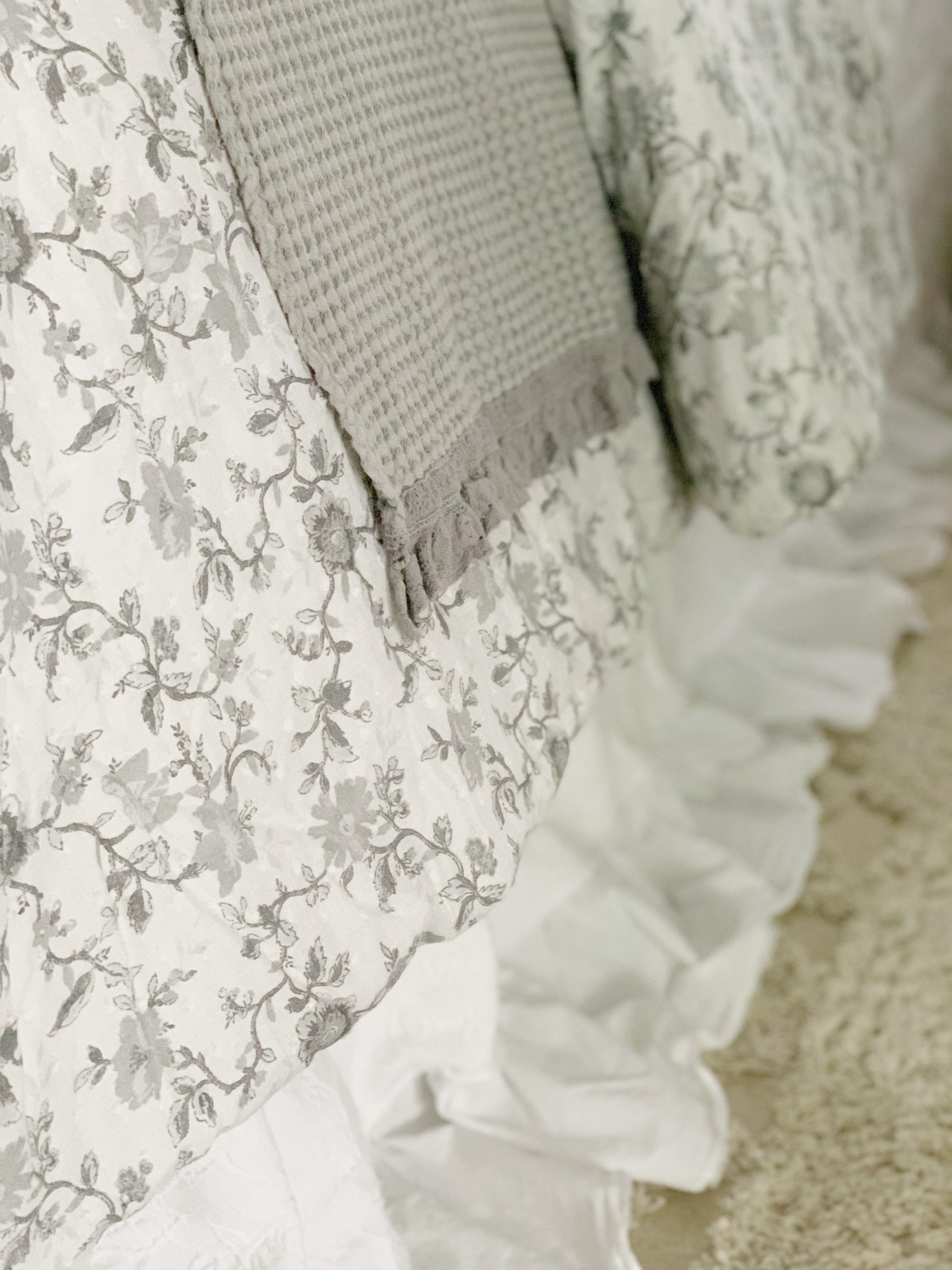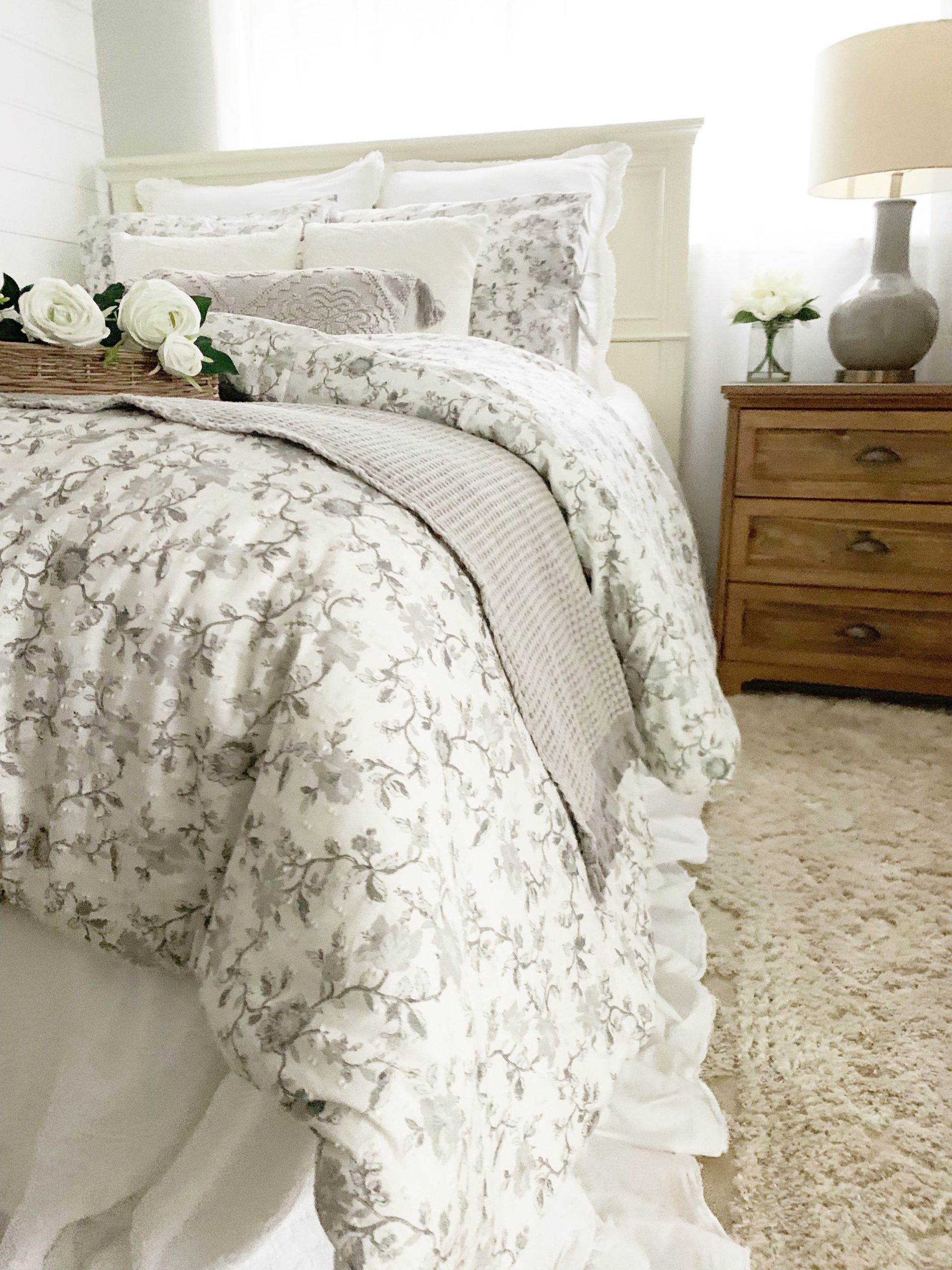 One thing James loves for our room is a cozy plush rug, and this Mohawk rug does not dissapoint! I love the textures and the color.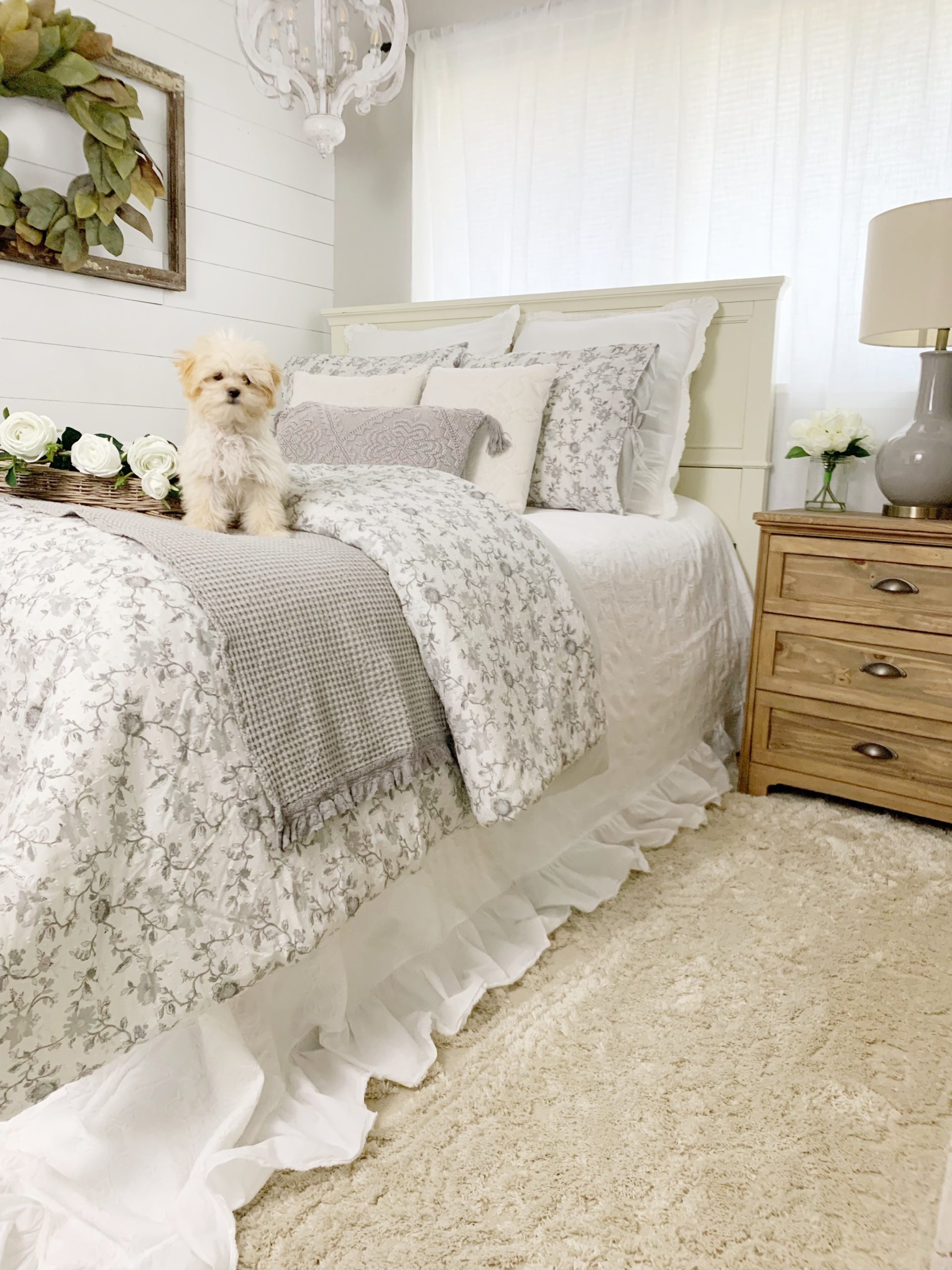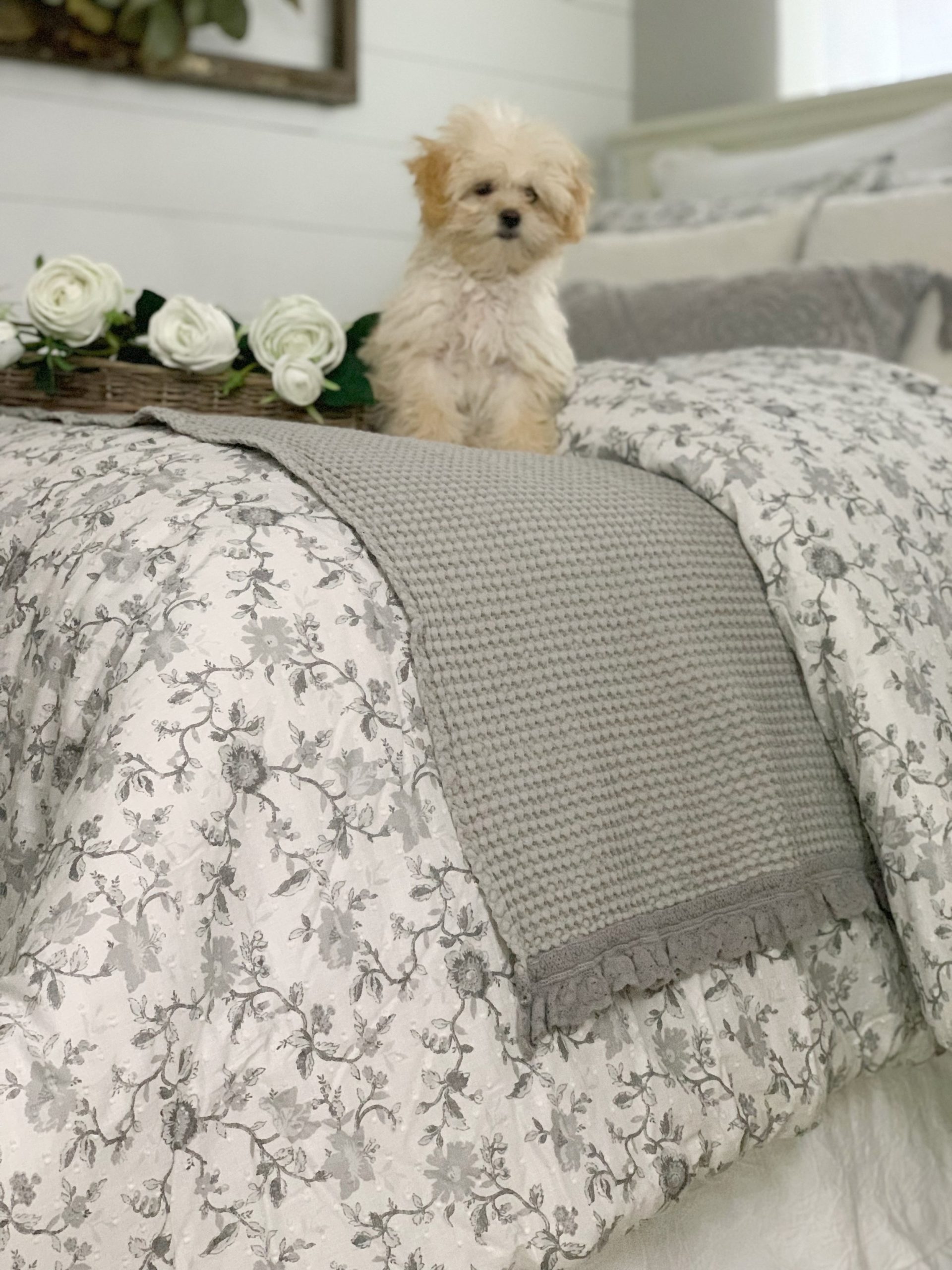 Little miss Daisy is always around me, she is still a bit camera shy but working on it <3 Thank you so much for joining me on this tour with Bed Bath & Beyond, the full room reveal will be coming soon! ! I hope you get the chance to check out Bed Bath & Beyond and their new Bee & Willow line you will adore it! Scroll down to see the full list of sources, and always feel free to ask any questions!
Sources :
I have placed all the links below, you can click on each item.
Bee & Willow™ Home Floral Clip Jacquard Comforter Set
Bee & Willow™ Home Faded Diamond Oblong Throw Pillow
Bee & Willow™ Home Matelasse Bedspread
Bee & Willow™ Home Cottage Floral Square Throw Pillow in Ivory
Rose Garden Solid 95-Inch Rod Pocket Window Curtain Panel in White
Abbyson Living® Maybury Gourd Table Lamp in Grey
Home Styles Bedford Queen Headboard in White
Bee & Willow™ Home Waffle Crochet Bed Scarf
Vorando Mini Classic VFan
Bee & Willow™ Home Milbrook Wicker Bread Basket in Grey
Bee & Willow™ Home Artificial White Rose Stem Flowers
Mohawk Rug in Cream