Simple Christmas Decor with Overstock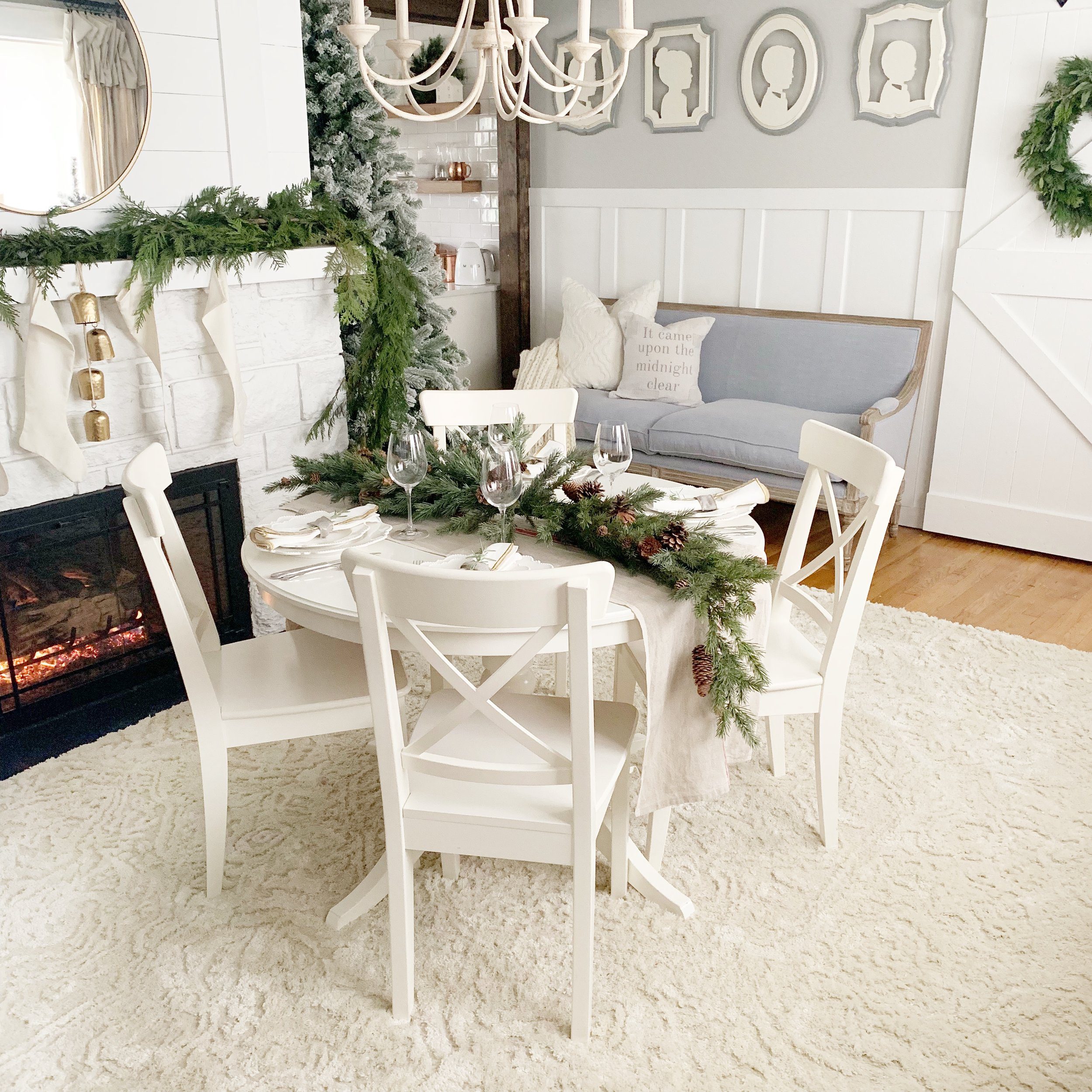 I love Christmas time, while its so fun to get caught all up in it sometimes simple is best! With my decor that is what I try to do year round, and we continued with the holidays… as long as you don't count to many trees as being to much. I wanted to cozy up our dining room, so that is what we did! I would love to show you all our favorite pieces that we ordered from Overstock. You can see a few main pieces in the photo above, the soft cream rug and the Lafontaine Sofa along with my round table that I have set. Do you know how hard it is to figure out how to set a table on a round table with a centerpiece? I would love to show you what I did below, so come follow along and don't miss all the sources at the end of the post.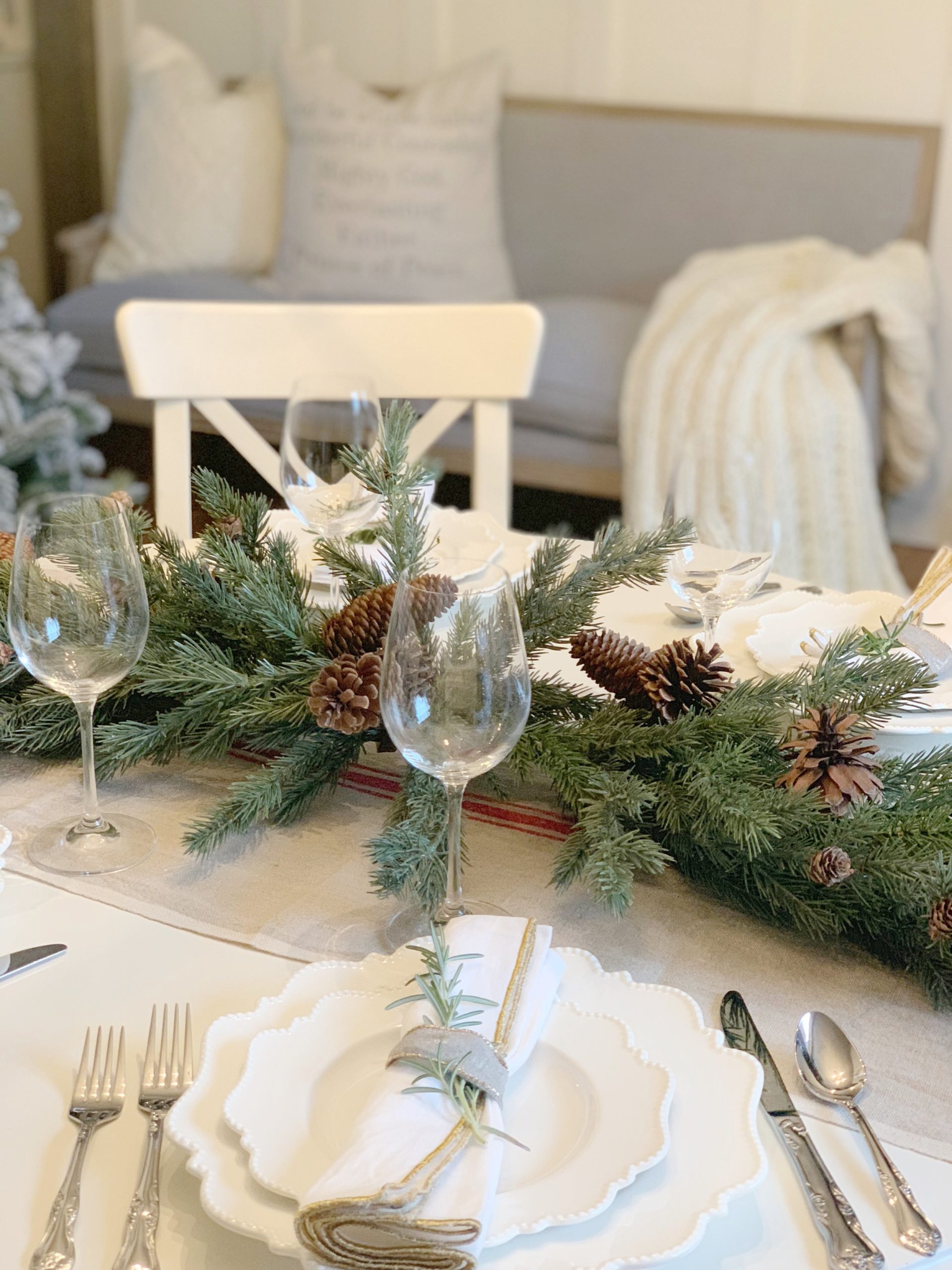 I love a classic table setting, and this silverware reminds me of what I used growing up. The dinnerware set is just enough to make the table look fancy. I had these gold rimmed napkins and just added a ribbon along with a twig of rosemary.
These wine glasses I love, while I don't drink … we enjoy using them with some sparkling juices.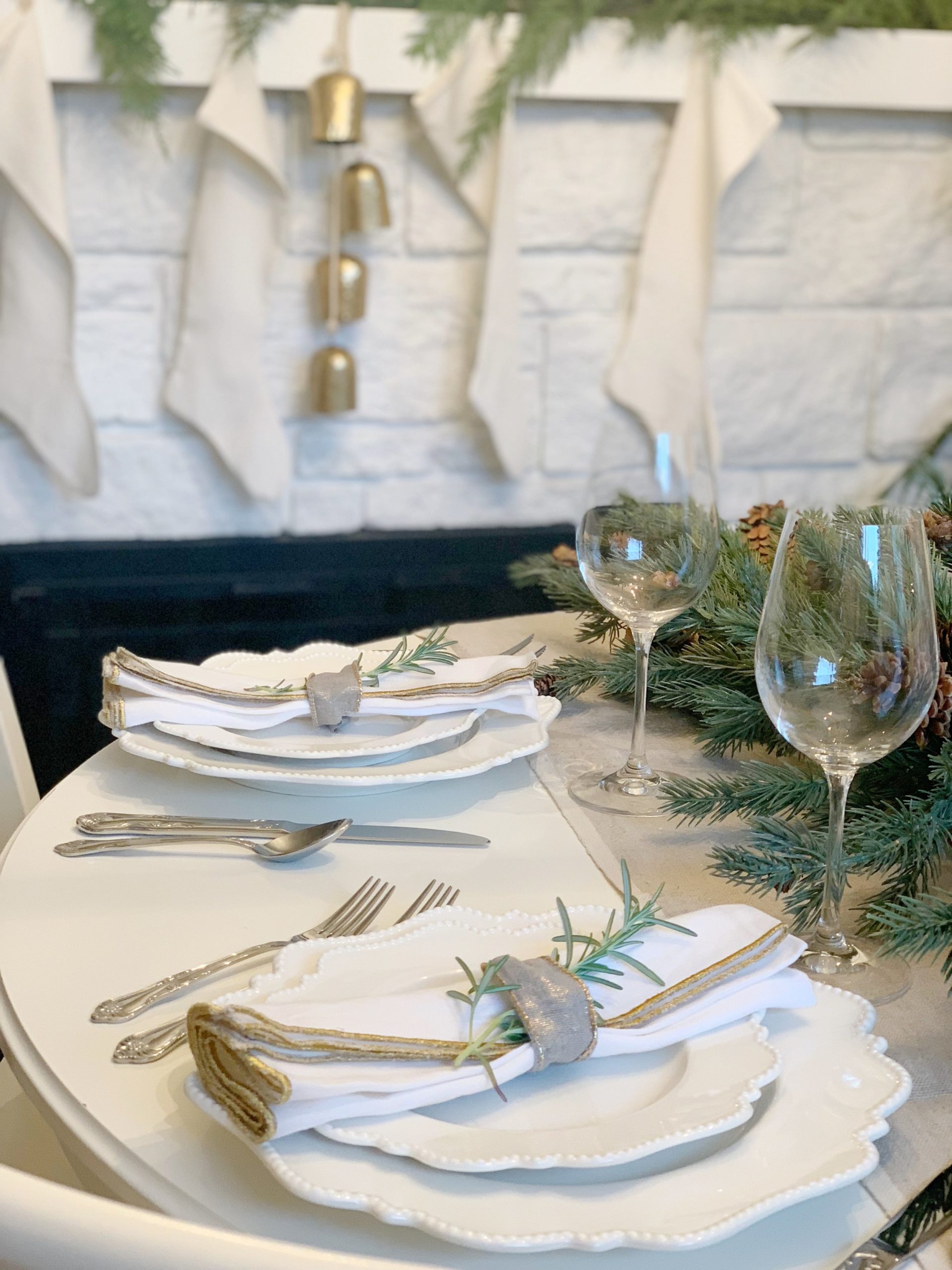 I love having a round extendable table, while it can be hard to set its not impossible. This table goes from round to oval and can hold a good amount of people. When I am not setting the table for four, I can fit our family of six here easily without adding the leaf.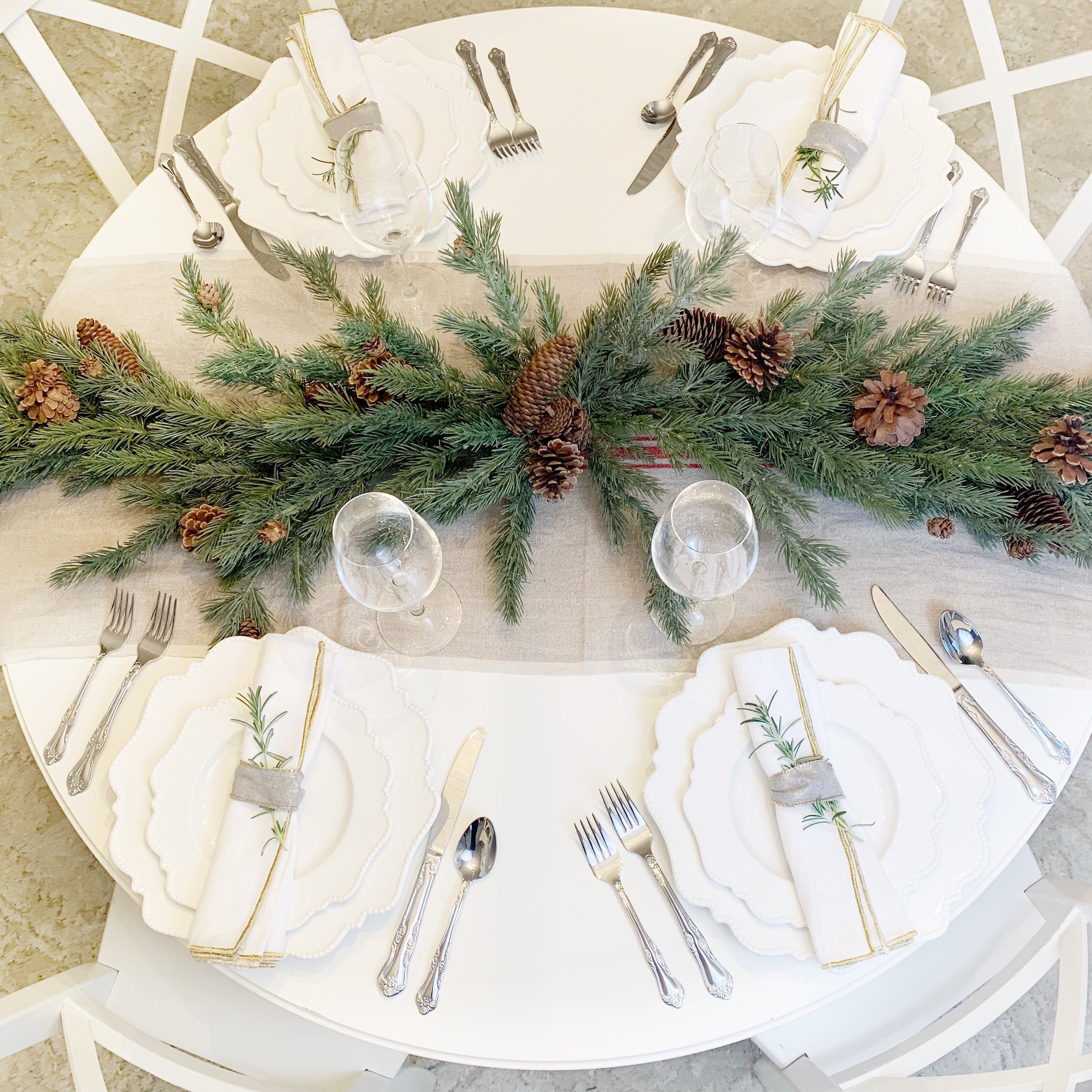 Here is how I set the table for four, even using a centerpiece. We have a buffet where we can set the food thats not being used, or just keep it in the kitchen. Even in a smaller space we are still able to entertain, and more people we just add the leaf!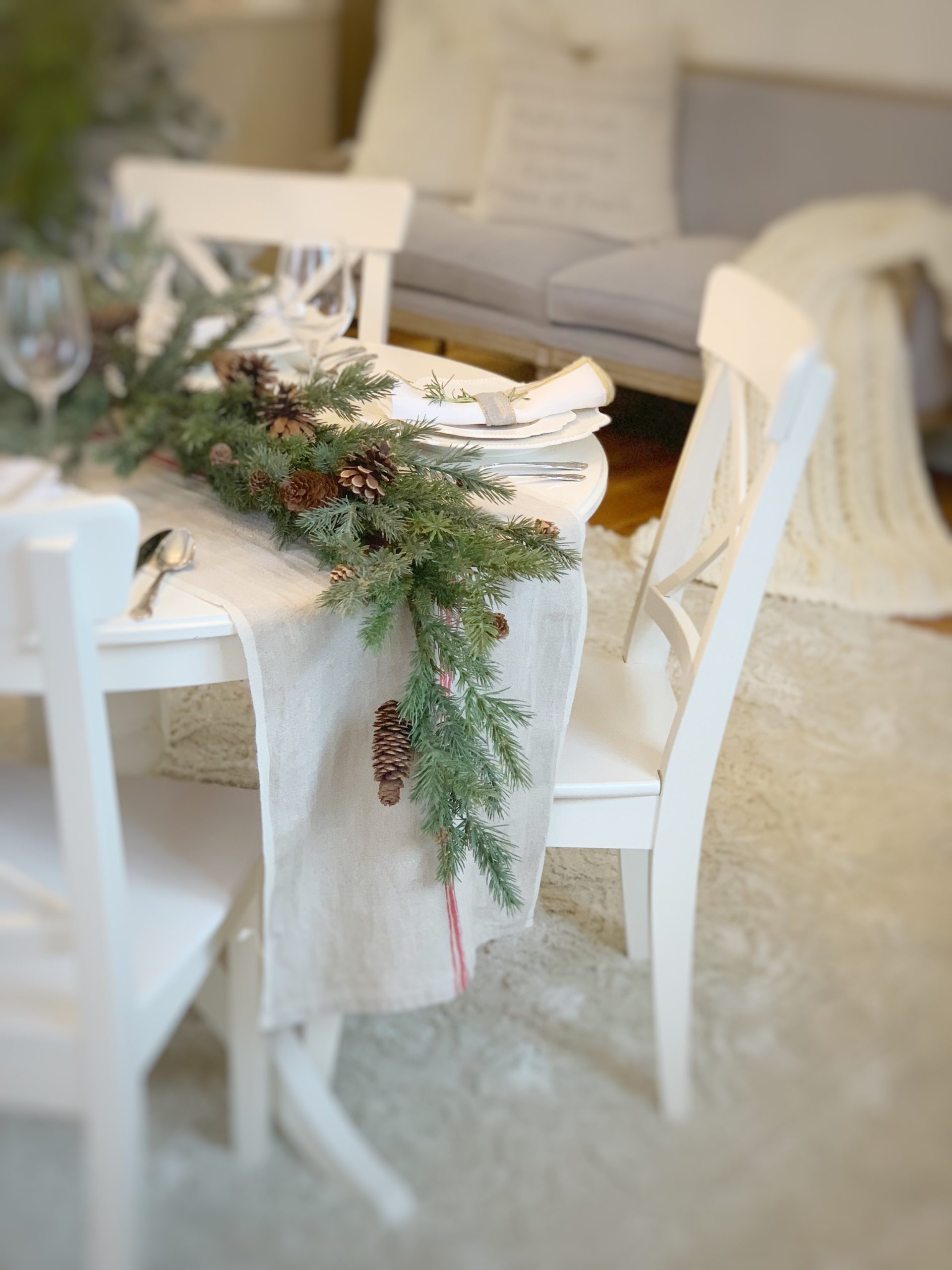 I love this space so much, when we first purchased our home there wasn't room for a table this size so we turned our front room into a space to be able to have a place to have dinner as a family. We did miss the coziness of having a sofa and now we are so glad that we have one to enjoy.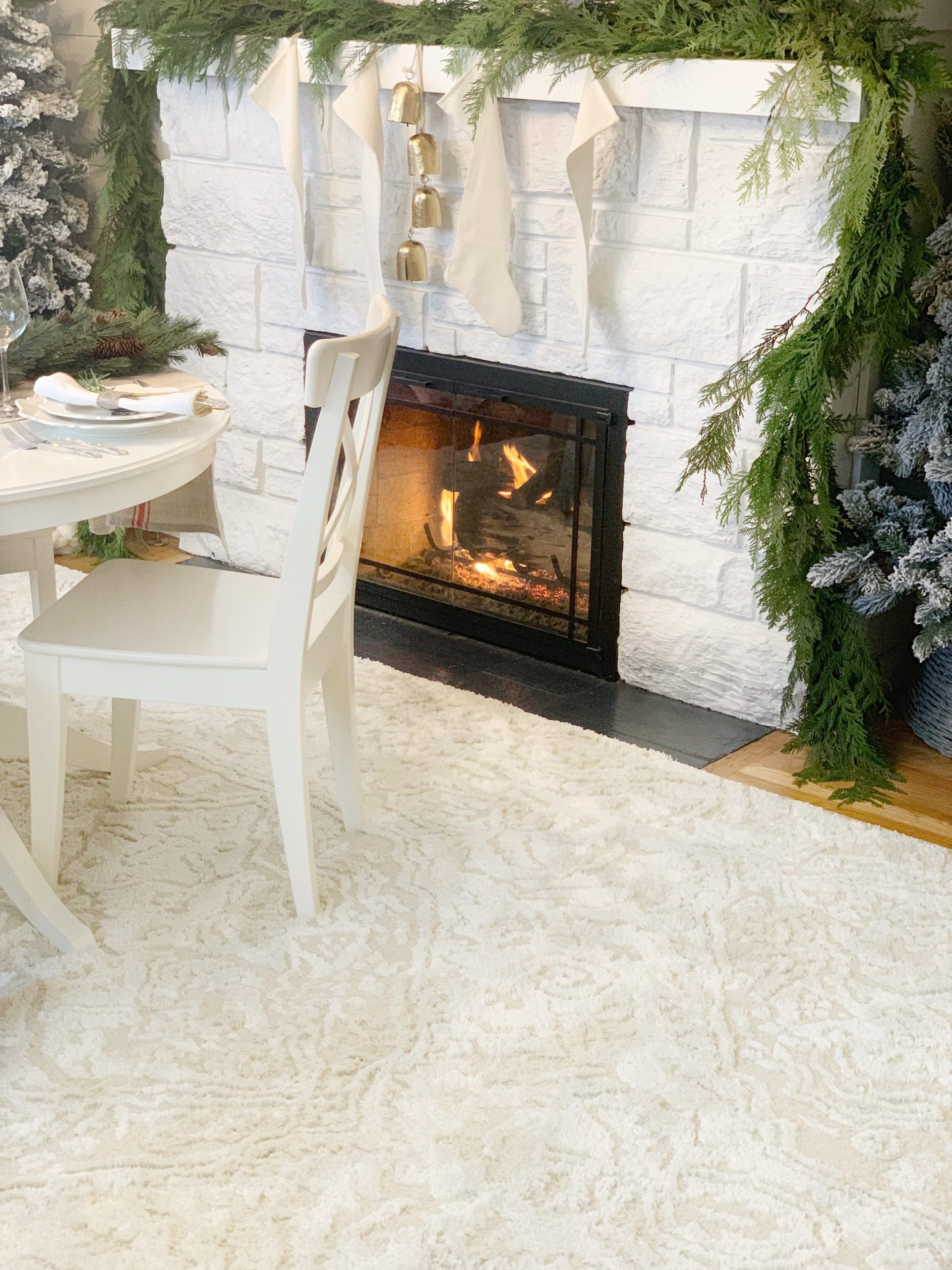 This rug may not stay in this space forever, but it is so cozy and soft everyone loves it!
( The kids and dog may roll all over it and ask to have a sleep over on it.)
Rosie has claimed this Lafontaine Sofa and wool blanket as hers, although it was suppose to be for me I think I will be the last to enjoy it. At least I can look at it right?
I honestly can't get enough of this space with our new finds from Overstock, I try to sit here each morning and just enjoy for a few and plan out my day.
Here is an up close photo so you can see how amazing it all is. Look at the details of the sofa, and can you imagine its even more beautiful in person? I love the textures of the rug, and the blanket well I am ready to get cozy.
I love how each piece adds so much to the space, I cant wait to show you how I style each one after the holidays too!
Now that my Christmas dreams came true, I hope yours do to! Don't forget to check out Overstock, you can find everything that you need and delivered right to your door! They have such a great selection, make sure to scroll down to see all the sources so you can get this look.
Thank you again Overstock for sponsoring this post.
Sources :
I have placed all the links below, you can click on each item.