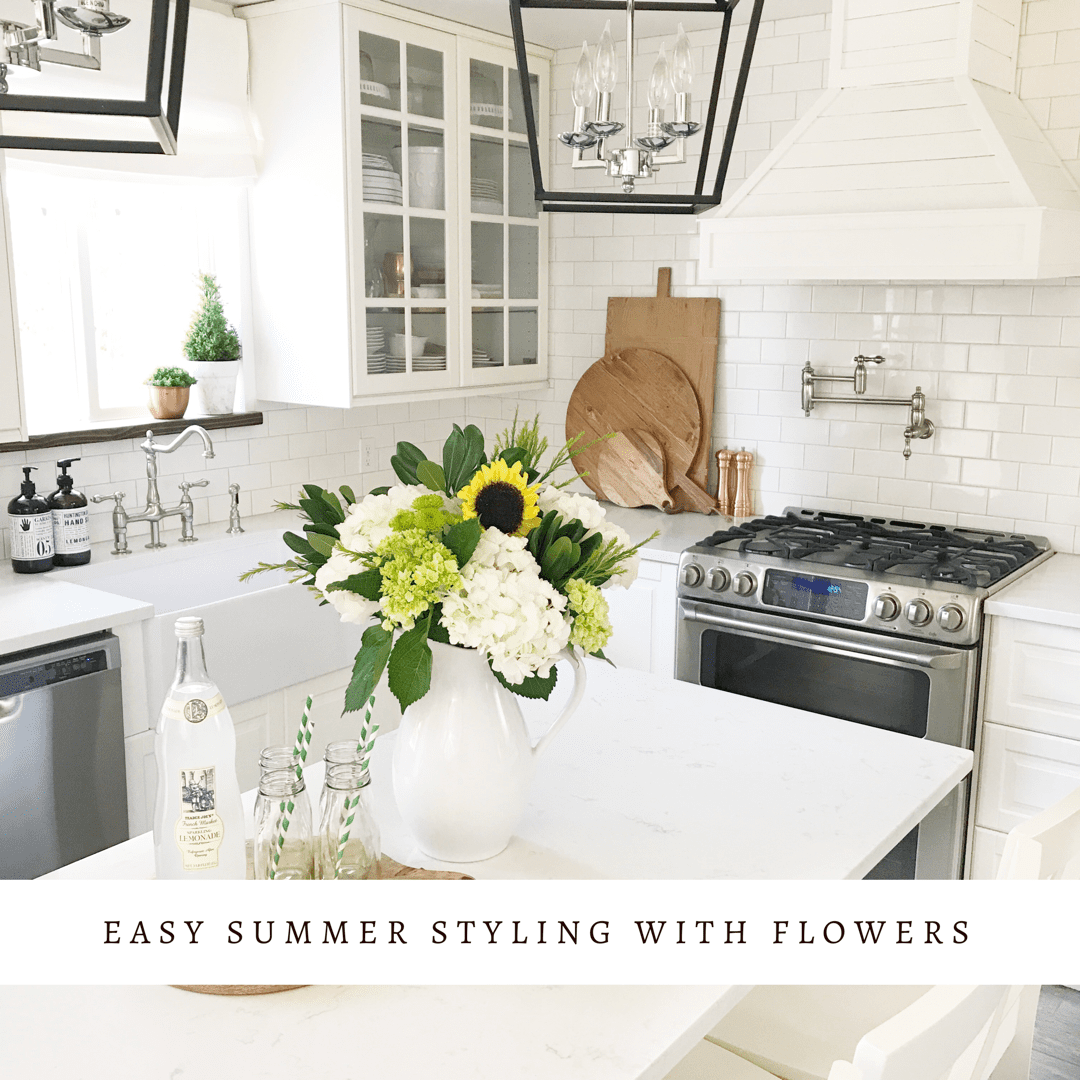 I am so excited for you to check out the Easy Summer Styling Blog Tour that my friend Kelly The Tattered Pew put together! It is such a great group of bloggers with so much inspiration! Make sure to check out all the links to everyones blogs at the bottom of my post. If you are here visiting from Carissa's blog Bless this Nest Welcome! I hope you enjoy this little tour into my kitchen, while I have so many other spaces I would love to show, make sure to check out other upcoming posts that will be filled with tours and DIYs!
With it being summer, we have been working on getting our projects inside all finished up so we can enjoy the outdoors and spend as much time together! I really needed a clean and crisp kitchen, and while doing that the easiest thing for any room is to add some flowers! The flowers don't need to be bold and bright to make a statement – really any kind will do!
I loved these flowers I picked up from Trader Joes, I used 3 different small bouquets and it made such a great full one! ( Can I tell you over a week later and they are still going strong!) I love the pop of color the sunflower made without being to over powering for my clean white space it was a perfect added touch! Hydrangeas have become a favorite of mine ( once I finally figured out how to not make the wilt instantly!)
Here are some of the tips I found :
Add sugar to room temperature water.
Add soap to room temperature water in the vase.
Remove the leaves.
You can recut the ends, then place in boiling water then place in fresh water.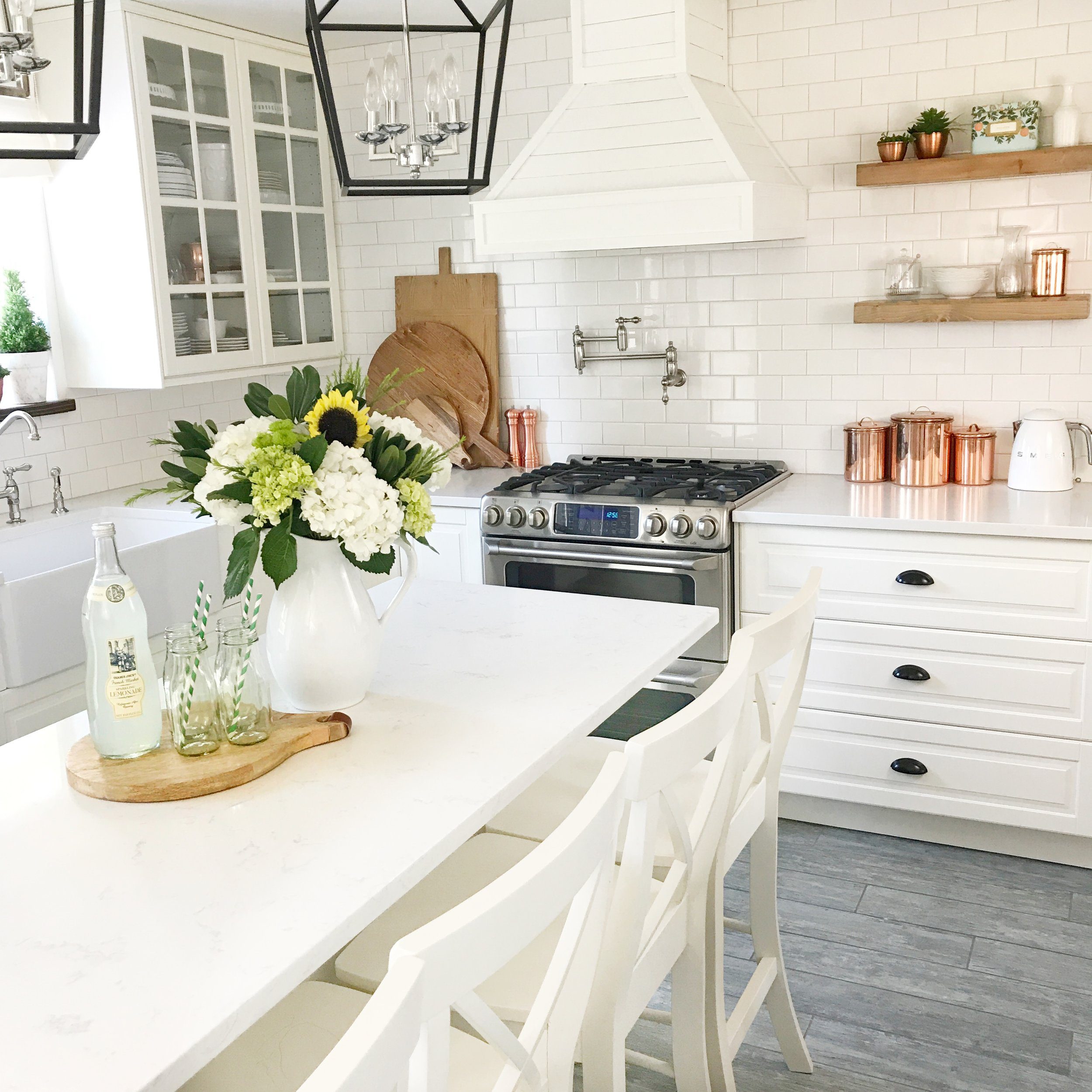 I can't get enough of this view, while I adore every angle of my kitchen – the dutch door is a dream but this is the biggest transformation and I still pinch myself daily that its mine! This hood that James built for me really changed the space so much, and that DIY is coming up next!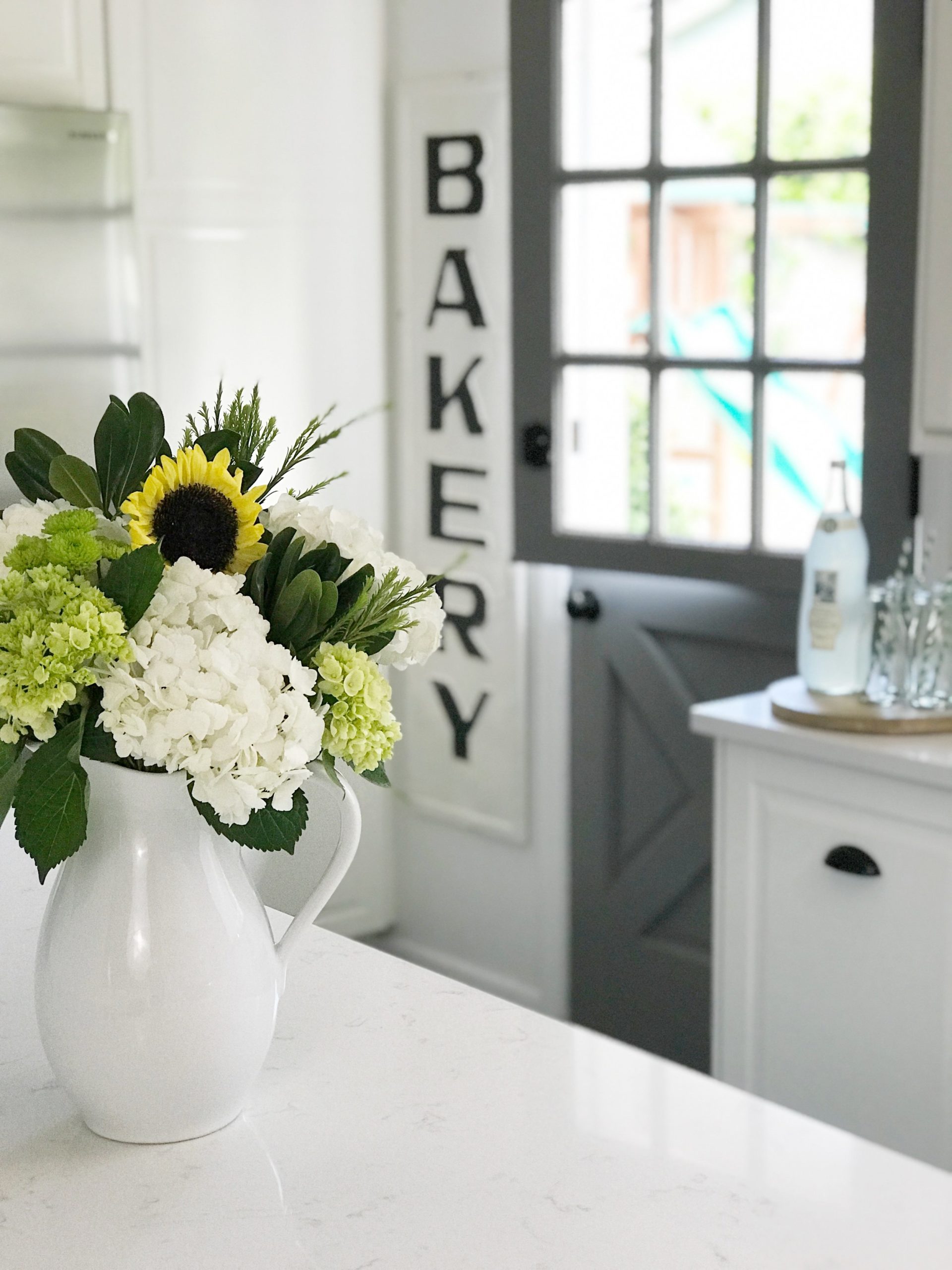 Here is my other favorite view, the Dutch Door! This is the third color ( Sherwin Williams Dove Tail) and its so fitting for our space.
Here you will see one of my kids favorite summer items, lemonade! They can't wait to do a little lemonade stand soon ( even though I will prob spend more time and money doing it with them than they can make).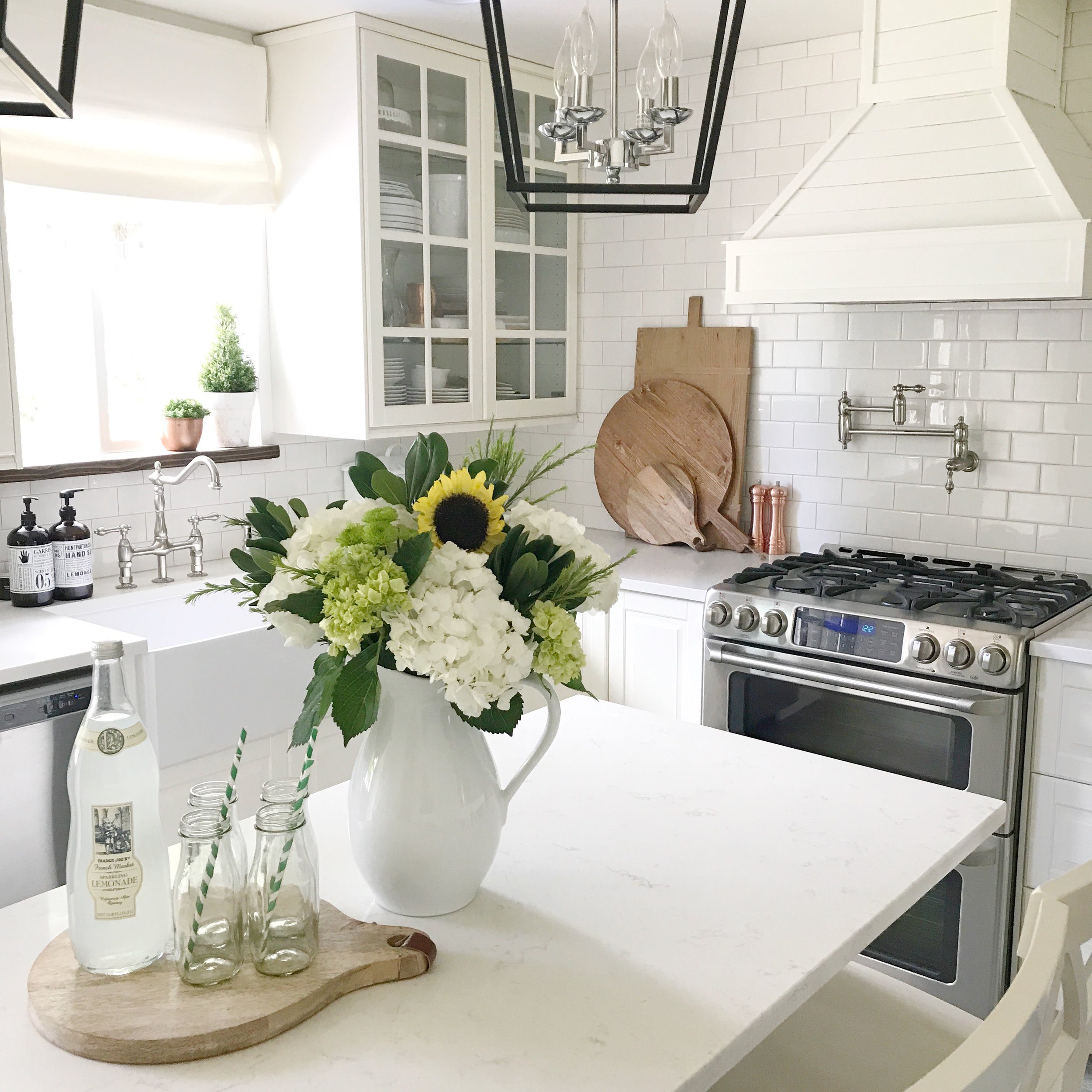 Can you even pick a favorite between these spaces?? I really need to do a before and after post on my whole house, I will add it to the list!
I hope you enjoyed seeing how something so simple as flowers can transform a space. I love having fresh flowers, but faux flowers you will find inside and out here even though you probably can't tell! What is your favorite way to spruce up a space?
Thank you so much for joining me on this blog hop, next up is Kelly at City Girl Meets Farm Boy. Kelly's page is filled with so much inspiration and she is the sweetest too! Oh and don't forget to check out these other wonderful feeds below!
Tuesday
CityGirl Meets FarmBoy // The Turquoise Home // Crisp Collective // Adventures In Decorating
Designs by Karan // My 100 Year Old Home // Bless This Nest // Dreaming of Homemaking
Monday's Tours
She Gave It a Go // Aratari At Home // Grace in My Space // Midcounty Journal
Little Nest of 4 // The Tattered Pew // The Design Twins // Jenna Kate at Home